Over the weekend, longtime Sabre and talker extraordinaire Martin Biron announced his retirement from the NHL.
After thinking about it it with my family, I've decided to retire as a player and move on to a new chapter. Thank you all for your support.

— Martin Biron (@martybiron43) October 20, 2013
It's no secret that the loquacious Biron has always been a favorite of both fans and the media. And it's common sense that the "new chapter" of which he speaks is likely to involve talking… and talking and talking and talking. Greg Bauch's got an idea.
@gregorybauch @martybiron43 Ha, we've already been talking about this. When Rick's off, split the broadcast and I'll do radio with Marty. — Paul Hamilton (@pham1717) October 20, 2013
PERFECT!
Why?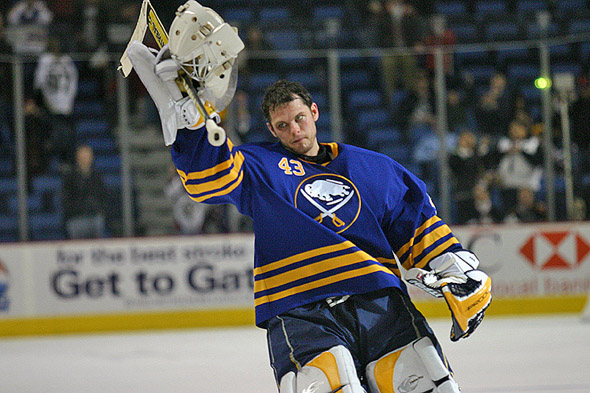 BIRON
WILL

LAND A MEDIA GIG.

In a world where anyone who has ever played the game thinks he's got what it takes to transition into broadcasting, this guy actually does. Biron is interesting, funny, and downright charming. He's already done excellent work on TSN during the playoffs. Chances are, he's going to live in WNY so put him to work right here in Buffalo. Strike now– he'll be off the market soon.
PAUL HAMILTON DESERVED A SHOT TO REPLACE RJ.
Dan Dunleavy is slated to succeed Rick Jeanneret when RJ hangs it up in a couple of years and has done a nice job filling in during Jeanneret's scheduled absences. Strangely, the RJ succession plan came together quietly behind closed doors with the most obvious candidate left out of the loop. Paul Hamilton has covered the team forever and has a strong play-by-play background including some Sabres fill-in duties of his own. Here's an opportunity to throw the well-qualified local guy a bone.
IN HOCKEY HEAVEN, THEY DON'T PLAY TV SHOWS ON THE RADIO.
The current TV/radio simulcast makes a tiny bit of sense for one reason– Jeanneret's popularity. When you've got an icon like RJ calling your games on TV, it's easy to say "Give them RJ on the radio, too." As he phases himself out, it's time for the Sabres' brass to consider just how amateurish (and cheap) "TV on the radio" really sounds. "Watch what happens right here!" I can't. My radio doesn't have a screen. And when I'm driving in my car, it'd be nice to think the guys I'm hearing are actually talking to me. I'd know this if, for example, they'd tell me the score once in awhile.
If Pegula/Black are looking to class things up without financial restrictions, make the radio show a radio show. Drill another gas well if you have to.
Effective immediately, let's hear Hamilton and Biron on WGR the nights that Dunleavy is on TV. Long term (when RJ retires), split up the TV and radio broadcasts full-time. You'll already have an excellent radio team in place.