Fish: squished.
1. The Sabres' Social Media Department
Back in June, I  lauded the return of ex-pat Craig Kanalley, then a Sr. Editor of the Huffington Post who came back to Buffalo to take over the Sabres' social media department.
A lot of time has passed since that smart hire. Deep into October, the Sabres are still fighting for their first regulation win of the season. At 1-8-1, it's their worst start in franchise history.
All the while, Kanalley has brought out a lot of new ideas, and the fan base has embraced and/or rejected them (sometimes more on the rejection side, because that is what losing fanbases do).
We've had Vines showing the players invading The Joe.
#Sabres players heading to the locker room. #GameNight #FirstGame https://t.co/3PPfZ9nlzN

— Buffalo Sabres (@BuffaloSabres) October 2, 2013

We've had the #blueprint series.
And we also had #MySabresView.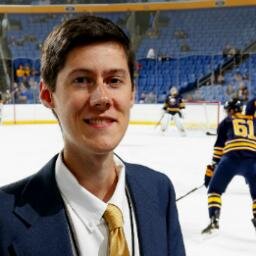 Some have argued that the entirety of the Sabres' social media efforts have fallen flat on their face (see: #MySabresView link), but that is an egregious assertion. There is nothing that any PR or social media department can do to help sell a sinking ship.
For now, Kanalley is doing everything he can to keep the mood fresh and upbeat for the worst hockey team we've ever seen. Even in the hijacked #MySabresView, folks interacted and had a good time. Fans were either posting pics of their actual view of the game, or posting comedic/cathartic hot takes on the histrionic torment that it can take to watch this team. Either way, fans were participating. They were engaged.
CK had the fans interacting. It felt good.
The team is going to be terrible, so it's safe to say anything that the PR or social media department does is going to be rejected by a lot of fans who either want Darcy Regier, Ron Rolston, Drew Stafford or all of the aforementioned shipped out of Buffalo.
Really though, all the fan base wants is wins.
The social media department isn't never going to be able to deliver wins, ever, but at least this season there's been a lot of entertaining new stuff happening at our Twittering fingertips.
Keep up the good work, CK. Eventually the product on the ice will catch up with you.
2. Forecast: ART
It snows here. That, a picture of Niagara falls, and a shot of some dude tossing chicken wings and hot sauce around in a pan is generally the national conversation regarding the Queen City. It's a bit of a short-sighted view, as any Buffalonian will tell you. There's a lot going on here lately. Heck, we can make art institutes out of old grain silos. There is no stopping us.
Next up: we make our own lousy weather an art form. From BND.com:
"The Burchfield Penney Art Center in Buffalo is about to premier an outdoor installation that museum officials say will be curated by the weather.
Called the 'Front Yard,' it involves projecting electronic images and sound onto the 38-foot curved facade of the gallery. The image and audio will be determined through a software program which takes cues from the temperature, precipitation, barometer, light levels and other weather measures."
3. The UB Bulls
Did you know we have a sports team in this town that just won its 5th straight game? Good God people, get on this bandwagon. From Bull Run:
"The defense was strong yet again. The UB shutout streak ended at 91 minutes 22 seconds when UMass' kicker squeaked one over the crossbar late in the first half. That said, UB has not trailed in a game since going down 23-20 to Stony Brook after their triple overtime possession. In UB's 5 wins, they have never trailed in regulation."
Also, RB Branden Oliver broke UB's record for career rushing yards, surpassing the previous mark set by James Starks. Oliver now has 3,203 career yards.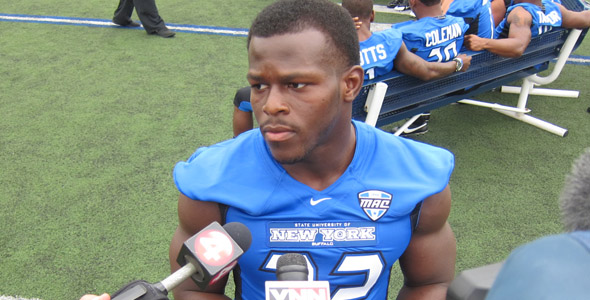 Big things are happening on campus.
***
Note: "3 Smartest Things" is being produced to go along with the "5 Dumbest Things" series here on TB. "Why three," you ask? Well – far be it from me to break our time honored tradition of berating each other on the progress of our fair Queen City. Tell you what, when the new Peace Bridge goes up, we'll go up to five. And of course, feel free to follow me on Twitter to discuss all things trending in Buffalo, and check out my blog "Buffalo Sabres Nation" when you're bored at work. Your boss will appreciate your increased productivity afterwards.