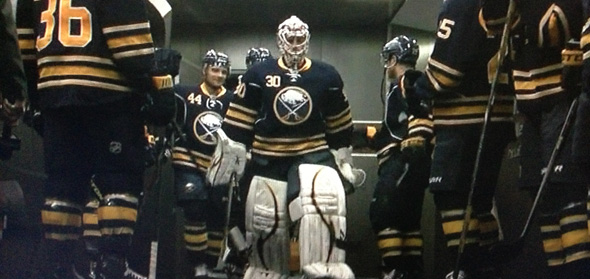 Here we go again.
With 9 games left on the regular season schedule, the Sabres are within reach of a playoff spot. For many people, this simply means "root harder." For me, it means "start playing with Excel and see how realistic this whole thing looks." As the season winds down, things will get much more technical and, quite frankly, ugly. (Exhibit A– last year's playoff math.)
For now, let's establish the basics (utilizing maximum points each team can conceivably earn.)
GOAL:
Replace one of the teams currently in top 8.
STANDINGS: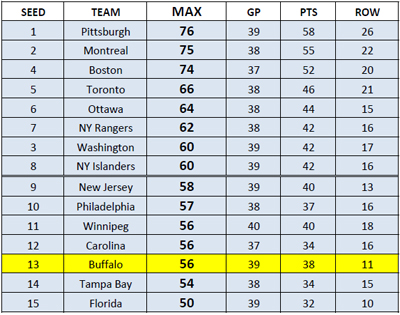 REMAINING SCHEDULE:
4/9     at #11 Winnipeg
4/11   #2 Montreal
4/13   #10 Philadelphia
4/14    #14 Tampa Bay
4/17    at #4 Boston
4/19    #7 NY Rangers
4/20    at #1 Pittsburgh
4/22    #11 Winnipeg
4/26   #8 NY Islanders
TARGETS:
Technically, only uncatchable team is Penguins. They're already sitting on 58 points and Sabres max out at 56.
MOST REALISTIC TARGETS:
Islanders (4 points) face Sabres (4/26) in regular season finale.
Rangers (6 points) face Sabres (4/19) in 11 days.
OTHER OBSTACLES:
Hurricanes (max out at 56 points- same as Sabres- but hold tiebreaker.)
Devils (max out at 58 points to Sabres' 56.)
PERCEIVED OBSTACLES WHICH AREN'T REALLY OBSTACLES:
Jets (max out at 56- same as Sabres- but Sabres play them TWICE.)
Flyers (max out at 57 points but Sabres play them.)
THINGS WE LIKE:
Losses by Islanders, Rangers, Hurricanes, Devils, and to a lesser extent, Jets and Flyers.
Wins by Sabres- preferably in regulation.
Playoff hockey.
THINGS WE HATE:
Overtime, specifically in match-ups between any of the above-listed teams. Regulation decisions limit total point pool to 2. OT bumps it to 3. No good.
Having to do this every year.
Missing the playoffs.
LET'S GO BUFFALO!