Note:  Traditionally, "magic number" pertains to clinching a playoff spot. For our purposes, magic number refers to # of points needed to prevent Sabres from passing team in standings. Every point earned by the team in question cuts into the number, as does every point the Sabres fail to earn.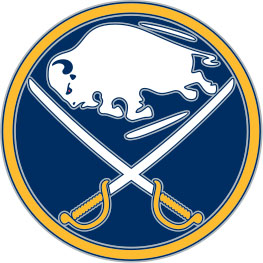 No, I don't think the Sabres are going to make the playoffs.
However, until they're officially eliminated, I'm keeping track of how it can be done.
Last night's NHL results (Rangers' loss coupled with Islanders' win) shift our focus from the Isles to the Rangers.
With 6 games left for NYR and 5 left for BUF, the Rangers' magic number is 7. The Islanders' magic number is down to just 3… but, keep in mind that they play all 5 of their remaining games on the road and wrap up the season in Buffalo.
(Technically, the Sabres could also pass the Senators but, with a magic number of 2 and no head-to-head matchup, this would involve the Sabres winning out and the Sens losing out.)
TODAY'S PRIMARY TARGET:
NY Rangers (currently at 46 points, max out at 58, face Sabres on Friday)
OTHER OBSTACLE:
Jets (max out at 56, face Sabres on Monday)
SECONDARY TARGETS:
THINGS GET KIND OF INTERESTING IF:
Sabres beat Bruins tonight
Panthers beat Rangers (especially in regulation) tomorrow
Leafs beat Islanders tomorrow
STANDINGS: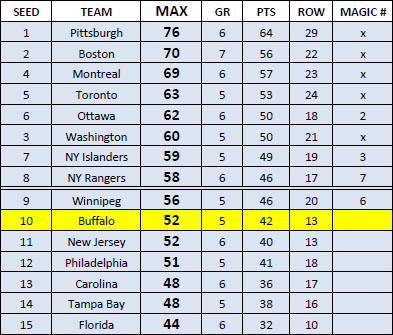 SABRES' REMAINING SCHEDULE:
4/17    at Boston
4/19    NY Rangers
4/20    at Pittsburgh
4/22    Winnipeg
4/26   NY Islanders
RANGERS' REMAINING SCHEDULE:
4/18    Florida
4/19    at Buffalo
4/21    New Jersey
4/23    at Florida
4/25    at Carolina
4/27    New Jersey
ISLANDERS' REMAINING SCHEDULE:
4/18    at Toronto
4/20    at Winnipeg
4/23    at Carolina
4/25    at Philadelphia
4/26    at Buffalo
LET'S GO BUFFALO!