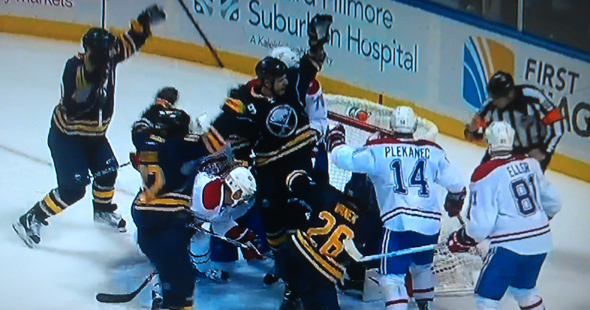 See full list of clubhouse leaders at our King of the Hill page.
***NEW***
COMEBACK GAME OF THE YEAR
After Montreal pushes its lead to 4-2 less than a minute into the 3rd period, Thomas Vanek nets a PPG near the 8 minute mark and evens it up on a scrum with 1.9 seconds left in regulation. Vanek and Jason Pominville beat Peter Budaj in the shootout to snap the Sabres 3 game losing streak with a 5-4 victory.
WORST RECURRING COMMERCIAL OF THE YEAR
The Buffalo News' [BN] campaign is pretty great. In the social media age, it really lends itself to conversation and the early TV spots were done very well. But the campaign has lost its way with this ridiculous robot. Using 1994's vision of the year 2000 in an effort to convey that The Buffalo News embraces the technology of 2013 really misses the mark. In fact, it serves the opposite of its intended purpose. This can't be where the concept was supposed to go. Its creator should [BN]raged.