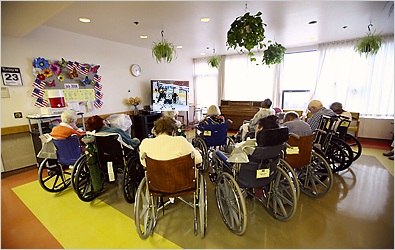 Why the hell would you want the Sabres to win the Stanley Cup?
Competitive, sure, but I don't want the Sabres to win. Could you imagine how insufferable the celebration would become? There would be so many keys to the city thrown around that our homes wouldn't be safe. By the fifth day, the News would still be 28 minutes of parade footage. Then, a week later, we'd have nothing to talk about.
Kids in Atlanta would start to wear Sabre shirts and you'd want to punch them. Jimmy Fallon would be in a movie about the Sabres and you'd go to see it because the girl you're dating likes Jimmy Fallon and you like the Sabres and, maybe it won't be that bad but, it is. You'd sit through it and squirm and she's totally not giving you any boob and, life was more fun when the Sabres were losing and everyone was miserable.
Back in 2004, I wasn't married, I didn't own a lawn that needed mowing or gutters, and I was able to breathe. I'd play NCAA Football on my Playstation for 7 hours a day. Buffalo State made the miraculous jump from Division III to D-1. The Bengals struggled through their first season with some other idiot's players.
The next off-season, I got to recruit a class. I pulled this giant Tight End out of Oklahoma. My 'School Tradition' pitch worked like a charm and he chose Buffalo State over Florida and Ohio State. I guess this Tight End really liked the 'Tradition' of playing Rummy in the Student Union while skipping Art History II. That's the only 'Tradition' I can remember while attending Buff State.
Anyway, the Bengals won a couple of games in my second year running the program. We turned some heads. It was exhilarating. The next recruiting class, I pulled the 3rd best QB prospect and a RB who could run a 4.3. Buff State won all 11 games, took the MAC. They won a Bowl game.
After that, the Bengals couldn't lose. There was no looking back. It was boring. I kept skipping seasons to get to the next recruiting class. Winning sucked. Everyone wanted to play for Buff State. We weren't plucky anymore. We were a cliché.
The chase is always preferred to the taste. I want the Sabres to use the picks acquired in the Jason Pominville trade to get more picks. I want all da picks. I want the Sabres to hold 40% of the picks in the 2018 draft… and then keep trading down.
Have you ever met a Bruins fan? They're miserable, obnoxious people. Is that what you want to be? A Bruins fan?
You don't want the Sabres to win the Cup. You just want to know that they will someday. After they win, you'll want to be dead. I'm not suggesting a mass cult-suicide or anything like that. Maybe it will work out that they'll lose for the next 50 years, get enough first-round picks to be good, and we can all watch their Game 7 Stanley Cup win over the Bangkok LaserBotz from our state-of-the-art mass nursing home. They'll win and we'll celebrate with spiked Ensure. We'll run out and tip over Rascal Scooters. Our crippling arthritis medications will take care of the hangover.
We'll hang on for a couple of years, time enough to tell all of the miserable bandwagon Sabre brats that they didn't suffer long enough, and that we suffered for 80 years with this team. They don't even know losing and their music sucks.
Then, we'll die.
This article is littered with Roman Numerals. Those Romans, I swear to God.