A sound so loud, you feel like your colon is going to disconnect from your bladder and spray your lunch all over your cargo shorts.
That's how it feels to stand within spitting distance of the track at Watkins Glen International, where I somehow found myself Sunday afternoon.
"Greg, what the hell where you doing at Watkins Glen?" – You
"My friend Stephanie, the Manager of Content Communications at NASCAR, reads my Bachelor blogs and she invited me." – Me
My friend Tim and I got VIP treatment from the good folks at NASCAR for the I Love New York 355, and we soaked in every sensory explosion. It was my first race and the experience was super NASCARy.
A race at the Glen is the Combination of a Bills game and the Erie County Fair.
It all started with the midway. There are 100,000 fans pre-gaming, drinking beer and grilling. People don't really care if you know nothing of NASCAR. Most of them try to recruit you to root for their driver. NASCAR is a promotional machine, so there was no shortage of opportunities to buy fireproof jackets littered with logos.
I met a guy who drank 30 beers on Thursday and strategically taped his body to sunburn Dale Jr's 88 onto his torso. That's dedication.
As with most things I do, food is important. A special shout-out goes to Smokin' Pete's Food Truck. I got loaded tots, smothered with pulled pork. This is not a paid endorsement. I want to hitch my car to their truck and follow them around like they're the Grateful dead.
NASCAR Does Not Give a Shit (In a Good Way)
I spent a good portion of my life covering the NFL and NHL. I have watched a player injure his knee and have then been told that player had an upper body injury. NASCAR is the complete opposite. Denny Hamlin had brake problems shortly before the race. As his crew worked to correct these problems, I literally stood next to a NASCAR official watching the process. It was like being in the locker room while some dude taped another dude's knees.
My credentials allowed me to enter the Media Center, the garages and pit row. If you're not familiar with access to sporting events, that's stupid access. No one should be allowed on pit row. There are hundreds of random people walking around pit row minutes before the race.
I accidentally stumbled into Jimmie Johnson as he was walking to get to his car for the race. That's not an exaggeration. Barreled right into him. IT WAS MY FAULT AND JIMMIE JOHNSON APOLOGIZED TO ME! Could you imagine stumbling into Tom Brady before a game? So far in 2017, I have stumbled into Jimmie Johnson and William Shatner. And it's only August.
Every single person who worked this event was nice to me. From the sweet lady who handed me my parking pass to the security guard who politely told me that I was not allowed to touch the inside of Chase Elliot's #4 car.
NASCAR Is for Nerds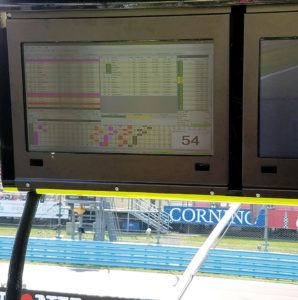 As for the race, it was certainly loud and fast, but I never realized how nerdy NASCAR was. I spent the entire race watching this excel-like document auto-refresh. It displayed each car's lap time and race standing in real time. It was super addicting.
The pit crews are impressive, especially up close. Those are some serious athletes flinging around tires and gasoline. I know I'm not the first person to tell you that you get a special appreciation for the speed of this sport when you view it in person but, if you've never been, go.
Four-Wide Fun
I wasn't a NASCAR fan. It's not that I dislike it. I just never had room in my sportsicity. I had no business getting a tour of the Penske team haulers and talking with Brad Keselowski's crew chief right before the race. I certainly did not deserve seats so close I could get high off octane and burnt rubber, but I don't care. I had 100% fun.
Somehow I knew that writing about the Bachelor for 15 years would lead to a glutinous orgy of the senses. Sports quota filled.