Yes, it's just a Madden 13 simulation, but throw the digital Bills on the 42 inch TV at Trending Buffalo's global headquarters and our world stops.  We're hungry for football and, honestly, watching the fake Bills take on the fake Jets in the fake regular season opener is a lot more fun/interesting than watching Tyler Thigpen lead the "real" Bills (many of whom will be cut within days) against the "real" Lions (many of whom will be cut within days) tonight in the real preseason finale. We've got plans for a more in-depth simulation on a weekly basis throughout the year, but Madden came out on Tuesday and we're not waiting.  So, without further ado, let's take you through the first four games of the fake season for the Fake Bills.
PRESEASON
Here's all you need to know.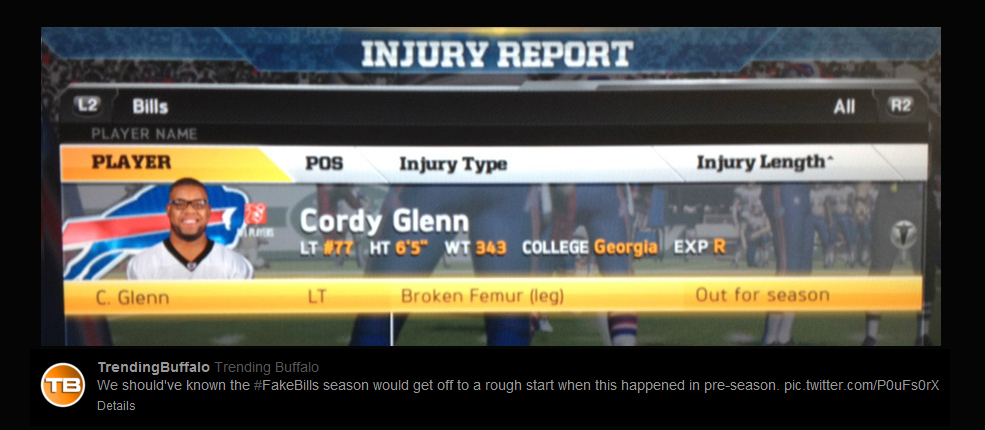 ——————–
REGULAR SEASON
WEEK ONE-  BILLS (0-0) AT JETS (0-0)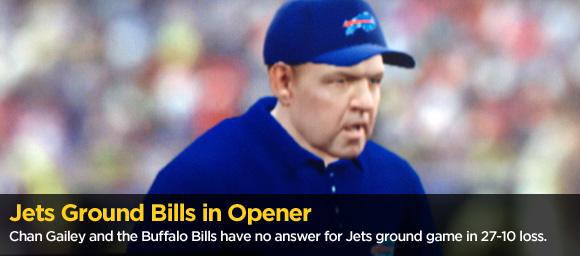 After an early exchange of field goals, the Jets pull ahead 13-3 in the 2nd quarter.  The Bills narrow the gap to 13-10 in the 3rd quarter with an 8 play, 65 yard drive culminating in a 22 yard TD pass from Ryan Fitzpatrick to David Nelson.  The Jets respond with a 60 yard TD run by Shonn Greene on the next series and never look back.  Bills fail on back to back 4th down conversion attempts.   JETS 27, BILLS 10.
Key stats:  
Ryan Fitzpatrick: 21-35, 214 yds, TD
Fred Jackson: 19 carries, 54 yards
Stephone Gilmore:  4 tackles, INT, fumble recovery
Bills D:  4 takeaways, 206 rushing yards allowed
Dustin Keller:  7 receptions, 64 yards
Shonn Greene 15 carries, 114 yards, TD
Postgame show:
"4 takeaways, 10 points of offense?  I put that on the coaching staff."
"Where's the beefed up defensive line we've been hearing about since March?"
"When the last time we had a guy who could cover a tight end?"
——————–
WEEK TWO-  CHIEFS (0-1) AT BILLS (0-1)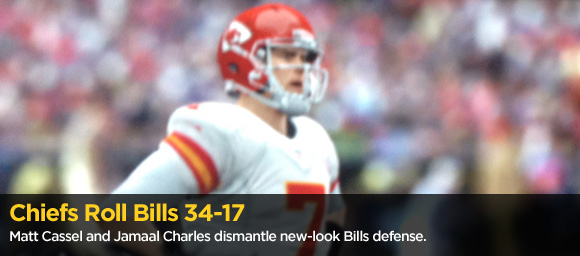 Nick Barnett intercepts a Matt Cassel pass, leading to a Ryan Lindell field goal and an early 3-0 Bills lead.  Chiefs kicker Ryan Succop evens things up before Jamaal Charles rips off an 86 yard score to give KC the lead.  Fred Jackson answers with a 66 yard TD of his own and Buffalo looks to head into the locker room tied at 10.  But Cassel engineers a 7 play, 65 yard drive over just 1:35 and hits Cadillac Williams for an 11 yard score and KC takes a 17-10 lead to halftime.  The lead widens to 24-10 on KC's first possession of the 2nd half when Cassel connects with Dwayne Bowe for a 78 yard TD.  Ryan Fitzpatrick hits C.J. Spiller on a screen pass that turns into a 55 yard score, cutting the KC lead to 24-17.  Nick Barnett hauls in his 2nd pick of the day but the Buffalo offense goes 3 and out.  On the first play after the punt, Jamaal Charles hits a seam and burns the Bills' D for a 73 yard TD.  (Note:  This game contained TDs of 86, 66, 78, 55, and 73 yards.)  Chiefs 34, Bills 17.
Key stats:  
Ryan Fitzpatrick: 11-23, 188 yards, TD
Fred Jackson: 12 carries, 96 yards
Nick Barnett:  12 tackles, sack, 2 INT
Jamaal Charles:  12 carries, 184 yards, 2 TD
Cadillac Williams:  14 carries, 44 yards
Chiefs rushing:  34 carries, 251 yards
Postgame show:
"How much did we pay Mario Williams?"
"What is Wannstedt going to do about these big plays?"
——————–
WEEK THREE-  BILLS (0-2) AT BROWNS (2-0)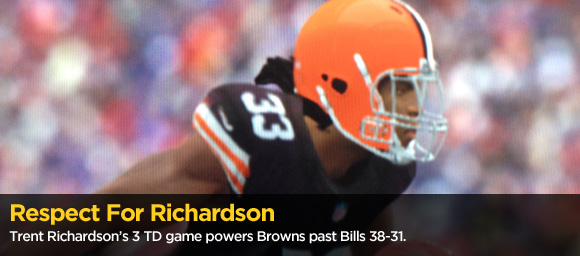 Big plays continue to haunt the Bills as rookie Trent Richardson takes the first play from scrimmage to the house from 71 yards out.  On the Browns second play from scrimmage, the Bills swarm Richardson and hold him to a 2 yard gain.  On their third play, however, FB Owen Marecic takes a Colt McCoy pass in the flat and turns it upfield for an 86 yard touchdown.  (Note:  I wasn't watching when this play happened.  I liked Marecic a lot at Stanford but…  seriously?  A fullback just scored an 86 yard touchdown?  Let's GO Buffalo!  Come on.  Wake up!)  A 14 yard C.J. Spiller rushing TD late in the first quarter keeps the Bills in the game but a Spiller fumble on the next Buffalo possession gives Cleveland the ball at the Bills' 36 and McCoy hits some guy named Alexander for the score immediately.  Richardson's second score of the day puts Cleveland up 31-10.  Consecutive TD drives (Fitzpatrick to Stevie Johnson and then to Fred Jackson) bring the Bills to within a score but Richardson's 3rd of the day, this time from 51 yards out, put it away.  A late Fitzpatrick/Johnson hookup makes the final score closer than the game felt.  Browns 38, Bills 31.
Key Stats:
Ryan Fitzpatrick:  29-47, 295 yards, 3 TD, INT

Trent Richardson:  21 carries, 165 yards, 3 TD
Postgame show:
"No We Chan't"

"I really thought this team had a chance to be 3-0, 2-1 at worst heading into the New England game."

"These guys clearly aren't motivated.  Fire Gailey.  Promote Wannstedt.  He's got a mustache so you know he can inspire people."

"Who's the top QB in the draft?  This season's already over.  I'd tank it to get my hands on a franchise guy."
——————–
WEEK FOUR-  PATRIOTS (2-1) AT BILLS (0-3)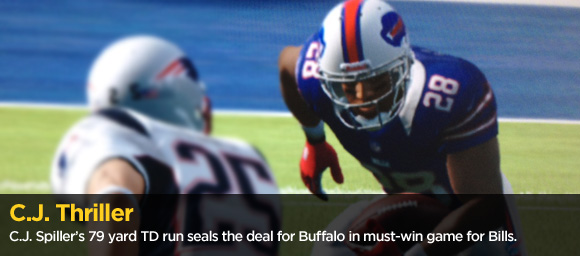 In a must win game for the Bills, things get off to a good start when Donald Jones opens the scoring late in the first quarter, capping an 11 play, 79 yard drive with a 5 yard TD reception from Ryan Fitzpatrick.  Fitzpatrick and Brad Smith hook up on a 77 yard pass for another score and the Bills take a 17-3 lead to halftime.  After another Lindell FG, Joseph Addai finds the end zone early int he 4th to pull the Pats within 10.  The Bills counter with a long drive including a Stevie Johnson 25 yard reception and a 27 yard TD run by C.J. Spiller.  Spiller adds a spectacular 79 yard score to put the Patriots away.  Bills 37, Patriots 10.
Key stats:
C.J. Spiller: 5 carries, 112 yards, 2 TD
Fred Jackson:  23 carries, 61 yards
Ryan Fitzpatrick:  12-21, 233 yards, 2 TD
Tom Brady:  21-35, 208 yards
New England:  36 yards rushing
Postgame show:
"Where's this version of the defense been?"
"They've gotta get more touches for Spiller.  He's so much more explosive than Freddie."
"I don't care if they go 2-14.  If they beat Belichick twice, that's good enough for me."
——————–
AFC EAST STANDINGS:
New York            3-1
Miami                   3-1
New England     2-2
Buffalo               1-3
KEY STATS TO DATE:
Ryan Fitzpatrick:  7 TD, 1 INT, 95.2 Rating, sacked 10 times
Fred Jackson:  260 yards, 3.8 average
C.J. Spiller:  156 yards, 8.2 average, 3 TD
Bills D:  3 total sacks, none by Mario Williams
UP NEXT:
The Bills take their 1-3 record into San Francisco to take on the 0-4 49ers.  No problem!