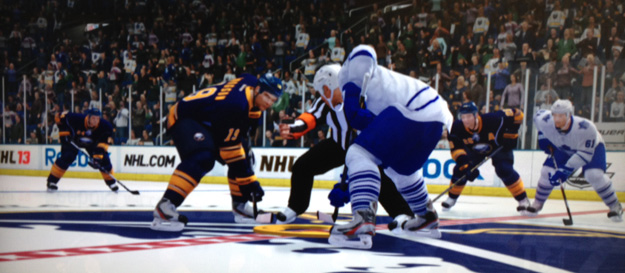 Dammit this is Hockey Heaven… and there WILL be Sabres hockey! (Even if we have to make it up ourselves.)
The NHL "powers-that-be" have decided to take "real" hockey away from the fans, but TrendingBuffalo.com and Oogie Games have teamed up to bring you #SabreSim2012.
We're going to simulate each game of the Buffalo Sabres 2012-13 season using EASports NHL13 and post the results, game recap, video highlights, stats, post-game commentary, and more on each originally scheduled game night.  We'll even keep tabs on what else is going on around the rest of NHL.
TrendingBuffalo.com will be the home for all game reports and we'll tag all related tweets with #SabreSim2012.
Also, make sure to follow (and offer guidance to) @FakeDarcy and @LindyRuffsTie who will be handling the roster moves and lineup decisions before each game.
The show will go on. Look for the Pittsburgh at Buffalo game results Saturday night.
***
GAME 1 : Pittsburgh Penguins at Buffalo Sabres
Roster & Lineup 
(pending input from @FakeDarcy and @LindyRuffsTie )
Forward Lines
Line 1: Vanek – Hodgson – Pominville
Line 2: Foligno – Ennis – Stafford
Line 3: Ott – Leino – Gerbe
Line 4: Ellis – McCormick – Kaleta
Scratched:  Scott
Defense Pairings
D 1: Regehr – Myers
D 2: Ehrhoff – Leopold
D 3: Sekera – Weber
Scratched: Sulzer
Goalies:
Miller – Enroth
PP 1: Vanek – Hodgson – Pominville – Myers – Ehrhoff
PP 2: Stafford – Ennis – Leino – Leopold – Sekera
PK 1: Leino – Ott – Regehr – Myers
PK2:  Hodgson – Pominville – Ehrhoff – Leopold
AHL players available
Forwards:  Adam, Girgensons, Tropp, Varone, Tarnasky, Turnbull, Ryan, Mancari
Defensemen: Brennan, McNabb, Pardy, Schiestel, Finley
QMJHL players available
Grigerenko
***
October Schedule
Sat, Oct 13 – Pittsburgh at Buffalo
Tue, Oct 16 – Detroit at Buffalo
Fri, Oct 19 – NY Rangers at Buffalo
Sat, Oct 20 – Buffalo at NY Islanders
Wed, Oct 24 – New Jersey at Buffalo
Fri, Oct 26 – Buffalo at New Jersey
Sun, Oct 28 – Philadelphia at Buffalo
Tue, Oct 30 – Buffalo at Boston