(4) Auburn 34, (1) Alabama 28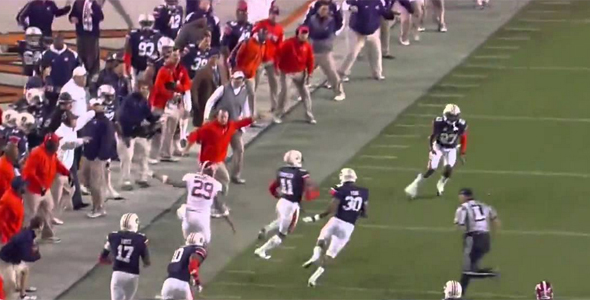 Wow! Wow! Wow! What an incredible game. Alabama lined up for a 57 yard field goal at the end of the game. Auburn put Chris Davis back in the end zone to return a kick that was short. That's exactly what happened and Davis raced 108 yards for the game winning touchdown. It was a moment you'll never forget. Forty one years ago there was the great "Punt, Bama, Punt" game that will live in lore for the rest of this series. This game might go down as the "Kick, Bama, Kick" game.
We blame Nick Saban for the loss. Here's why. With 5:30 minutes to play and his team up by seven, Alabama faced a fourth and one at the Auburn 13. He's got to kick a 30 yard field goal to go up two scores. Instead he goes for it and is stopped. Granted his field goal kicker Cade Foster was having a horrible game. Foster may face a few death threats when he returns to Tuscaloosa. Foster a minute later would miss a 44 yard attempt. He missed three attempts on the day. The kick that was returned was tried by Adam Griffith. How does Alabama not have a field goal kicker? Two years ago against LSU, they lost the game because of the kicker. They missed four field goals in the game.
The game was back and forth. Auburn rushed for 296 yards. The Auburn running game appears simple by design but incredibly difficult to stop. Auburn tied the score with 32 seconds left when Nick Marshall pulled up and passed hitting a wide open Sammie Coates for a 39 yard touchdown. Alabama had taken the lead on a 99 yard pass early in the fourth quarter from AJ McCarron to Amari Cooper.
In the post game press conference, Nick Saban took full blame for the loss. Alabama might not be out of the race for the title. Ohio State could lose to Michigan State and Auburn could lose in the SEC title game to Missouri. Stranger things have happened.
Unless Michigan State upsets Ohio State, this should end the SEC's seven year reign on National Championships.
Great to see Czar Nicholas Saban of Tuscaloosa trot out the wife a la Albert Pujols this week, to do some ground work on the financial planning front. Mrs. Saban bemoaned the fact that they felt "unappreciated" after all the success they had brought to Alabama, and sometimes it was really hard to accept the burden of all the pressure & elevated expectations without some signal from the Administration that they understood and could empathize.
Yes, boo hoo, the Sabans' plight is remarkably difficult, all the championships, the highest salary in the history of college sports, a hundred perks no one else has ever been granted– and yet happiness still so elusive.
Nothing quite like a man who hides behind his wife's skirt, and actually convinces her to "bird dog" for him and test the waters. Then he can pretend that those are just her personal thoughts, and he has nothing to do with it, and she is entitled to her opinion and this is a free country, and isn't that what the founding fathers fought for, etc…..blah! blah! blah!
Then, in the next breath, Nick will publicly bemoan their dire situation with his well-worn delusional act of claiming victimhood and the subsequent right to extort financial largesse from the employer while threatening indirectly to pick up his toys and play with the richer kids down the street in Austin, Texas.
All the while, he's pretending to give a damn about the "integrity and character" of college sports and the paramount importance of keeping players "amateur" and not allowing any form of compensation or player transfers between teams because as young men learning the rules of life, they have to learn the value of making a commitment.
Potential first/second round picks in the game:
Cyrus Kouandjio- OT Alabama
CJ Mosley- LB Alabama
Ha Ha Clinton-Dix Safety Alabama
Adrian Hubbard- LB Alabama
Anthony Steen- G Alabama
Dee Ford- DE- Auburn
Greg Robinson- OT Auburn
(2) Florida State 37, Florida 7
Jameis Winston threw three touchdown passes to Kelvin Benjamin as the Seminoles moved one step closer to the National Championship Game. Winston moved closer to the Heisman as well. Winston is the one candidate that really hasn't had a bad game. He completed 19 of 31 for 327 yards against a good Gators defense. Problem with Florida is they can't move the ball. Florida was hit with another injury in the game when their wildcat QB Trey Burton went out with injury. This is nothing new for Gators, who have now lost 10 starters to injury. Gators dropped seven straight to end the season. This is the first time they won't be going to a bowl game since 1990. Gators were held to only 8 first downs by the Seminoles defense.
Florida State has Duke on deck in the ACC Championship game next week. The rape allegation still looms over Winston and the Florida State program. This week the Winston camp urged prosecutors to make a decision if they were going to press charges.
Potential first/second round picks in the game:
Cameron Erving –OT Florida State
Lamarcus Joyner- S Florida State
Timmy Jernigan –DT Florida State
Loucheiz Purifoy CB- Florida
Marcus Roberson-CB Florida
Dominique Easley- DT/DE Florida (inj)
(3) Ohio State 42, Michigan 41
This was a wild offensive game from two teams that were once known for their defense. Somewhere Woody and Bo are turning over. During the 10 year "Woody and Bo" wars the teams combined for only 24 points a game.
Michigan started off hot which was very important. This was a gutty performance by Devin Gardner, who was hobbled in the game. Gardner threw for 451 yards and four touchdowns. Michigan led most of the first half. Ohio State took control in the third and took a 35-21 lead. Key play was a fumble by Carlos Hyde. It didn't look like the Michigan defense could stop the Buckeyes. Hyde stopped a drive with the turnover and Michigan turned it into seven points. Ohio State came right back down behind Braxton Miller. Miller had a typical performance combining for 286 yards and five touchdowns. Michigan didn't quit and came right back and scored on another Gardner TD pass with under a minute to play. Loved the fact Brady Hoke went for two. Right call! No way was Michigan going to stop Ohio State. It didn't work because Tyvis Powell jumped a route and intercepted the two point conversion but the call was still correct to go for it.
Michigan AD came out this week and gave a vote of confidence to Brady Hoke. That's usually the kiss of death. We like Brady Hoke and hope that Michigan keeps him.
Ohio State has a great one-two punch with Hyde and Miller on offense. The defense is not capable of stopping a good offense. Michigan and Illinois are not great offenses and we have seen them in the last month light up this defense.
Three players were ejected from the game in the second quarter.
Potential first/second round picks in the game:
Taylor Lewan- OT Michigan
Bradley Roby- CB Ohio State
Rayan Shazier- LB Ohio State
Michael Bennett- DT Ohio State
Jack Mewhort- OT Ohio State
(10) South Carolina 31, (6) Clemson 17
We thought that Tajh Boyd was the dual-threat quarterback that was headed to the NFL. If you watched this game you would think it was Gamecocks QB Connor Shaw. Shaw was marvelous in improving to a perfect 17-0 lifetime career record at home.
Shaw threw for only 152 yards but it was really his rushing for 94 yards on 22 carries that was the difference in the game. Clemson did a good job of stopping Gamecocks RB Mike Davis. They couldn't stop Shaw's scrambles.
The other story of the game was the six turnovers the South Carolina defense caused. The most crushing of them was a strip of Tajh Boyd by Chaz Sutton in the fourth quarter as Clemson was driving to try to tie the game at 24. Boyd was sacked five times in the game, once by Jadeveon Clowney. It was Clowney's first sack since September. The Clemson defense forced a punt after the fumble, but Clemson fumbled the punt away and that sealed the game. Clemson has now lost five in a row to their in-state brother.
Potential first/second round picks in the game:
Jadeveon Clowney- DE South Carolina
Tajh Boyd- QB Clemson
Sammy Watkins- WR Clemson
Vic Beasley- LB Clemson
(5) Missouri 28, (21) Texas A&M 21
Story of the game was that, for the second straight week, a team was able to keep Johnny Manziel under control. Last week LSU totally dominated the Aggies offense. This week wasn't as bad but Missouri did a great job in getting the win. Manziel threw for under 200 yards and most importantly only had 21 yards on 11 carries. After the game Kevin Sumlin discounted the reports that Manziel had a thumb injury against LSU.
The Aggies defense which has been a disaster all year against the run did a better job in the game. The game was tied at 21 with less than four minutes to play when Henry Josey finally got loose on a big run and raced 57 yards for the deciding touchdown. Other than that run Josey had 12 rushes for 39 yards. The win means Missouri will be in the SEC championship game next week against Auburn. This is a great story for two teams that rebounded this year after disappointing '12 seasons. The two teams were a combined 2-14 in conference last year.
For A&M, Kevin Sumlin just got a new contract. The focus all will have will be on replacing Manziel. Sumlin really needs to focus on making his defense a legitimate SEC defense.
Potential first/second round picks in the game:
Johnny Manziel- QB Texas A&M
Jake Matthews –OT Texas A&M
Mike Evans- WR Texas A&M
Michael Sam- DE/OLB Missouri
E.J. Gaines- CB Missouri
Kony Early- DE- Missouri
(8) Stanford 27, (25) Notre Dame 20
Revenge game for Stanford because they think they were screwed last year in Notre Dame. Irish came in without star DT Louis Nix, who is out after having knee surgery. This appeared like it might be a one-sided affair. Have to hand it to Notre Dame for keeping the game close.
Stanford used their typical ball control offense in getting the win. Tyler Gaffney rushed 33 times for 189 yards and a score. Kevin Hogan was intercepted twice by the ND defense but he did have one TD pass as well.  Tommy Rees played well considering the Irish have no running game this year. People blame Rees but this was a team that won last year by running the ball. The Irish ran for only 64 yards in the game. Wayne Lyons picked off Rees twice in the fourth quarter. Rees is not a guy you can lean on to throw 40 times to win games. To us the two QB's in this game are very similar. Difference is Stanford doesn't ask nearly as much from Hogan.
Potential first/second round picks in the game:
Louis Nix- DT Notre Dame
Stephon Tuitt- DE Notre Dame
Zach Martin- G Notre Dame
David Yankey- G Stanford
Trent Murphy- De Stanford
Shane Skov- LB Stanford
(11) Michigan State 14, Minnesota 3
Minnesota's reign in the Top 25 was a short one– try one week. Gophers offense has been the problem. Last week their only TD came from the defense. This week the best defense in the Big 10 held them to 249 yards and forced three turnovers. This was the fifth time in the last six games that the Spartans have held a team without an offensive touchdown. Jeremy Langford ran for 134 yards and a touchdown. Spartans play that boring Big 10 style but they have been effective so far. Next week they will meet Ohio State in the Big 10 title game. It will be interesting to see how well they stop Miller and Hyde.
Potential first/second round picks in the game:
Ra'Shede Hageman- DT Minnesota
Darqueze Dennard- CB Michigan State
(22) UCLA 35, (23) USC 14
This rivalry doesn't get as much hype for the nastiness between fans as Auburn-Alabama or Ohio State-Michigan but make no mistake about it there is no love loss here. The teams had to be separated before the game. After the game the Bruins posed for pictures at the center of the field rubbing it in.
Brett Hundley was the difference in the game. Hundley has fallen from grace after a fast start to the season. Some scouts at mid-season had him as a top 5 pick. He's fallen out of the first two rounds but you did see him make big plays with his legs in this game. His 80 yards rushing and two touchdowns on the ground proved to be one of the differences in the game. The other was the UCLA defense that held the Trojans offense in check most of the night.
This is going to make for a interesting decision for Pat Haden. Ed Orgeron brought USC back from the early season grave that Lane Kiffin had put them in. He had a huge win over Stanford but loss to Notre Dame and UCLA. We think Orgeron deserves the job but wouldn't be surprised if the nerd fires him.
Potential first/second round picks in the game:
Anthony Barr- OLB UCLA
Xavier Su'A Filo G -UCLA
Morgan Breslin-LB USC
Marqise Lee- WR USC
(9) Baylor 41, TCU 38
Big question was would Baylor feel a let down after losing last week to Oklahoma State? Truth is Baylor was lucky to win. Baylor had two interceptions returned for touchdowns and still had to hold on to win. TCU did a good job of holding the Bears high-powered offense under check. Baylor had only 370 yards of offense which is well below their season average. Bryce Petty threw for two touchdowns and ran in a third. TCU was in position to tie the game at the end and send it to overtime, but Casey Pachall threw his third interception of the game to end it. Lache Seastrunk returned to action for Baylor. The Bears star RB was held to 94 yards on 24 carries.
Potential first/second round picks in the game:
Jason Verrett- CB TCU
Cyril Richardson- OG Baylor
Lache Seastrunk- RB Baylor
(24) Duke 27, UNC 25
Game for the Victory Bell actually means something. What were the odds of that? Duke's win means a date with Florida State next week in the ACC Championship. What can we say more about David Cutcliffe and the job he has done the last six years in Durham? This was a place that coaches went to die. Last year was their first bowl game in 18 years and now they will make their first back-to-back bowl games in school history. Start erecting the statue now.
Anthony Boone threw for 274 yards and two touchdown passes. Duke uses their personal very well. They use two QB's to make things work. Ross Martin kicked a 27 yard field goal with 2:22 left to give the Blue Devils the lead. Devon Edwards intercepted a pass with 13 seconds left to seal the win.
Potential first/second round picks in the game:
Eric Ebron TE UNC
James Hurst- OT UNC
Penn State 31, (15) Wisconsin 24
Wisconsin, known for their smash-mouth running game, has been winning on defense. The story of this game was what happened to the defense. The Badgers defense looked confused during the game. Wide receivers not covered, not enough players on the field, players yelling at each other–  all part of the Badgers' defense on this day.  Coming into the game, they had held their last two opponents (Indiana and Minnesota) out of the end zone. Christian Hackenburg threw for 339 yards and four touchdowns in the game. The Wisconsin defense got little to no pressure on him. Penn State did a great job of shutting down the Badgers running game. Neither of the two good Badgers RBs Melvin Gordon or James White gained 100 yards in the game.
Potential first/second round picks in the game:
Allen Robinson- WR Penn State
DaQuan Jones- DT Penn State
Chris Borland- LB Wisconsin
Melvin Gordon- RB Wisconsin
(12) Arizona State 58, Arizona 21
You might have thought that ASU being without RB Marion Grice would hurt their offense. Wasn't the case. DJ Foster filled in for Grice rushing for 124 yards and two touchdowns. Arizona State jumped out to a 27-0 lead and cruised to victory. Arizona had come in on an emotional high beating Oregon last week. They came out flat in the game.
Arizona tried to mount a come back and had the score to 30-14 in the third quarter. They were driving to try to make it a one score game when Damarious Randall intercepted a BJ Denker pass and ran 64 yards for a touchdown.
ASU clinched home field in the PAC 12 title game with the win. They host Stanford next week.
Ka'Deem Carey rushed for 157 yards for the Wildcats but most of those yards were in the second half after the game was already decided.
Potential first/second round picks in the game:
Will Sutton- DT Arizona State
Marion Grice- RB Arizona State
*****
Finally… The Redskins Mess
Great to see Washington Owner, Little Lord Fauntleroy Daniel Snyder trot out his version of the Potemkin Village with some aging Navajo "codetalkers," dressed in team gear, ostensibly to be honored for their military service in WWII, but obviously there to legitimize the "Redskins" team name. This little dictator has cut down trees on federal land, threatened lawsuits on lifetime franchise fan pensioners who lost their jobs and couldn't live up to obligations to pay his exorbitant seat licenses on season tickets, and generally run a once proud franchise into the ground.
RG III is proving to be a real prima donna as well– blaming his coaches, teammates, the media and the fans. Some are questioning his commitment even, with reports of him cavorting about the District, visiting many questionable night spots.
We don't want to accuse him of being a "Good Time Griffin" just yet, but he goes out more than the Sochi Olympic Flame.