If you like #SabreSim2012, please follow presenting sponsor Oogie Games!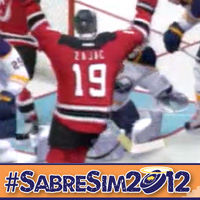 (BUFFALO, NY)  Ryan Miller's worst outing of the young season put the Sabres in a hole they couldn't escape in a 5-2 loss to the Devils.  Sabres coach Lindy Ruff bucked conventional hockey wisdom by turning to Miller following Jhonas Enroth's shutout of the same Devils Wednesday night in Buffalo.
The New Jersey's first goal was the direct result of strong physical play in the offensive end with Patrik Elias knocking Jason Pominville off the puck and Adam Henrique picking it up to find Dainius Zubrus.  Zubrus' wrist shot beat Miller to take a 1-0 lead at 3:07 of the first.
Marcus Foligno got Buffalo on the board in his first game back from a brief injury.  A Tyler Ennis shot yielded a rebound which Drew Stafford was unable to convert but Foligno, trailing on the play, put the loose puck past Martin Brodeur to pull the Sabres even at 11:59.
New Jersey regained the lead before the end of the first frame when Ryan Carter won a draw Andy Greene threw a wrister into the top corner of the net at 17:28.  It was a lead they would never relinquish.
Both clubs were held scoreless in the second before New Jersey's 3 goal output (Kovalchuk, Zajac, Elias) in the third.
Robyn Regehr netted his first of the year for Buffalo.
The Sabres lost more than just the game as defenseman Tyler Myers had to be helped off the ice late in the first period with what is being called a "lower body injury."  He'll miss at least Sunday's home game against Philadelphia with further evaluation expected early next week.
*****
SCORING:
FIRST PERIOD
NJD 3:07 – D. Zubrus (2), (A. Henrique)
BUF 11:59 – M. Foligno (2), (T. Ennis, D Stafford)
NJD 17:28 – A. Greene (1), (R. Carter)
THIRD PERIOD
NJD 0:59 – I. Kovalchuk (1), (unassisted)
BUF 6:59 – R. Regehr (1), (M. Foligno, T. Ennis)
NJD 13:12 – T. Zajac (1), (I. Kovalchuk)
NJD 19:55 – P. Elias (2) SH ENG, (unassisted)

*****
Sabres Lineup:
Forward Lines
Vanek – Hodgson – Pominville
Foligno – Ennis – Stafford
Leino – Grigerenko – Gerbe
Ellis – Ott – Kaleta
Defensive Pairings
Regehr – Myers
Ehrhoff – Leopold
Sekera – Weber
Goaltender
Miller
*****