It's a long shot but…
Comment stolen from a Bob McKenzie post on tsn.ca:

Really?
Yes. The Sabres would need four teams to pass the Islanders by the end of the regular season to put the Islanders out of the playoffs and into the lottery.
Which four teams, again?
Detroit, Pittsburgh, Boston, and Ottawa.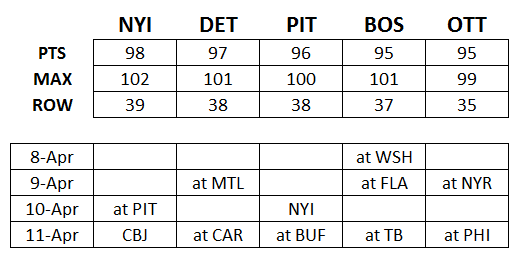 *OK, so how does it happen?
Sabres lose to Blue Jackets OR Coyotes beat Canucks or Ducks (*or some combo of OT losses)
Islanders lose in regulation to Penguins and Blue Jackets
Senators beat both Rangers and Flyers
Bruins gain at least 4 points in 3 games against Capitals, Panthers, and Lightning
Penguins earn at least a point against Sabres
Red Wings win at least 1 of 2 remaining games
This is stupid.
I know.
What's with the asterisk?
Well, there are a bunch of OT/SO loss combos that could also help but make this ridiculously complex scenario even more complex, so I'm leaving them out.
Even if all of the above happens, how do the Sabres get both McEichel and McEichel?
Sabres finish 30th. Islanders win the lottery, bumping the Sabres to 2nd in the draft.
BUT WAIT… the Sabres hold the Islanders pick from the Vanek trade!
Sabres pick first and second and win every Cup until we're all dead.
Connor McDavid and Jack Eichel both start shopping for houses in East Amherst.
THE END.