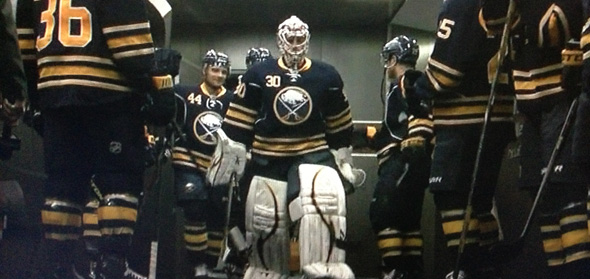 With the trade deadline just three weeks away, the Sabres dwell among the dregs of the NHL and it appears they could be major sellers come April 3.
Theoretically, there's still time to join the race for 8th, but really–  if ever a team needed a wholesale makeover, it's this one.
Here are seven players the Sabres could send on their way along with an estimate of what each could fetch based on past trades.
Jordan Leopold
This would be a classic "veteran-defenseman-to add-depth-and-help-us-on-the-powerplay" rental player trade that happens every year. Trading Leopold is much like the Winnipeg Jets trading veteran defenseman Johnny Oduya to the Chicago Blackhawks for a 2nd and 3rd round pick at the trade deadline last year. Oduya was two years younger than Leopold at the time and a slightly better player so the Sabres could expect less than this value in return.
Leopold's estimated value: 3rd round pick & 4th round pick
Robyn Regehr
Like Leopold, Regehr is the another veteran defenseman with an expiring contract. We can put him squarely in the "veteran-defenseman-to-add-grit-and-is-good-in-the-room" category. The Sabres shouldn't have any problem finding a team that will want to acquire Regehr and his value should be similar to Leopold.
Regehr's estimated value: 3rd round pick
Jochen Hecht
Yes, it's true! There may be a team (not managed by Darcy Regier) that might actually want Jochen Hecht on their roster. Teams preparing for the playoffs will always look for an extra veteran forward that can be trusted in his own zone. Last year the Florida Panthers acquired Jerred Smithson (34 years old, 36 career goals) from the Nashville Predators for a 6th round pick.
Hecht's estimated value: 6th round pick
Drew Stafford
Moving Drew Stafford will be just as good for the Sabres as it will be for Drew Stafford. The guy has shown talent but he needs a change of scenery.
We have a few comparables to assess the value here. Stafford would certainly be more valuable than both Wojtek Wolski (who the Panthers acquired for a 3rd round pick and throw-in prospect Michael Vernace) and Andrei Kostitsyn (who the Predators picked up for a 2nd and a 5th.) He also has to be more valuable than Paul Gaustad who brought the Sabres a 1st round pick. Potentially decreasing Stafford's value could be his contract which pays him $4mil/year for two more years after this one.
Stafford's estimated value: 1st round pick & 3rd round pick
Ryan Miller
Nick Kypreos from sportsnet.ca mentioned yesterday that the Sabres will be deadline day sellers and that "Ryan Miller's days in Buffalo are numbered."
Unfortunately, there are not close value comparisons for a very good goaltender with a $6.25 million contract. The Senators acquired Ben Bishop from the Blues at the deadline for a 2nd rounder last year. The Capitals recently traded Semyon Varlomov to the Avs for a 1st and a 2nd. That said, age and contract differences skew the comparisons for both these players.
Speaking of Varlomov and the Colorado Avalanche, this might be a spot for Miller. With Landeskog, O'Reilly and Duchene all pulling hefty salaries, it seems obvious that the Avs need to find a way to move Paul Stastny and his $6.6mil cap hit. And Varlomov has been a disappointment in net. Perhaps Miller for Stastny and a prospect could do it.
Also factoring into Miller's potential value and tradability would be the new CBA rule allowing the Sabres to keep some of his cap hit on their books.
Miller's estimated value: who knows?
Jason Pominville
Veteran winger. Team captain. Two-way player. Scores big goals. Every team in the league would like to add Pominville at the right price. The closest comparable trade might be Jeff Carter who was traded from Columbus to L.A. last year for a 1st round pick and top defenseman Jack Johnson. While Carter (.40 goals per game) has been a more prolific goal scorer than Pominville (.32 goals per game), you could argue that Pominville's attitude, all-around game, and less-risky contract even things out.
Pominville's estimated value: 1st round pick, 2nd round pick and a top prospect.
Thomas Vanek
The closest comparable for Vanek is Rick Nash, for whom the Columbus Blue Jackets acquired Brandon Dubinsky (prototypical two-way 3rd line center who can also score 20 goals), Artem Anisimov (#2/#3 center), Tim Erixon (top prospect in the Rangers system), and a 1st round pick. You could argue that the Sabres should be able to fetch a better return for Thomas Vanek because Regier can work a deal with any of the 29 other teams as opposed to the list of six teams to which Rick Nash would accept a trade.
Vanek's estimated value: two 1st round picks, two top prospects, and a capable NHL forward.
*****
Make every move listed above and what do you get?
four 1st round picks
one 2nd round pick
three 3rd round picks
one 4th round pick
one 6th round pick
three prospects
one capable forward
one partridge in a pear tree
whatever you get for Miller
Give us a new GM to make all the picks and book the Stanley Cup parade for 2016!