#SabreSim2012 starts Saturday as the Buffalo Sabres host the Pittsburgh Penguins at Fake First Niagara Center.
It just wouldn't be fake pro sports if the fake Buffalo media didn't take the time bestow upon us their wisdom, knowledge, and predictions about what we can expect in the upcoming season.
#SabreSim2012 Season Previews

After an off-season that promised big changes, it seems we're right back where we started again. This team needs more offensive talent and far better play at center. So, in his infinite wisdom, GM Darcy Regier decided to dump his most skilled and productive center and replace him with a couple of goons.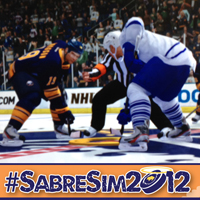 Sure, it will be nice to have John Scott (signed as free agent) and Steve Ott (traded for Derek Roy) in the lineup when the Sabres take on the Bruins… but to win in this league, you have to score.  Barring offensive explosions from the oft-slumbering Drew Stafford and oft-invisible Ville Leino, the Sabres just don't have the firepower to realistically compete for the Cup.
I predict this is another middling team that maybe sneaks into 8th place. And I also predict lots of flare-ups from an already ornery fan base impatiently biding time until the arrival of new talent in the form of Mikhail Gigerenko, Zemgus Girgensons, and Joel Armia.

Hockey is a tough sport and the Sabres went out and got a whole lot tougher in the off-season   You wont find a more feared fighter in the NHL than John Scott. And you won't find a guy more hated than Steve Ott.  I'm looking forward to seeing a new attitude emerge on the ice for the Sabres.
The additions of Scott and Ott, along with the emergence of Marcus Foligno and Corey Tropp should create some space for reliable scorers like Thomas Vanek and Jason Pominville.
If Ryan Miller stays healthy, the Sabres should have no problem securing a playoff spot this season.

Darcy Regier and Lindy Ruff arre taking one hell of a gamble by putting the weight of the entire season on the backs of Tyler Ennis and Cody Hodgson.  Neither guy has proven to be a reliable top center in the NHL and that exactly what is being asked of them.  I, for one, think Regier has let down the entire organization in failing to land the established first-line center his club so dearly needs.
IF Tyler Myers emerges… IF Cody Hodgson steps up… IF Tyler Ennis can play consistently…  IF Ryan Miller stays healthy… IF Ville Leino comes to play… IF Ehrhoff can spark the power play.  There are just too many "if's" to count on this team performing this year.
I predict the Sabres miss the playoffs again.

This team isn't going anywhere. Who are they trying to fool?  We've seen year after year that the core group of guys on this team is just not good enough.   They should make an organizational decision to cut ties with everyone over 24 years old and rebuild around the young guys.
And there should be no question on what to do with Grigerenko. If they guy is even close to good enough, he should be in the NHL.  The sooner he starts the learning process, the sooner he'll be ready to take this team over.
I predict the Sabres miss the playoffs and we finally start to see movement with that "season ticket waiting list" I hear so much about.

The whole Buffalo media just doesn't get it.  I mean, the Fake Buffalo News is run by a bunch of morons and Fake WGR has no clue. They should just hire me to tell them all how to do it.  You can see my 6,000 word #SabreSim2012 season preview at http://www.buffalowins.com.
*****
And in case you missed it, the #SabreSim2012 preseason got underway last night against the Leafs.  Sit back, relax and enjoy the  game highlights.