Heading into football season, we had $487.12 in the Trending Buffalo slush fund.
5 weeks and 13 wagers later, we're sitting at on a cool $600.70.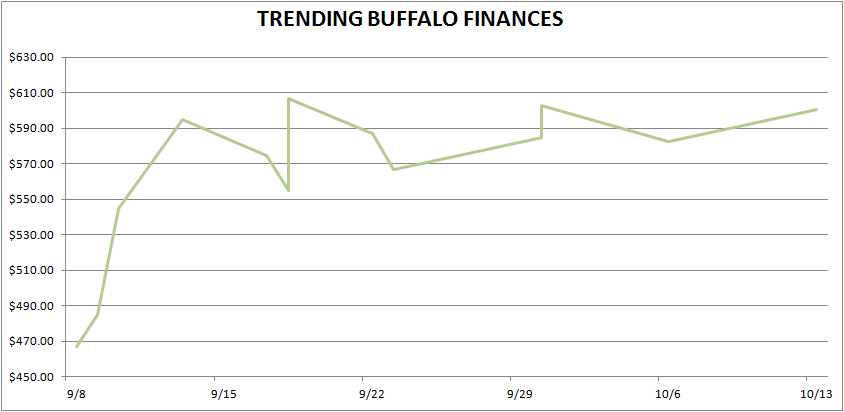 Positive spin:
In just over a month, we've raised the value of the account by 23%.
At that growth rate, projected account balance after one year–  $7203.09!
Negative spin:
We peaked at $602.70 on September 30 and have lost 6 dollars since.
We put a lot of time and thought into losing those 6 dollars.
We made $107 with our first 4 bets.  We made $6 with our next 9.
We've netted $113 in a month.  What is this, 1948?
Plan moving forward:
Bigger bets!
Last week: 

This week:
COLLEGE:
Oregon State +5.5 over BYU.  Outright win for the Beavers PLUS they give me points?  $$$$$
PRO:
Picking the week's biggest favorite to cover the spread isn't my typical move but it's the play this week.  Oakland has been outscored in its 2 road games by a combined 72-19.  They're coming off the bye which works in your favor–  it's the only thing that keeps this game from double digit spread.  Take Atlanta -9.