Aaron Hernandez was arrested for murder last week, which means he won the internet.
Last week the Supreme Court declared racism over and undefended marriage. A Texas state senator had an abortion filibuster last longer than three Stanley Cup Finals games. A third event rocked the internet that I'm too lazy to check Reddit for. Still, this week's bandwidth was stolen by the other tight end for the New England Patriots.
No, not the infected one. The guy with the tattoos.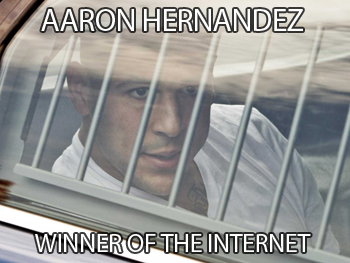 The Hernandez Saga is crazy. Bananas in a Bush-lead-singer's-wife kinda way. Execution-style killing. Zoolander-style obstruction of justice. Rumors of another double murder. In a week where the Celtics blew up, the Bruins bowed out and the Red Sox kept bowling teams over, the Hernandez story was so big in Boston that he had a helicopter following him on a highway where no one was chasing him.
The circus that surrounded Hernandez over the last few days brought out the worst of our media. The coverage on cable television went well past the saturation point, but it gets worse when the lunatic fringe creeps in. You can't simply cover the story, you guys. You have to go deeper. And so Peter King farts out a tweet implying the other 29 teams in the league passed on Hernandez because he seemed to be a bit murderous at the combine. Columnists jump on the tattooed arms of the former Pro Bowler—because tattoos always indicate trouble—as if he had a confession to all past and future crimes scrawled in ink on his body.
Now it's obvious that everyone who has ever gotten a tattoo is a bad person. There's no disputing that. They steal Ding Dongs from the 7-11 and cheat on their taxes. Obviously. But who could really know Hernandez had this much going on in his personal life? Innocent until proven guilty still means something in this country, but every new piece of information about this case seems to point to more dead bodies. As a Bills fan who watched Hernandez run free over the middle for the last three seasons, it feels like a minor miracle that someone was able to catch that guy at all. Thanks for nothing, Arthur Moats.
As an organization, the Patriots have handled this "tight end ends another man's life" situation pretty well. They released Hernandez just hours after he was arrested, turning "Patriots tight end" to "Former Patriots tight end" and magically dissociating from the guy who caught 51 balls and five touchdowns from Tom Brady a few months ago. They're even letting fans switch Hernandez jerseys out at the pro shop. They can get the new guy's jersey, because New Welker doesn't appear to have any tattoos.
Here's the thing: It's not exactly cool to revel in the fact that three people are dead, no matter how much you think it will help the Jason Witten trade market in your keeper league. Cheering an "Out (murder charges)" on the status report ignores the real world impact of sports. It ignores the hard truth that a man is dead, a symptom of a society obsessed with the celebrity who committed the crime infinitely more than the victim. Oh, look, hilarious Hernandez-associated GIF. What was I saying?