Yesterday, the Sabres drafted 11 children young men.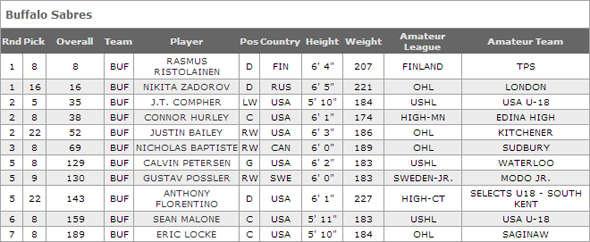 Here's how it played out on Twitter.
ROUND 1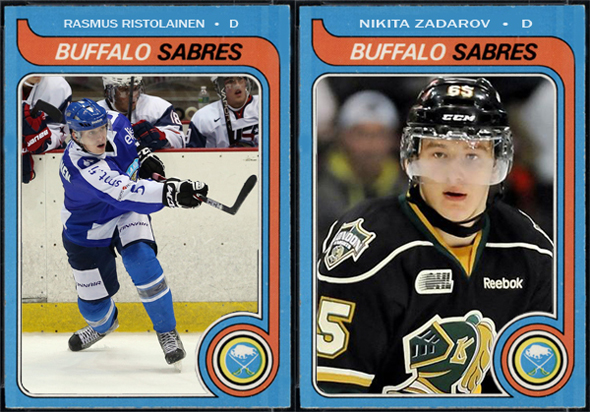 If I'm a Sabres fan I'm thrilled with yesterday, picked up McBain and drafted Ristolainen and Zadorov. Set on D for years. Myers on block?

— CoverThePuck (@NHLFlyersnews) July 1, 2013
I honestly believe that Ristolainen's mom is a man

— Ryan Beiter (@ryanbeiter) June 30, 2013
I see Ristolainen's favorite movie is Rocky… gonna take a stab at that being because he looks exactly like Ivan Drago…

— Gregory James (@GregJames343) June 30, 2013
Buffalo gets the two I wanted the #flyers to get..Zadarov and Ristolainen

— Tim Lurwick (@timlurwick) June 30, 2013
"I just like to hit people and score goals. I really like hitting." Nikita Zadorov

— Thomas Sirianno (@sirianno2six) July 1, 2013
ROUND 2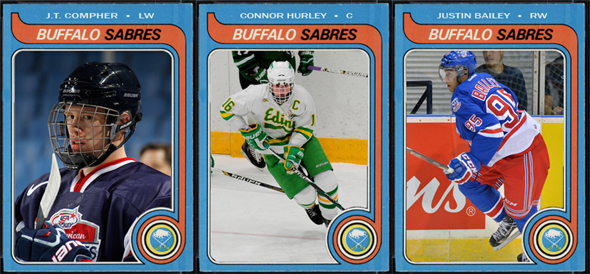 Is the difference between Andrej Sekera & Jamie McBain worth a top prospect like JT Compher? I say yes, emphatically. #Sabres win that deal.

— Brandon Schlager (@B_Schlag) June 30, 2013
J.T. Compher looks like Bad Luck Brian five years later. Hopefully, his fortune has changed. #Sabres

— Anthony Bialy (@AnthonyBialy) June 30, 2013
Compher compared to Ryan Kesler by TSN analysts. Nice player. Now get someone comparable to the escaping Thomas Vanek. Zykov at #38? #Sabres

— Brian Cummings (@B_inShortsville) June 30, 2013
Connor Hurley is very cute #WelcometoBuffalo

— RedNeckBarbie (@Steffyanne_) July 1, 2013
Buffalo is America's team at the draft so far. Team has taken JT Compher, Connor Hurley, and Justin Bailey through one and a half rounds.

— Andrew Weiss (@WeissFC) June 30, 2013
Sabres' pick Connor Hurley: "I'm a playmaking forward. I see the ice really well. I think I'm a natural center and use my speed."

— John Vogl (@BuffNewsVogl) June 30, 2013
"Wait Justin Bailey played at the Pepsi center? My kid played there! My kids totally going to the NHL now" -every crazy parent in buffalo

— Brian (@_privatebrian) July 1, 2013
"Justin Bailey used to imitate the calls of Rick Jeanneret while growing up." Mom, can we keep him? Pleeeeeeease?

— MacKintosh B. (@themackattack) July 1, 2013
Justin Bailey "Growing up in Buffalo, we lived in the same condo as Barnaby, he helped me with decision-making" Shit. Doomed. @JayMcKee74

— PegulaDaughterBabyDa (@PegulaBabyDaddy) July 1, 2013
ROUND 3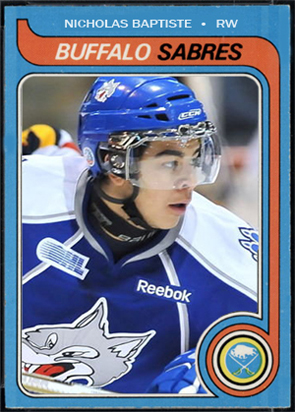 69 – Nick Baptiste to Buffalo. Ultra gritty power forward with a never ending motor and some offensive potential to boot.

— ISS Hockey (@ISShockey) June 30, 2013
Some guys who will be steals in the 2nd/3rd. Connor Hurley, Tommy Vannelli, Yan Pavel Laplante, Zach Sanford, Nicholas Baptiste.

— Gerg McDonut (@GergMcDonut) June 30, 2013
ROUND 5
This kid looks 12 "@BuffaloSabres: Goaltender Cal Petersen) selected by #Sabres 129th overall in #NHLDraft. pic.twitter.com/EINKA1zxEC"

— Mario Ramirez (@MaritoRio) July 1, 2013
@ShapeYourSoul Biggest overall sleeper may very well be Gustav Possler. MODO is still a hockey factory. Sabres have good connection.

— Kris Baker (@SabresProspects) July 1, 2013
Anthony florentino making west roxbury proud.. more importantly congrats to gerard florentino #drankhisassoff #millertimeallamerican

— Shane O'Leary (@BrothaaOLeary4) July 1, 2013
ROUND 6
Local prospects @JustinBailey95 + Sean Malone thrilled 2b drafted by #Sabres http://t.co/8c6I3HjKQI "I never could have imagined." #Buffalo

— Bill Hoppe (@BillHoppeNHL) July 1, 2013
ROUND 7
Sabres take scoring C Eric Locke at #189. Undersized but a proven playmaker, played in SAG w/ Kea, 44-53-97 this season. Turns 20 in Nov

— Kris Baker (@SabresProspects) July 1, 2013
DRAFT GRADES ARE STUPID (UNLESS YOUR TEAM GETS A GOOD ONE)
ESPN grades @BuffaloSabres draft an A+ https://t.co/H6KseB9owW

— Craig Kanalley (@ckanal) July 1, 2013
ESPN continues to show their unrivaled hockey acumen by applying grades one day after the draft. Three-to-five years, guys. #worldwideleader

— Kris Baker (@SabresProspects) July 1, 2013
In conclusion, nobody knows anything. Carry on.