Early (like, REALLY early) Vegas lines are out for the 2016 NFL regular season and the Bills are favored to win just five of their first fifteen games.
A line for the Bills' Week 17 matchup at the Jets is not available because, you know, it's a little early.
As you'll see below, Vegas has the Bills as favorite to win five games, all of them in Orchard Park:
Jets
49ers
Jaguars
Browns
Dolphins
The Bills are listed as the underdog in their other three home games:
Cardinals
Patriots
Steelers
… as well as all seven road games:
Ravens
Patriots
Rams
Dolphins
Seahawks
Bengals
Raiders
These numbers come courtesy of CG technology by way of wagertalk.com.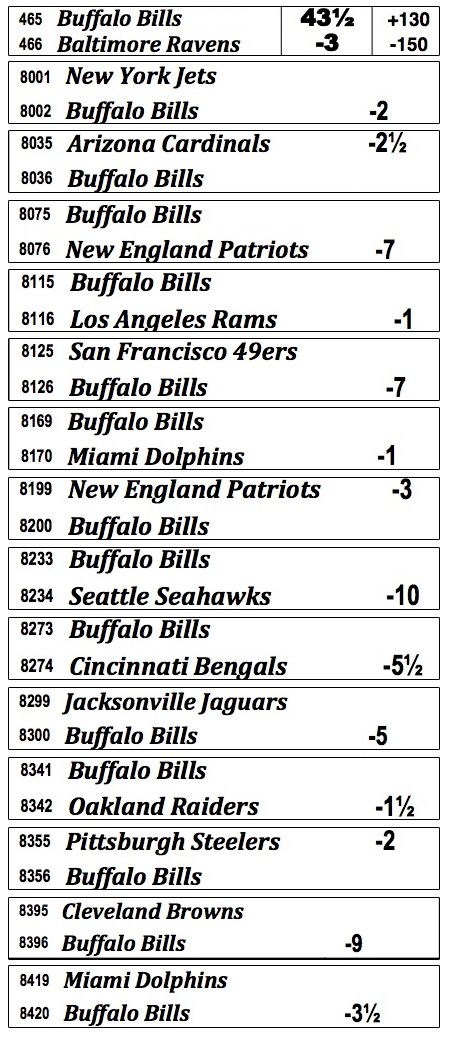 Let's say you're thinking "I'd like to put some money on the Bills to win in Seattle on Monday Night Football in November but today is April 22 and I'm going to wait a bit before making any hasty decisions."
You're not alone.
While bets can be placed as we speak, these "look ahead lines" probably serve best as a handy reference/ data point when handicapping games during the regular season.