(Editor's note:  Mixed into a rambling narrative about the current state of affairs in the NFL loaded with historical, music and pop culture references, Mr. Brutal makes his football picks.  Bob Gaughan makes his, too. It is called "The War of 1812 Football Prognostication" probably because he is Canadian, Bob is American and they have some huge unknown cross border stakes riding on their year-to-year competition. So get with the programme, honour the concept and enjoy the colourful Canadian flavour.)
…… Sunday, October 16, 2016 ……
Bye: Vikings, Buccaneers
…… 1:00 pm Eastern Standard Time ……..
San Francisco @ BUFFALO (-7.5) 44.5
As we hoped and predicted, QB Colin Kaepernick is starting this game for San Francisco. Head coach Chip Kelly finally clued into the realization that starter Blaine Gabbert was about as effective as the logic & good taste filter installed inside Donald Trump's brain.
The Bills managed to win last week in Los Angeles as we predicted, and the only sour note is that they were unable to repatriate the Braves/Clippers while in Lotusland, …… and bring them back to Buffalo where they belong, ….. along with their third win in a row.
The "Ralph" is not the place for Kap to get a win in his first start since last year.
Four in a row for the Bills as the offence explodes against a Niner defence that will be spending too much time on the field.
Brutal: BILLS (-7.5)
Bob: BILLS -7.5
---
Philadelphia (-2.5) @ WASHINGTON 44.5
Which of these things is true?
1.) Bob Dylan has won a Nobel Prize for literature.
2.) Washington Coach Jay Gruden is about to be signed to a five year,
30 million dollar contract extension by owner Little Danny Snyder.
3.) EX NFL Defensive End & abusive Greg Hardy is becoming an MMA fighter to prove that he cannot only beat up women.
4.) Donald Trump, the Gotham Gasbag, mused this week amidst his troubles ( we think he was musing ), that the "Statue of Liberty" should be returned to France because she is an illegal alien, ….. she has also gotten too fat, unattractive, & isn't particularly 'hot' in his eyes any more.
Obviously the most obvious and outrageous one that defies logic. That would be number 2.
Tough divisional game. Let's call last week's loss in Detroit a learning experience for rookie QB Carson Wentz.
Brutal: Eagles -2.5
Bob: WASHINGTON +2.5
---
Cleveland @ TENNESSEE (-7) 43.5
Akron native & prodigal son for northeast Ohio, Lebron James endorsed Hillary Clinton for President of the United States this week over Donald Trump. It appears to be having an effect. A poll taken a day after the endorsement had Clinton closing the gap in the Buckeye State to within two points of the raging, ranting cantaloupe. This was an upward move of three points, putting the race into a virtual tie.
The bad news for the former Secretary of State is that although Lebron's approval might win her one battleground state, it also might lose her another.
We await the next poll results from Florida.
Tennessee beat a listless Miami team last week, by 13 points as a 3.5 point underdog. After one good outing, 7 points seems a little high to be a favourite, ….. even over the Browns.
Brutal: Browns +7
Bob: Browns +7
---
Baltimore @ NEW YORK FOOTBALL GIANTS (-3) 44
We remember exactly where we were the day Martin Luther King was assassinated & on the day when we first heard about 911. We will never remember where we were the day we heard that Brad Pitt & the Kissing Gourami decided to divorce or when Trent Dilfer opined that Joe Flacco was one of the greatest quarterbacks in the NFL.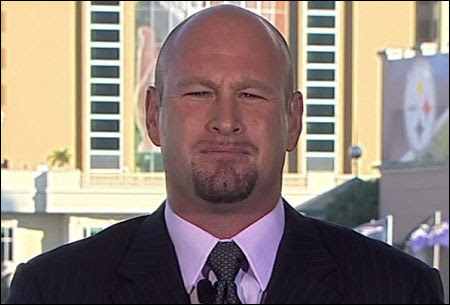 Odell Beckham Jr. continues his season long audition to star in the upcoming Broadway play, "Crybaby Divas of the NFL." Ex long-time head coach of the Giants, Tom "Barrel of Laughs" Coughlin has offered to counsel the temperamental wide receiver.
Those are therapy sessions we would pay to observe.
Brutal: GIANTS -3
Bob: GIANTS -3
---
Carolina (-3) @ NEW ORLEANS 53.5
"Superman" Newton has cleared the concussion protocol, and is back to helm the 1-4 Panthers in New Orleans. Drew Brees & the 1-3 Saints won their first game two weeks ago and enjoyed the Bye last week.
It appears to us that there is a lot more wrong with the Panthers than just the absence of MVP Kal-El from the planet Krypton.
Brutal: SAINTS +3
Bob: SAINTS +3
---
Jacksonville @ CHICAGO (-2.5) 47
QB Bryan Hoyer had a good game two weeks ago against Detroit and Chicago won. Bears' fans wish he hadn't, as it means they may not win the "Tank Derby" for a new quarterback in the next draft. A sign of hope however, as last week the Bears lost in Indianapolis.
The Jaguars come into the Windy City off the Bye week, like New Orleans, they won their first game of the year two weeks ago before their week off. You'd have to be crazy to bet big money on this game, but we'll stay with the trend.
Brutal: Jaguars +2.5
Bob: BEARS -2.5
---
Los Angeles @ DETROIT (-3.5) 43.5
The Rams don't have much of an offense and the Lions have the simplest, most predictable offence in the NFL. Jeff Fisher teams tend to play up or down to their competition, so this is a tough one to call as the Detroit Lions are neither very good or horribly bad.
With those points, we'll take the better defense and the hook.
Brutal: Rams +3.5
Bob: Rams +3.5
---
Pittsburgh (-7.5) @ MIAMI 47.5
We aren't convinced that Ben Affleck can be credible or believable portraying an accountant or a third rate Jason Bourne assassin like his buddy Matt Damon. We are even less convinced that after four years, Ryan Tannehill is credible or believable when portraying an NFL quarterback.
The Mammalfish released the left side of their offensive line after last week's loss to the Titans. The new left guard and left offensive tackle replacing them, thrown into the fire like Joan of Arc, …. just might be a liability against the Steelers.
Brutal: Steelers -7.5
Bob: Steelers -7.5
---
Cincinnati @ NEW ENGLAND (-8.5) 47
Tom Brady came back from Italy after his "Deflategate" suspension last week to helm the good ship Patriot in their decisive win in Cleveland without any tan lines or latent guilt.
He has so far expressed zero remorse for the unlawful conduct that earned him his suspension. He therefore is a prime candidate for recidivism according to "Penologists of America Quarterly."
This potential criminal conduct could manifest itself in many forms, including violent revenge against his accusers, those he perceives as being complicit in his conviction and the multitudes of others who took pleasure in his predicament.
Not good news for the rest of the NFL. This is his second game back, lots of the rust & Tuscan pasta calories were worked off against the Browns.
The Bengals had their worst non-playoff effort in years last week in Dallas. They gave up early and played the second half on cruise control. They were so listless, that head coach Marvin Lewis actually raised his voice in mild anger this week at practice.
That means they have lots of energy this week, some motivation from Marvin's mild scolding and the perfect scenario to surprise everyone and ………. cover the spread late via the back door.
Brutal: Bengals +8.5
Bob: New England -8.5
---
…….. 4:05 – 4:15 pm Eastern Standard Time …………..
Kansas City (-2) @ OAKLAND 47
Nobody we know in the gambling world can figure out this spread. That means Vegas wants us to back the Raiders, because they appear to be the obvious choice here at home over the Chiefs. Yes, the 2-2 Chiefs are coming in off the Bye, but they were humiliated beyond acceptance in Pittsburgh two weeks ago.
…. and yes the Raider defence often looks like a steaming pile of excrement swimming aimlessly, lost in their schemes. Defensive coordinator Ken Norton Jr. does not look long for his job. However, the Raiders can score and this is a divisional game and one of the few remaining rivalries in the NFL where the teams have a dislike for each other that is almost as pronounced as the state of animosity that exists between their fans.
Normally we side with Vegas in these cases, but then we must remember that Alex Smith is quarterbacking the Chiefs.
Brutal: RAIDERS +2
Bob: RAIDERS +2
---
Atlanta @ SEATTLE (-6.5) 45.5
If there was any doubt as to this 2016 Federal Election's relevance to the National Football League, that was put to rest this past Wednesday in Lakeland, Florida. At a campaign speech, Donald J. Trump called out NFL players for their lack of toughness regarding concussions.
We're not kidding.
During his speech, a woman fainted in the oppressive heat and humidity. She quickly was revived, got back up and was led out. A few minutes later, feeling better and re-hydrated, she returned to her seat.
Trump saw all of this from the podium and remarked:
"Look at that! The woman's coming back, ….. Unbelievable! …. That woman was out cold and now she's coming back!"
If only the perpetually enraged, orange faced goblin had left it at that. Of course a man suffering from his form of terminal ignorance and infinite adolescence could not keep his mouth shut.
"See, we don't go by these new and very much softer NFL rules! Concussions, ….. 'Uh oh! …… got a little ding on the head? No! No! No! …. You can't play for the rest of the season!' ……Our people are tough!"
Of course, in case you thought that this was a one-off, it wasn't. Earlier in the campaign Trump spoke lightly about the NFL's increasingly stringent health policies. According to the Washington Post, at a rally in Iowa he said:
"Football's become soft like our country has become soft. What used to be considered a great tackle, …. a violent, head-on [tackle] ….. You used to see these tackles and it was incredible to watch, right?"
Sigh. Of course we are not surprised. What really is beyond the pale with this Chicken-hawk questioning anybody else's courage is not just his inability to comprehend his basic ignorance on this or any other topic ( he offended veterans with PTSD just last month ), but his perpetual hypocrisy.
Donald J. Trump got daddy to help him work the system with five deferments during the Vietnam Draft. The last one was for mysterious "bone spurs" in his ankle that he didn't even remember till a reporter told him recently during an interview. Now we have no problem with a conscientious objector avoiding war based on his principles.
If we had all the facts at the time, we probably would have been one of them for that particular conflict.
However, Trump is on the record as saying that his many cases of venereal disease in the eighties were his own "Personal Vietnam."
He even knows less about the business of football than he does about bravery or real respect for veterans. It was this Nostradamus, as a USFL owner back in the late eighties who urged the league to go head-to-head to compete with the NFL in the autumn, rather than keep surviving with spring football.
The result was predictable, the USFL went out of business that year.
Maybe Trump still has an axe to grind with the NFL for that often forgotten blemish on his lengthy list of abject business failures, …. or maybe it is the fact they want no part of him as an owner.
More likely, he is just as ignorant, cruel, insecure & insensitive as he appears to be on the surface. We're not surprised that a man who believes that "Climate Change" is a creation of the Chinese believes that concussions are just an excuse for a unionized workforce to malinger & slack off.
Ex NFL wide receiver Donte Stallworth perhaps said it best when he tweeted back this response after becoming aware of this latest social dissertation on courage from the tangerine toupee.
"Hey Idiot! ……. @realDonaldTrump, Catch a pass over the middle in front of Kam Chancellor and you'll see who's soft!"
Arguably the best game of the day is this one. The big offense against the big defense. We've backed the Falcons all year and we'll take the points here again against a Seahawks team that has to prove it can win by big margins against the better teams.
Brutal: Falcons +6.5
Bob: Falcons +6.5
---
Dallas @ GREEN BAY (-4.5) 47.5
As a strategic Psyche-Ops move Sunday, the Packers are going to wheel a portable MRI machine onto their sideline to distract/terrify Cowboys' WR Dez Bryant in case by some miracle he is able to play.
Packers come in off the Sunday night win over the Giants and seem to be improving each week. A rookie quarterback should struggle in Lambeau if the crowd is engaged. There is no reason to think that they won't be.
Brutal: PACKERS -4.5
Bob: PACKERS -4.5
---
…………… 8:30 pm Eastern Standard Time …………
Indianapolis @ HOUSTON (-3) 46.5
This division sucks and we don't like picking these games for any reason other than our occasional bouts of masochistic delirium.
Andrew Luck is a far better quarterback than Scott Mitchell, ….errr, ….Matt Cassell, …. errr, ….. Brock Osweiller, …. and Chuck Pagano is a far, far, far better coach than Bill O'Brien.
Brutal: Colts +3
Bob: Texans -3
---
……………. Monday, October 17, 2016 …………………
…………… 8:30 pm Eastern Standard Time …………
New York J-e-t-s, Jets! Jets! Jets! @ ARIZONA (-7.5) 46.5
Odds based on actual current actuarial insurance tables for different forms of death in the United States of America:
Chances of being killed by:
Firearms: 1 in 350
Ladders & Scaffolding: 1 in 9,500
Dog Bite: 1 in 114,000
Lightning: 1 in 174,000
Asteroid: 1 in 250,000 to 500,000 depending on a multitude of direct and indirect factors.
Terrorists: 1 in 9.5 to 20 million depending on definition ( Better build a wall just to be sure ).
Chances of Joe Namath guaranteeing the Jets will win the Super Bowl this year and will then drop dead from shock after it comes true: 1 in 20 billion.
However, they should cover this spread.
Brutal: Jets +7.5
Bob: Jets +7.5