(Editor's note:  Mixed into a rambling narrative about the current state of affairs in the NFL loaded with historical, music and pop culture references, Mr. Brutal makes his football picks.  Bob Gaughan makes his, too. It is called "The War of 1812 Football Prognostication" probably because he is Canadian, Bob is American and they have some huge unknown cross border stakes riding on their year-to-year competition. So get with the programme, honour the concept and enjoy the colourful Canadian flavour.)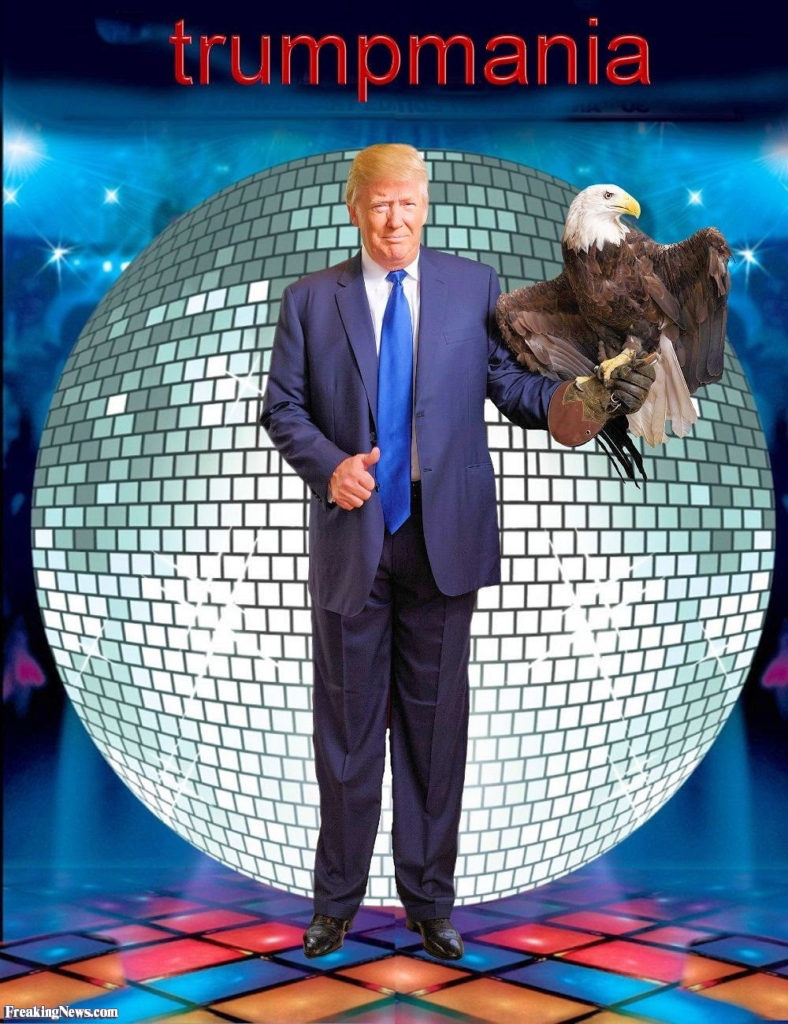 …… Thursday, October 20, 2016 …………
Chicago @ GREEN BAY (-8.5) 45.5
Among another typical multitude of reckless, irresponsible statements that could incite violence, disgrace democracy & stretch credibility, Donald Trump this week dirtied the water just a little darker with another new low.
This time he called for drug testing for Hillary Clinton before the final Presidential Debate on Wednesday.
Yes, the Trumpster decided that Hillary must be "Juicing" on drugs because she started the last debate "strong," but ended it "weak." The raving tangelo claimed she was obviously coming down off pharmaceuticals by the end of the 90 minute session.
Simultaneously, that is when he claimed that he peaked naturally and obviously won the contest. This despite never directly answering a question, degrading his previous vocabulary level from fourth grade to third grade status, whining like a little bitch about everything under the sun, interrupting with monosyllabic grunts and constantly assaulting the integrity of the microphone with loud sniffling that caused his septum to echo.
When she went to the front of the stage during the Town Hall to answer a question, he took on the look and personality of characters from a Hammer Horror film.
He wandered the stage behind her like a flaming haired, pouting, Ritalin deprived Boris Karloff. When he stopped, he hovered behind her, glaring with rage like an unhinged Vincent Price about to pounce on his next unsuspecting victim.
Too bad, it distracted from his Oxford University Debating Team quality closing rebuttal that nobody will probably remember.
Donald Trump is a typical narcissistic bully who relies on self projection as one of his weapons of choice to explain away his shortcomings.
This is right out of the Karl Rove playbook:
"Take the thing you are most afraid of and nail your opponent with it despite lacking any concrete evidence to back it up. The innuendo alone puts them on the defensive and forces them to spend time playing your game."
Now Trump claims he doesn't drink and we believe him. It's too bad for him though, because he would have a ready made excuse and possible sympathy provider for the rest of this campaign to explain his imbecilic behaviour.
Drugs may be a different issue. Trump insinuated in his biography and a multitude of interviews in the past that he fully immersed himself in the "Studio 54" lifestyle of the late 1970's and cocaine fueled 1980's.
More than one former addict commented on his constant snorting, wheezing & nostril clearing exhortations during these recent debates. Many see this as the subconscious reaction that a former heavy user often develops when they are nervous that their addiction might be discovered.
Hard to believe a 70 year old man would backslide into dabbling with such a destructive habit, but maybe that's what happens when somebody this insecure can't fathom loosing to a girl.
Now, we're not saying he is on drugs, …. but we are saying that other people are saying it, ….. we hear things, …. it's on the internet! ….. reliable newspapers similar to the National Enquirer are mentioning it, ….. it's out there!
We have just borrowed that page from the "Donald S. Trump Playbook."
Both the Packers and Bears played last week like they were on drugs.
Chicago blew a lead late to fall at home, 17-16 to the Jacksonville Jaguars. The Jags were trailing 13-0 going into the fourth quarter and then scored 17 points to pull off the win.
Green Bay looked as if they were contractually obligated to spot the Dallas Cowboys a 20-6 lead heading into the fourth quarter last Sunday. They could only even them in scoring during the final quarter and fell 30-16. They helped the Cowgirls and their tandem of super rookies' QB Dak Prescott & RB Ezekial Elliott look unbeatable.
This looks like another Thursday night game that will entice almost nobody to take in.
Except us.
The (1-5) Bears are well on their way to fulfilling our "Under 7.5 wins" prop bet for the entire 2016 season. So we'll be watching. Problem is, these teddy bruins have a shot at winning this NFC Central rivalry game simply because the (3-2) Packers look lost.
The Packer defence has looked mediocre at best. Dom Capers has been the Defensive Coordinator for seven years, and some say his schemes have become ineffective because they are unimaginative and don't fit the Green Bay personnel.
Of even greater concern is the Packer offence. Eddie Lacy is a big power running back who is effective between the tackles. However, he often tires easily, is not an effective pass catcher out of the backfield and doesn't always pick up the right blocking assignments. Aaron Rodgers has been hit a lot as a result.
The wide receivers & Packer tight ends don't scare anybody. The facts are that they run poor routes, are of average speed and thus don't get much separation.
The biggest problem however is QB Aaron Rodgers. He has not played well this year. Of course, due to past performance, everybody has given him a pass and awaits his escaping from this slump. Possibly he is nursing a tough, hidden injury or maybe, according to many Wisconsin fanatics, his personal life is interfering once again.
Aaron and his reality show "star" brother Jordan Rodgers are sort of feuding it seems. This summer Jordan told the press that Aaron is almost estranged from the rest of the family and speculation that his longtime relationship with actress and sex bomb Olivia Munn was the root of the problem was fueled once again. Jordan, a personality on the highly acclaimed "Bachelorette" television show, is obviously looking to make headlines by invoking his more famous brother's name.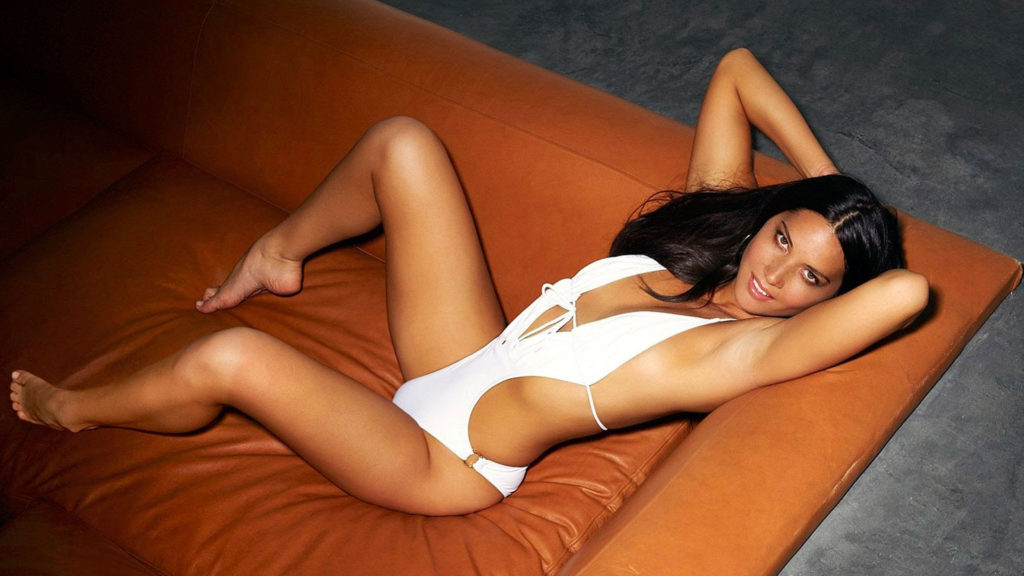 With all the meaningless publicity, escalating tweets, added followers & rising "like" totals, coupled with his reality show credentials, …. it appears Jordan will soon prove qualified to launch a bid for President of the United States in 2020.
Regardless, Cheese State football fans are once again frying the lines to the call-in shows with their meaningless theories & radical solutions to right the Packer ship. Most seem to want Aaron Rodgers to terminate his personal relationship with "Mata Hari Munn."
Whatever the reason, Bears' QB Brian Hoyer in two less games, has thrown for more yards and a higher completion percentage than Rodgers. He also has not thrown an interception this year, while Aaron has four. We would never put big money on this horrible Thursday night contest, but Chicago gets the nod here.
True, it's a short week, but the trip from Chicago takes 38 minutes in the air. The spread is just too large for a discombobulated Green Bay team that is not as good as everybody keeps waiting for them to appear to be in 2016.
Bears cover, but for the sake of our savvy prop bet, we expect them to still come up short and lose.
Brutal: Bears +8.5
Bob: Bears +8.5