(Editor's note:  Mixed into a rambling narrative about the current state of affairs in the NFL loaded with historical, music and pop culture references, Mr. Brutal makes his football picks.  Bob Gaughan makes his, too. It is called "The War of 1812 Football Prognostication" probably because he is Canadian, Bob is American and they have some huge unknown cross border stakes riding on their year-to-year competition. So get with the programme, honour the concept and enjoy the colourful Canadian flavour.)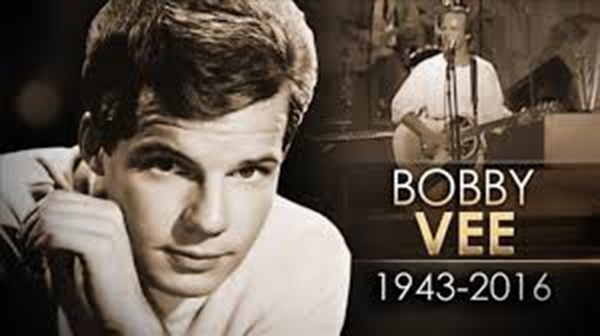 Former 1960's teen heart throb "Bobby Vee" passed away last weekend at the age of 73 from complications due to early on-set Alzheimer's.
Born Robert Thomas Velline in Fargo, North Dakota, Bobby had over 30 singles in the Hot 100 over the course of his career. His biggest hit was "Take Good Care of My Baby" which in 1961 went to #1.
Bobby Vee was part of the "Boy Next Door" era in pop music where safe, cuddly, non-threatening crooners were promoted over the rock & roll, instrument playing bad boys from the fifties. Bobby Vee, along with the other two Bobbies, ….. Bobby Vinton & Bobby Rydell as well as Frankie Avalon, Fabian, Ricky Nelson, Pat Boone and numerous others replaced the original rock and roll stars in the charts.
It was partly by design, partly by fate, and partly due to changing trends, but it was even in bigger part because of politics, propaganda and racism that the early rockers were replaced.
Many of Middle America's parents recoiled at their teenagers dancing to this subversive music that they all knew was based in black culture and music. They rationalized that it promoted drug use, promiscuity, youthful rebellion and not least importantly, the horrific spectacle of white girls dancing to black music.
This took on even greater concern when it was one of these new "Negro" artists performing the song live, often playing an instrument too, which was seen as very threatening at the time, especially new fangled electric guitars.
Prior to the 1950's, any African American artist who wanted to crossover from the R&B charts or "race music" into the Pop charts was required to meet several criteria. Their hair had to be straightened out and put into white styles. They were required to wear suits and sing very non-threatening songs and stay away from any hint of controversy or overt behaviour while on stage, or in their public & private lives. Bands & vocal groups up to this point, could also not be racially integrated.
Safe, Caucasian friendly black artists like Nat King Cole, The Platters, The Ink Spots & The Mills Brothers all found some success along with many emerging "Doo-wop" artists in Norman Rockwell's America.
They were almost all wiped out from the scourge of "Rock & Roll" that hit the world like a Category Four Hurricane in the mid fifties. A few years later in the late fifties, after the authorities and the 'powers that be' muzzled the eruption, safe music became the order of the day. The new, cardigan clad crooners even sang lame, sanitized versions of the rock and roll classics written and performed by the originators.
The "Boy Next Door" singers dominated for about four or five years, but a restless generation in the early sixties craved something new, something a little more adventurous.
The first incarnation of this was the "British Invasion" around 1963. Each generation needs its own music in some form to call their own. The dull, corny and overproduced songs of so many of the "Boy Next Door" acts were perceived by many teenagers and young adults as their parents' choice. The salad days of the safe music from this new wave of old style pop singers were numbered.
( Hearing Pat Boone sing his saccharine saturated versions of Little Richard's songs of rebellion is still one of the most cringing sessions of listening one can undertake.)
The irony was that all of those British acts who hit the United States with this new rock and roll were listening to those American blues and rock acts from the fifties for inspiration while crafting their own new sound. The Rolling Stones, Cream, The Kinks, The Animals, The Who, The Dave Clark Five, The Zombies, The Yardbirds and of course The Beatles all cited those American artists as their main influence and they all covered their songs as well.
So what happened in America to derail all of those early, 1950's rock and roll pioneers?
To make a long story sort of short, almost all of the stars of that wild, emerging rock & roll era had the brakes put on their careers through some controversy or other.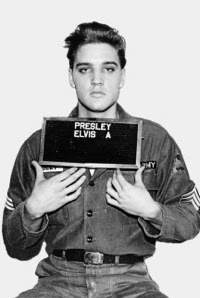 1.) Elvis Presley
Elvis had to join the army after he was drafted in 1957. There is some question as to whether certain politicians expedited his conscription and also got him stationed in West Germany, hoping to cool his heat with him so far away. ….. His shipment overseas came none too soon for a lot of parents who were terrified of his seductive voice, his hip gyrations & the sexual awakening he caused in their teenage girls. Many also initially considered him a musical traitor for abandoning his gospel roots to sing rock and roll.
His partial Native American heritage, that gave him much of his swarthy good looks was not an overlooked factor by many prejudiced adults who saw his subversive and corrupting influence as being driven by his 'questionable' genetic background.
Of course Elvis came back and became a monstrous star, but that coincided with him changing his style, taking on acting and becoming far more mainstream.
2.) Chuck Berry
Chuck is probably the most central musical figure in the creation of Rock and Roll. Now Chuck had, ….. and probably still has his peccadilloes. Let's just say he likes the ladies, ….. a lot! He also served three years in prison for armed robbery as a teenager & has had some other lesser criminal issues to deal with over the years.
However, the trumped-up charges under the Mann Act that had him arrested in 1959 for transporting an underage female over state lines for "immoral purposes" was the ultimate set-up.
At his peak in 1960, Chuck was thrown into Federal Prison till 1963. He emerged from incarceration a very bitter man and was exceedingly difficult to deal with ( we know of this first hand ). That felony conviction he received, added to his criminal record for the teenage robbery conviction really hurt his career, halting his momentum.
We don't know if he has since received a pardon for that trumped up frame job, but it was still on the books in the 1980's.
We know, because on more than a half dozen occasions, we personally had to clear those decades old felony convictions with Immigration Canada to bring him into the country for concerts. They were still quite a hassle!
3.) Jerry Lee Lewis
This was the scandal that really tamped up animosity towards rock and roll acts of the fifties. The "Killer" had his career derailed when, in 1958, the press, egged on by certain political interests, pointed out his 'shocking' marriage to his 13 year old cousin. Jerry Lee was 22 at the time and his management claimed his wife was 15 years old which made things worse when the truth came out.
Even more upsetting, everybody found out as the scandal wore on that this was already Lewis' third marriage. He had married his first wife when she was 14, and his second when she was 17. Charges of bigamy were brought against him. This brought about one of the most unique legal defenses ever.
Jerry Lee's lawyers argued that he had not divorced his first wife when he married his second wife. This meant that the second marriage never happened and was null and void. By the time he married his third wife, the divorce had come through on the first wife, so there was no problem with bigamy, because the marriage to the second wife never existed.
The "Killer" escaped the legal issues rather unscathed in the courts, but It didn't help much with the public's perception. Worse, Jerry Lee lost his recording contract, had to cancel tours and went from earning $10,000 a night to a $100.
Now, of course this is not a desirable marriage dynamic for anybody concerned. Thanks to progress, girls this young are seldom married off through backward, ancient, paternalistic custom today in North America. However, back in the 1950's, this was not uncommon, especially for people like Jerry Lee whose culture hailed from Appalachia or the Deep South.
Interestingly, dozens of famous country music stars all were involved in similar matrimonial circumstances at the time, but were mostly left alone by the authorities.
The scandal totally derailed his career. Radio stations would not play his records and promoters shied away. He struggled for years to get good record deals and subsisted on touring in third rate markets. He also was involved in countless legal incidents, often involving alcohol, violence, the heavy use of prescription drugs as well as the mysterious deaths of many of his female partners.
Hence, his well earned nickname, "The Killer"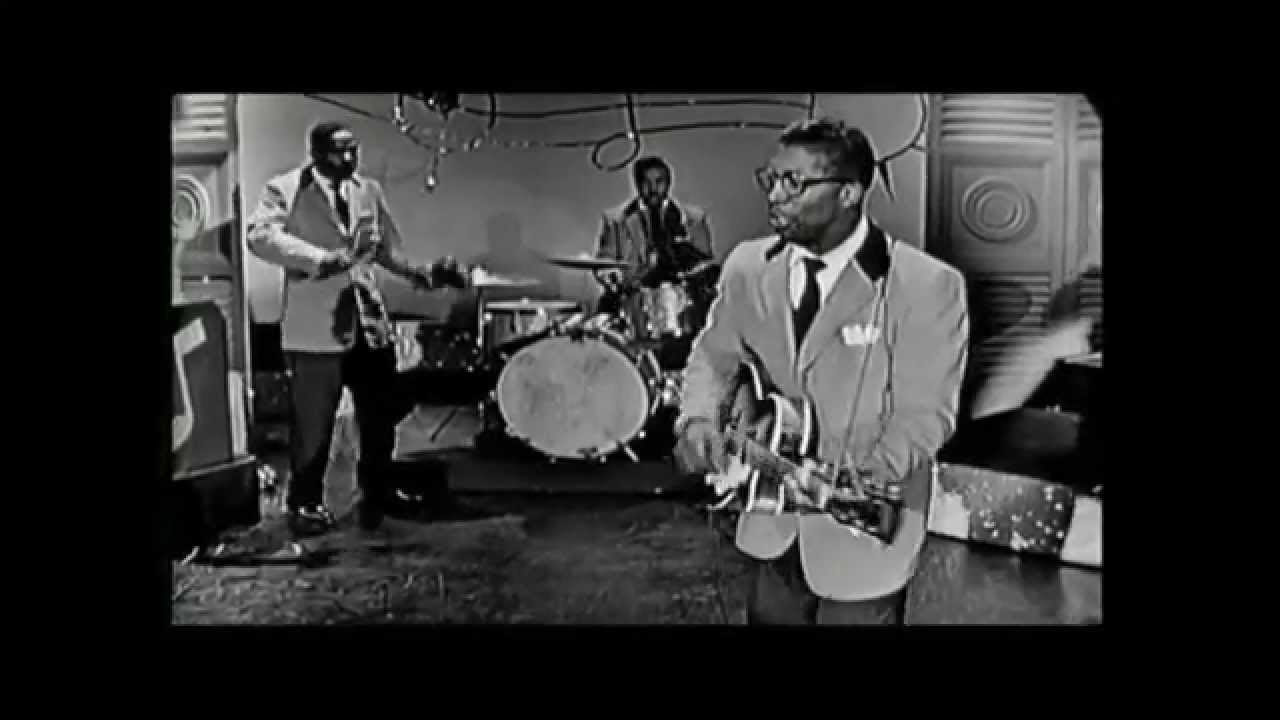 4.) Bo Diddley
The original father of boogie rock. He was a massive influence on every rock, hard rock and even heavy metal band that arose out of the 1960's to even greater success in the 1970's. The story about Bo Diddley and "The Ed Sullivan Show" is one that has been told many times, ….. usually incorrectly.
We worked with the late Bo Diddley ( Ellas McDaniel ) on numerous occasions and became friends. His version of the events surrounding that incident is the one that I choose to believe.
In 1955, Bo had a massive hit single with his self named song "Bo Diddley." He was invited to the Sullivan show to perform his hit. He predated every other rock and roll star on that seminal programme that was seen in almost every household in America. When they went to rehearsal, Bo performed his song and on a lark, while goofing around, started to play a heavier, faster version of Tennessee Ernie Ford's hit "Sixteen Tons."
According to the official version of this story, as later told by CBS and the producers of the show ( and it doesn't show them in too positive a light either ), Ed Sullivan himself was wandering around backstage, heard Bo singing the song and thought he should perform it on the show instead of his self titled hit single "Bo Diddley."
Nobody told Bo. Later he saw a large cue card with "Bo Diddley/Sixteen Tons" written in big letters. Somebody told him that Sullivan was so impressed with his rehearsal that he was granting him a second song to be performed. Bo went on the show and performed his hit song and expected to perform "Sixteen Tons" after the commercial break. Of course the cue card wasn't supposed to represent two separate songs. It really meant:
Artist: Bo Diddley / Song: Sixteen Tons
Of course confusion was bound to occur somewhere along the line when you name a song after yourself, but we digress.
Apparently Ed Sullivan and the Network Producers were so angry that he played his own song instead of the song Pope Edward had given his blessing for him to play, that he yelled at Bo backstage and vowed to never have him on the show again. Ed told Bo he would be blackballed for his insolence and not appear on a major network television show again. That all more or less came true.
Despite producing many more hits, Bo was unable to get on the big TV shows for the next decade that were really needed to reach the larger audience because a lot of radio stations were still reluctant to play much rock and roll. Bo Diddley's music was also seen as the most risque. Heavy, boogie-woogie, raunchy, blatantly erotic and bestial were just some of the words used to describe it.
Now, this story certainly shows a paternalistic, extortionist, patronizing if not racist attitude on the behalf of Sullivan, his producers & CBS. It does not paint them in a very nice light.
However, the real story is much worse.
According to Bo here is what really happened. He went to New York in 1955 and performed his big hit, "Bo Diddley" on the show without incident. He was paid one thousand dollars, a lot of money in 1955. Now Bo may have been goofing around in rehearsal and played "Sixteen Tons" backstage before that, he was never sure.
A few months later, Bo was invited back on the show because he had another hit on the charts. His first performance was well received by viewers and more importantly, Sullivan liked it and had told Bo this after the show.
However, when he rehearsed for the show this second time, a problem arose.
The producers had decided that it would be much better for everybody concerned if Bo didn't perform his new song and instead played "Sixteen Tons." They told him that Mr. Sullivan had heard him practicing it (either in rehearsal for this show appearance or his previous one. As we said, Bo was never sure, but it doesn't really matter). They explained that Bo's deep baritone would really resonate singing that song and it would go over much better with Ed's audience.
Why the change? Well, the song Bo was scheduled to perform, his new hit that had climbed into the top ten was "I'm a Man." Apparently, the producers hadn't bothered to listen to the song when they booked him, they just saw that it was a hit and knew that Ed liked Bo from his last appearance. By the time Bo got to New York, things had changed.
The big shots at the network decided they could not have a big black man with a guitar singing "I'm a Man" on American television. It would be too controversial. The song is a cleverly subtle, sexual and metaphoric song. A declarative blues anthem decrying the inequality & dignity issues befalling the unfair racial conditions still prevalent in America in 1955.
Bo was faced with a dilemma. He didn't want to give in on principle. Besides that, he had not written or recorded the Tennessee Ernie Ford song, like he had with "I'm a Man." So he would not receive much direct or indirect financial benefit from playing the substitute, which he also by the way, had never done "live" before. However, he also knew if he chose to do "I'm a Man" live, that he would never be asked back and it could hurt him elsewhere. So he came up with a compromise.
He decided to perform his first hit "Bo Diddley" again, just like he had months ago. Bo knew that Sullivan liked the song and it shouldn't be a problem. So that is what he did. Immediately after finishing the song, Bo was accosted by Ed Sullivan backstage. He was livid. How dare he not do what they told him to do! The main issue was his insolence and not behaving like a good, subservient guest.
Sullivan called him "Boy" and threatened him with the network television ban which all came true, hurting his career for the next ten years. The problem was that the producers realized that Bo could just as easily have done the controversial song on "Live" TV and they couldn't have done much about it. They dreaded the political fall-out. They despised it when they did not have total control over the performers
Ironically, parts of that particular Ed Sullivan show were being advance taped, probably unbeknownst to Ed at the time or he forgot during his angry tirade. Bo's second performance of his hit song "Bo Diddley" was one of those same-day taped segments. As a result they never aired it anyway.
Bo said the $1,000 cheque he received from that show bounced as well, adding insult to injury.
We choose to believe the late Bo Diddley's version of events
5.) Little Richard
The most flamboyant member of the club, and easily the most controversial. Richard was so crazy and over-the-top in his live shows that it was just a matter of time before the authorities, bigots, homophobes and others brought him down. Richard wore heavy makeup, wigs, sparkly costumes and while playing piano often acted like an African American version of Jerry Lee Lewis channeling Rip Taylor & RuPaul on amphetamines.
It is no small miracle that he survived the fifties alive considering the level of hatred directed towards him. The controversial shows he played, the riots he started and the pressure he was under from performing the way he chose to, all took its toll.
The late 'Prince' borrowed most of his entire look and a lot of his stage persona from Little Richard more than anybody else.
Richard got very rich in the fifties, but the intense legal and social pressure along with guilt prompted him to become a preacher in 1958. He started recording and performing gospel music to what can only be described as mixed results.
His sexuality has always been more than fluid, and Richard, raised in a very religious Georgia household has wrestled with it himself in very public ways for decades.
He still did play rock and roll occasionally between lengthy bouts of retirement and isolation and even was nominated for an Academy Award for his song "Great Gosh A'Mighty" in 1986 from the movie 'Down and Out in Beverly Hills.' Torn between his secular and religious beliefs, he changed the lyrics & title of the song several times, alternating between "God" and "Gosh" before settling on the latter to appease his very religious mother who thought referencing "God" like this in a rock and roll song was blasphemy.
Eternal Rebel that he was, Richard refused to perform this song at the Academy Awards and didn't attend the ceremonies. Instead he staged a one man protest outside the Shrine Auditorium on the night of the awards, protesting the legal injustices imposed on the early rock and roll performers regarding their writing and publishing royalties ( All legitimate & true ).
He didn't get much publicity and of course, predictably didn't win the award for best song ( Although he probably should have ).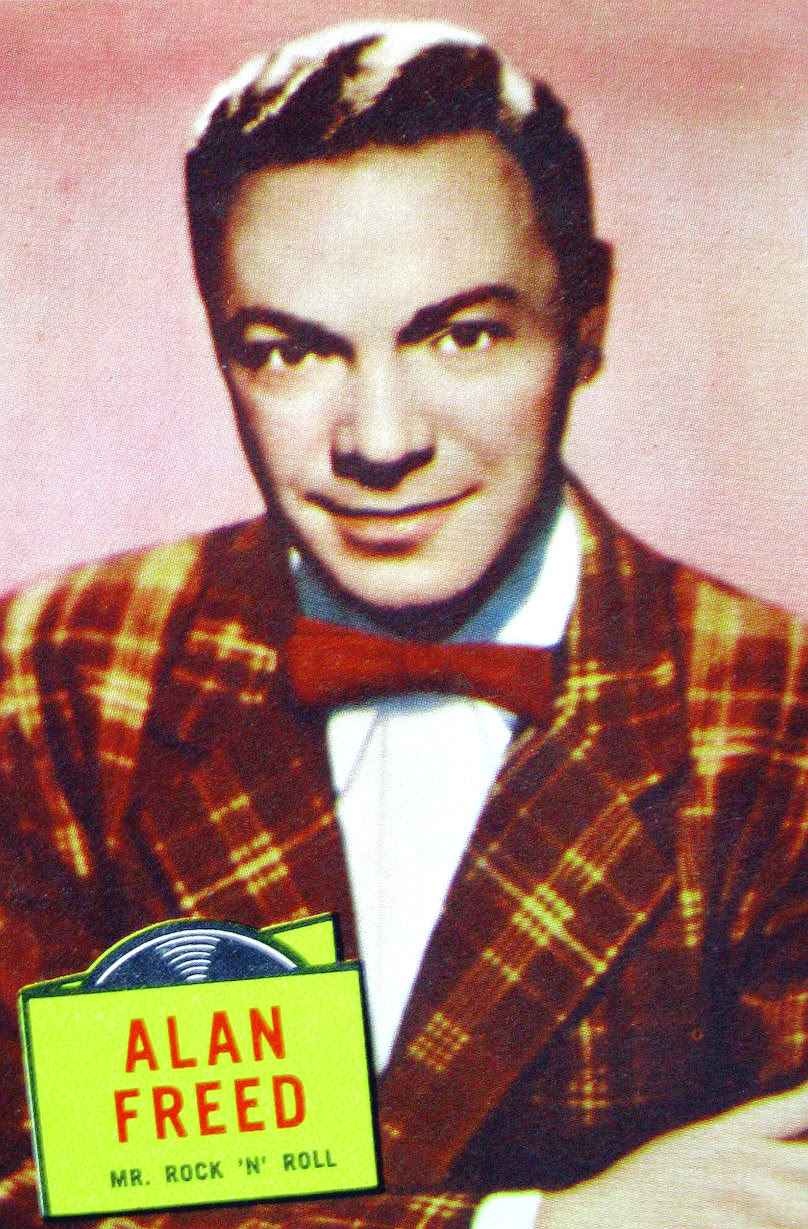 6.) Alan Freed
The legendary Cleveland based disc jockey & promoter got very successful, very quickly changing radio formats, promoting his concerts and launching the careers of dozens of artists, mostly black. He coined the phrase "Rock & Roll" and promoted the art form unlike anybody else.
He also made a lot of enemies, especially when he brought his shows to New York City. These concerts were blamed for causing riots, corrupting the youth of America in general and more specifically for causing girls to lose their virginity.
It was a lot of hysterical exaggeration and propaganda. Law enforcement, politicians and record companies conspired to bring him down in the great "Payola Scandal" in 1958. This practice of DJ's being paid to play certain artists' records had been going on for years before Alan Freed ( and still is, albeit in different forms ), but was used specifically to destroy him.
He died in 1965 a the age of 43, an alcoholic, broken man who never recovered from the injustice dealt upon him.
7.) Buddy Holly, Richie Valens & The Big Bopper
All three died in that infamous 1959 plane crash in Clear Lake, Iowa. To many it seemed like rock and roll died that day. Don McLean paid his infamous tribute to the tragedy in the monster hit single "American Pie."
Things were different in the 1950's, and one of the lesser known aspects to this story is that despite this horrible accident, the concert the singers were heading to in Moorhead, Minnesota was not cancelled. The promoters were not going to eat the money they had already spent promoting the show and give refunds. So, they went about trying to find local replacement bands on less than 24 hours notice.
The first band to take up the challenge was "The Shadows." A local Midwest band fronted by a fifteen year old singer named Bobby Vee. They did the show, which got reviewed by several reporters due to the macabre circumstances that surrounded it. They played well, got good reviews and their career took off.
Several months later, Bobby's older brother asked if a piano player could join the band, because he knew this guy who could help them. This young keyboard player and Minnesota native went by the name "Elston Gunne" and continued to play with the Shadows for a year. It was his first professional gig.
Elston left the Shadows on good terms to pursue a solo career as did Bobby Vee. Elston Gunne's real name was Bob Zimmerman. Mr. Zimmerman of course changed his name again to Bob Dylan. Two weeks ago he won the Nobel Prize for literature.
If you ever want to win a trivia contest, bet somebody that they can't name the other stage name Bob Dylan used in his lengthy career.
We briefly met Mr. Bobby Vee in the 1980's when we booked him on several Rock & Roll Revival shows. These were big, lengthy affairs that included Chuck Berry, Roy Orbison, Bo Diddley, Ricky Nelson, Bobby Rydell, Bobby Vinton, Frankie Avalon and many others we can't remember.
He was not the biggest star at any of these shows, but he didn't let that hamper his performance. He gave his fans what they came for and signed autographs a lot longer than most. Bobby had a gifted voice and was a genuinely nice guy. He was also a consummate professional.
Bob Dylan thought so too. Bob remained friends with Bobby Vee throughout his entire career. Mr. Dylan has been known as a very temperamental artist over the years, and isn't always the easiest guy to get along with. However, he never said a bad thing about Bobby Vee & played with him many times over the years, inviting up on the stage during encores.
Mr. Dylan also went to several of Bobby's far less well attended shows over the years and surprised the audience when he went on stage and played songs with him.
After his diagnosis with Alzheimer's in 2011, Bobby Vee quit playing live, but continued to record. Here is a touching moment from a Bob Dylan show in 2013, when Bob performed Bobby Vee's self written, first single, "Suzie Baby" on stage with an ailing Bobby in attendance.
Bobby Vee had much bigger hits, but this simple song that Bobby himself wrote has a quiet, minimalist, extremely innocent charm to it. It is obviously influenced by the work of the great Buddy Holly who Bobby Vee himself sadly acknowledged launched his career through his unfortunate death.
Bob Dylan loves this song, and in many interviews has mentioned it as one of, if not his favourite song of all time.
"Thank you everyone, thank you friends. I lived here a while back, and since that time, I've played all over the world, with all kinds of people. And everybody from Mick Jagger to Madonna. And everybody in there in between. I've been on the stage with most of those people. But the most beautiful person I've ever been on the stage with, was a man who is here tonight, who used to sing a song called "Suzie Baby". I want to say that Bobby Vee is actually here tonight. Maybe you can show your appreciation with just a round of applause. So, we're gonna try to do this song, like I've done it with him before once or twice."
In our celebrity obsessed culture, lesser lights are often overlooked. At least their music being covered by other, more famous performers gives their art a conduit to be accessed by new fans. Better than languishing in historical anonymity.
Rest In Peace, Mr. Bobby Vee
---
…… Thursday, October 27, 2016 ………..
Jacksonville @ TENNESSEE (-3.5) 44.5
 The Jacksonville Jaguars & Tennessee Titans are both teams that threaten to finish this year off under their own cloak of anonymity. They both come in to this contest off losses.Both have been disappointing, and part of that is the play of the two quarterbacks running these teams. Jags' QB Blake Bortles has looked less than ordinary this year after breaking many franchise records last year for yardage, touchdown passes & completion percentage. To be fair, Pro Bowl WR Allen Robinson has played poorly, dropping balls, not getting open and looking frustrated when he isn't targeted enough.
Jacksonville's offense, despite Bortles' struggles is in the middle of the pack with their passing, ranking 17th out of 30 teams. Their rushing attack is dead last, 30th in the NFL. So the ground game has provided less than little support.
As weak as the Jag offence has looked, the defense has almost matched them.
Their defense has been average, but they tire late in games due to the large inequity in "Time of Possession" with their opponents. Now, more bad news, they come into this game without key Nose Tackle Roy Miller, their key run-stopper and the lynch-pin of their 3-4 defense.
QB Marcus Mariota of the Titans continues to show flashes of the greatness & flash he showcased at the University of Oregon that made him the #2 overall draft pick last year. However, he also has been inconsistent and his ball security issues have not improved.
Obviously, Tennessee has been the slightly better team this year. The short week favours them, they are much healthier and they need this divisional win. The pathetic AFC South is still within their grasp, especially after the performance of the Houston Texans on Monday night in Denver.
Even with the ugly hook, we'll back the Nashville Oilers.
Brutal: TITANS -3.5
Bob: Jaguars +3.5