What's worse than another blowout loss from the Buffalo Bills?  Hearing about it the next day.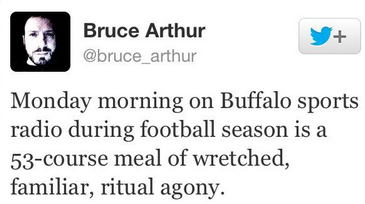 Sports are supposed to be our escape, right?  What happens when you need to escape from THAT?
My 13 minute commute lasted about 9 minutes today thanks to Chris Columbus.  I had an idea of what I'd hear on the radio.  I tried it anyway.  Here's it is, with paraphrasing.
WGR—  Jeremy and Howard can spin yesterday's torture into this morning's entertainment…  unless it's 7:50AM.  Ah, The Whiner Line.  Can't do it.  I escape before the first (presumably) unintelligible call.
WBEN—  Susan Rose:  "So, Mark Kelso, tell me about this historically bad performance."  No, thanks.  Let's hit up the FM dial for some Zeppelin or something.
97 Rock—  Larry Norton (I think):  "So, Jim Kelly, isn't this the worst?"  Yes.  Ugh.
103.3 The Edge—  Tim Graham:  "I'm in Arizona and I'm going to be here with the team all week.  "  I'd have kept it here if the segment didn't end.  Back to…
97 Rock—  Jim Kelly:  "I watched a lot of the plays and Mario Williams was getting triple teamed."  I bet he wasn't.
People often ask me if I miss working in radio.
No.