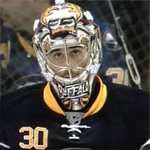 As the NHL messily transitions from 2012-13 Stanley Cup Final to the 2013 offseason, all signs point to the Buffalo Sabres making big changes over the coming weeks.  Objective number one is moving Ryan Miller.  The trade of Jonathan Bernier to the Toronto Maple Leafs has helped reveal the hands of teams looking the bolster their goaltending position.
Here's a list of nine teams that could be kicking the tires on Ryan Miller.
Philadelphia Flyers
I believe that Philadelphia and another team were hard in the mix as well at the end along with Toronto. Flyers offering Matt Read…

— Pierre LeBrun (@Real_ESPNLeBrun) June 23, 2013
The Flyers were in on Bernier so they should be interested in Miller. The Flyers do big things. Always. And with a looming buyout of Ilya Bryzgalov, they desperately need a goalie (as usual). None of us would be shocked to see the Flyers trade for Miller and sign him to a big money deal. They'll need to clear some more money off their books first but it's certainly doable.
Tampa Bay Lightning
Tampa Bay was rumored to be interested in Miller at the trade deadline and is now sitting with Ben Bishop (45 NHL games) and Anders Lindback (62 NHL games) in net. The  Lecavalier contract is a killer for Tampa's cap space, but if the Sabres are willing to take cash or a bad contract back, a solution can be found to fit Miller on their roster.
Washington Capitals
Yahoo.com's Greg Wyshynski (aka PuckDaddy) thinks that Ryan Miller would be a great addition for the Caps to help change the dynamic of a team that seemingly needs some kind of new direction. Who are we to disagree?
Bangin' the Ryan Miller to the Caps drum on ESPN 980 right now. — Greg Wyshynski (@wyshynski) May 14, 2013
Phoenix Coyotes
The Coyotes do not have an NHL goalie under contract with both Mike Smith and Jason Labarbera set to shop their wares as unrestricted free agents. The team also stands almost $4 million below the 2013-14 salary cap floor of $44 million. Lastly, is there any team in the U.S. that could use a "face-of-the-franchise-TeamUSA-hero" type player more than the Phoenix Coyotes? If Miller would accept the trade to Phoenix, this may be the most logical destination.
Minnesota Wild
#mnwild talking to Niklas Backstrom, but keeping trade options open. In the mix for #lakings G Jonathan Bernier http://t.co/hKBavRAntn — Michael Russo (@Russostrib) June 22, 2013
Well, hello again old friends. The Wild have Josh Harding signed for the next two seasons at $1.9 million, but are apparently looking to upgrade. Cap space may be an issue but if the Sabres are willing to get creative with cash, Minnesota could work.
*****UPDATE***** Cross Minnesota off the list.
BREAKING: #mnwild has agreed to terms with goalie Niklas Backstrom on a three-year contract. MORE: http://t.co/VrODbqBtQo

— Minnesota Wild (@mnwild) June 24, 2013
Pittsburgh Penguins
The Pens have about $8 million in cap space available for the upcoming season but have quite a few roster spots to fill. You'd think the Penguins braintrust will want to try something new after their "trade for old captains" strategy didn't payoff. If they're ready to quit on Fleury, Miller could make sense.
Edmonton Oilers
It's hard to imagine Ryan Miller accepting a trade to Edmonton, but the Oilers could sure use him (and a couple capable defensemen). The Oilers have only Devan Dubnyk under contract and his contract expires after next season.
St. Louis Blues
Both St. Louis Goaltenders, Jaro Halak and Brian Elliott, will be free agents after next season. While the Blues have looked like contenders over the past few seasons, they just haven't impressed in the playoffs. The Blues have plenty of cap space and it's not hard to envision some thinking Miller could be a key piece to get them over the top.

New York Islanders
The Islanders have no goalies! Even when they had Nabokov, they still had no goalies. Lots of cap room. A huge need. And a credible face to boost the team's profile as it moves across town in a couple years. But will Miller accept a trade the Islanders?
**********
We don't know what sort of return Miller will ultimately fetch but even in the era of "puck possession" obsession, keeping the puck out of its own net is still a high priority for every single NHL team. Miller is a commodity elsewhere even if he no longer holds the value to the Sabres that he once did. The team that lands him will be acquiring a star player and the Sabres' haul should reflect that.