Podcast: Play in new window | Download
Subscribe: RSS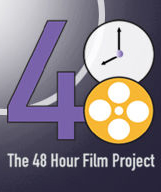 David Jackson of Hate This Films joins today's podcast to discuss the just-completed Buffalo 48 Hour Film Project in which his team of 25 people wrote and produced an entire short film in a weekend.
Rules: Each teams is assigned a genre and given a character, prop, and a line of dialogue that must be included in the film. 48 hours later– pencils down.
You may have missed your chance to make a movie but you still have a chance to see them. The premiere screening of all 19 films produced during the project will take place at Market Arcade Film and Arts Centre over a two night period– this Wednesday and Thursday– beginning at 7pm. A ticket costs $10 and is good for both nights.