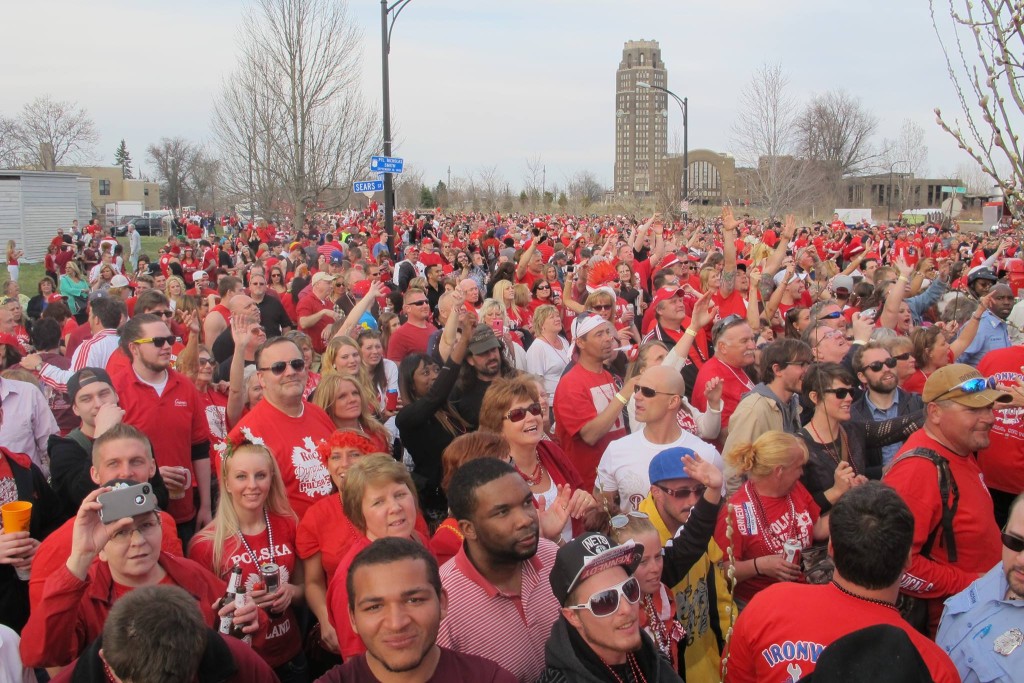 It's one of America's most unique and spirited ethnic celebrations. Dyngus Day is a post-Lenten party that takes place the Monday Easter. The day's quirky customs include the playful flirting by the tap of a pussy willows or exchanging a sprinkling of water, dancing the polka and eating tons of Polish sausage. (You can learn more about the holiday and customs at www.DyngusDay.com.)
With its roots in rural Poland, the Monday after Easter has become a wild party in a number of communities across America where a large concentration of Polish Americans can be found or where the diaspora of Polonia has spread. To help find a party near you, here are the Top 10 Dyngus Day celebrations in America ranging from individual clubs & taverns to city wide celebrations:
10. Charlotte, North Carolina – Thousands of "rust belt refuges" who now call Charlotte home have helped fuel the success of Dyngus Day at the Red Fez Shrine Club. The 2015 edition will feature traditional Polish food, polka music, and will benefit the Shriner's Hospital for Children. You'll find a rockin' polka band and find out what people mean when they say, "Bring on the pussy willow shenanigans, it's time to party our dupas off." The club is at 16600 Red Fez Road. www.dyngusdaycharlotte.com
9. Milwaukee, Wisconsin – The power of the pussy willow has begun to be felt in a city famous for its beer, brats and squeezeboxes. Kochanski's Concertina Bar has taken on the challenge of creating a Dyngus Day festival with a day filled with Polish beer and live polka music with Joe Kielbasa & the Missing Links. Kochanski's is located at 1920 S. 37th Street. www.facebook.com/DyngusDayMilwaukee
8. New Orleans, Louisiana – Organizers explain Dyngus Day this way, "The party is a near-manic lust for celebration, the explosion of excess and sin the first day of relent from austerity and fast; it is the adverse, Polish mirror-image of the immediately pre-Lenten Mardi Gras, with a very kindred spirit." New Orleans is a professional party town and the owners of the Siberia Night Club have seized the opportunity to call Dyngus Day their own.  Live music by Debauche and the G-string Orchestra, Polish food and spirits. "Dyngus Day is the holiday for people who are disappointed to think that the spirit animating Mardi Gras lives only once a year," says club owners. Siberia is located at 2227 St Claude Ave. www.DyngusDayNOLA.org
7. Phoenix, Arizona – In a town where you would more likely find a tumbleweed than a pussy willow branch, the spirit of Dyngus Day is strong at the Pulaski Club in Phoenix. Live polka music by the Varitones Band, Polish beer and spirits, imported pussy willows and more will greet party goers. The club is located at 4331 E. McDowell Road. www.Pulaskiclubaz.org
6. Boston, Massachusetts – Spearheaded by the Tavern at the End of the World in Charlestown, Dyngus Day Boston is now into its 3rd year.  Call themselves the "Polish Capital of New England," the party features all the traditional elements found at a Dyngus party including polka music, Polish food, piwo & vodka, pussy willows and a spontaneous water gun battle in the bar. The Tavern at the End of the World is located at 108 Cambridge St. www.tavernattheendoftheworld.com
5. Rotterdam, New York – What began as a small party at a local tavern seven years ago has now transformed itself into the self-proclaimed "Dyngus Capital of Upsate New York."  The party at the Rotterdam Elks Club begins at 1pm with live polka music and a full Polish kitchen. www.dyngusdayrotterdam.com.
4. St. Petersburg, Florida – No worries about getting drenched by a squirt gun…because you can celebrate the Monday after Easter in your bikini top at the 20th annual Dyngus Day Party at Buffalo City Bar & Grill in St. Petersburg.  Free pussy willows will be given to the ladies while you dance to the music of the Florida Honky Polka Band. The bar is located at 5631 Park Street.  www.buffalocitybar.com
3. South Bend, Indiana (Michiana Region) – Although more politics than polkas, Dyngus Day in South Bend still one of America's sizable celebrations.  Dyngus Day in South Bend marks the beginning of the Michiana region's political campaign season with political parties sponsoring events featuring a parade of hopefuls shaking hands and kissing babies. So important is politics that over the years it has attracted the likes of Robert F. Kennedy and Bill & Hillary Clinton to Dyngus events. What South Bend lack in pussy willows and squirt gun, they make up in a spirited celebration of spring. Celebrations are scattered through the region. Down the road in nearby North Liberty, IN, the Curmstown Conservation Club's Dyngus Day party begins with live polka at 9am. The Dyngus Day Dash is a 5K run and walk through the streets of Michigan City. In LaPorte, IN, public transportation offers a shuttle bus between various LaPorte bars and clubs. www.facebook.com/DyngusDaySouthBend
2. Cleveland, Ohio – In 2009, Dyngus Day organizers from Buffalo, New York visited their Lake Erie neighbors with the hopes of planting the pussy willow seed in Cleveland. One of the people who they excited was Justin Gorski, a polka promoter known as DJ Kishka.  A year later, Gorski came to Buffalo to learn how he could create a Dyngus party in his own town.  Now in its 5th year, the celebration in Cleveland, Ohio has become one of the largest in America with an accordion parade and over 30 venues participating.  In 2015 Dyngus Day Cleveland will mark the 100th anniversary of the birth of Cleveland native and "America's Polka King" Frankie Yankovic who passed away in 1998.  Not to be missed is DJ Kishka's Heavenly Beer Tent presented by the National Cleveland-Style Polka Hall of Fame and Museum.  www.ClevelandDyngus.com

1. Buffalo, New York
The #1 Dyngus Day party in America! Nowhere else in the world will you find more pussy willows being plucked, polkas being played and more sausage being consumed that in Buffalo, New York. It was only natural that a city proud of its ethnic and blue-collar past would become known the "Dyngus Day Capital of the World!" Although celebrated by Polish youth since the 1870s, the modern Dyngus Day party was invented in Buffalo by the Chopin's Singing Society in 1961. Both the Buffalo Bills and the Buffalo Sabres have created unique lines of Dyngus Day branded apparel.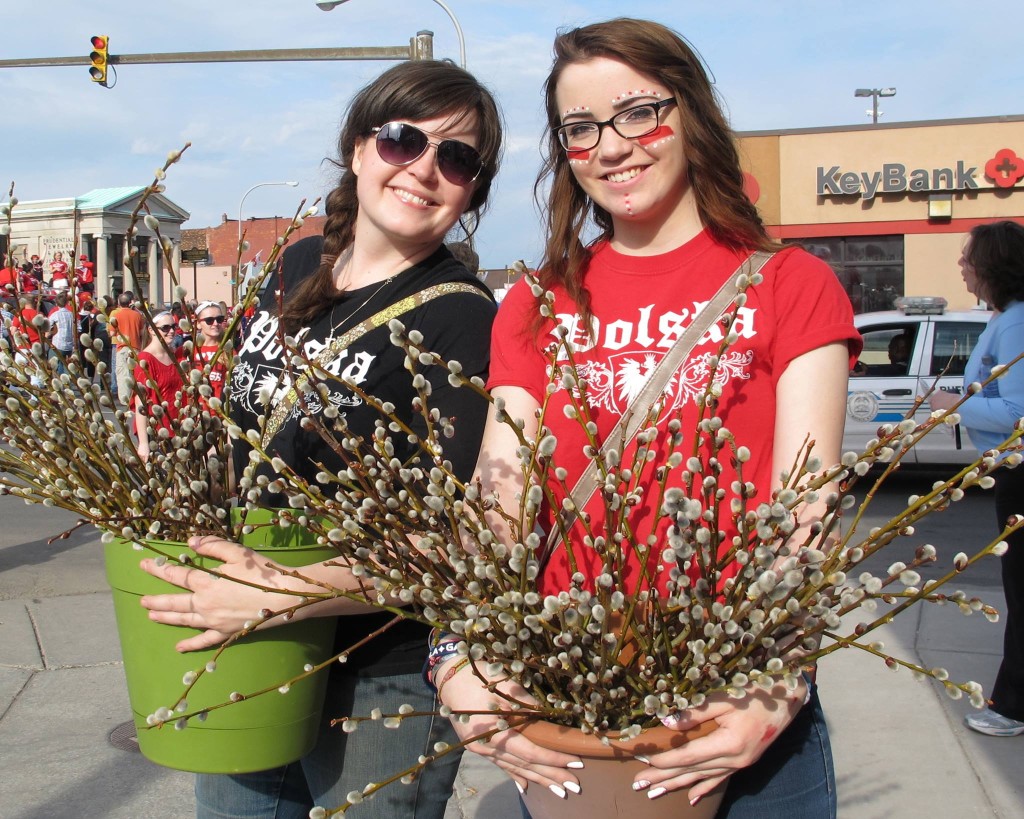 In 2015, venues across the city will feature live music, Polish food, Polish beer & vodka. The largest concentration of parties can be found in Buffalo's Historic Polonia District that at the turn of the 20th century boosted the 2nd largest Polish-American colony in the world outside of Europe.  It is in the Polonia District that you'll find the Dyngus Day Buffalo parade featuring 200 units and a sea of Polish pride. Parties in Buffalo officially begin on EasterSunday night and continue until the wee hours of Tuesday morning. Over 29 different polka bands will perform on Dyngus Day making the festival the largest one-day polka event in the world.  Dyngus Day Buffalo Parade details are available at www.DyngusDayBuffalo.com.