The hedgerow along the side of my house is budding. Not smart. It's still winter.
Isn't it?
Smart Thing 1: Hockey is still Hockey.
Hockey fans returned to the NHL, the FNC, and to the Sabres – in droves. Maybe I chose the wrong word, because droves refers back to "drovers," or sheep herders, and we're not certainly not driven like sheep.
There were plenty of prostesty things Buffalonians could have chosen from – boycotting the first home game, cancelling NHL Center Ice, signing yet another Internet Fan Petition…
I'd list more but many of you would stop reading. Still, some of us wanted the Sabres to do more to welcome us back. Some of us thought less was more.
Meanwhile, most of us just set a ticket sales record.
Meanwhile, this happened:
10,175 fans at the #SabresScrimmage last night. #HockeyIsBack #BestFansInNHL twitter.com/Megan_Colleen_…

— Meg Grogan (@Megan_Colleen_) January 15, 2013
Meanwhile, Kim Pegula was handing out hot chocolate to fans in line for the 50% off sale at the Sabres store. Terry Pegula had already spent the lockout keeping all his employees on staff, erecting that beautiful French Connection statue, holding the innovative "Sabres University," and even taking a major step to help rebuild downtown Buffalo at the Webster block – hell, he did everything short of kissing babies – no wait, he trumped that too. Blankies and 1st round draft "birth certificate" for all the new kids-!!  SMART.
Still, aside from all the Pegulas have done, and are trying to do, we get it. This particular NHL part of hockey is Big Business.
Whatever.
It's not about the NHL holding some mystical power over us, nor is it about our "need" for "freebies." As I wrote in my own blog:
"The NHL is all fun and games between CBAs, but when it comes to the lockouts, we are reminded that it is also a grossly obese animal that requires an incredible diet of cash to stay happy. Again, not news, but it is what it is. It's time to move on, and enjoy the game again. This just part of the process and price we pay to see the best in the hockey loving world skating in Buffalo, NY."
Who's the drover here, really? The NHL didn't pull us back into hockey. We simply accepted the NHL back as part of our already hockey-strong lives.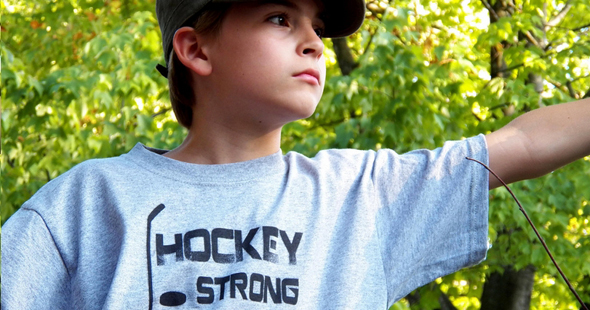 Here are two more wonderful things that have happened since the end of the lockout:
1. Hockey Mob.
We love our hockey in the Queen City, and we love our local biz. Trending Buffalo is hosting #HockeyMob events throughout the season to help businesses and workers around WNY recoup from lost earnings/wages during the lockout. Help thy neighbor by watching a hockey game with a couple Blues. EVERYBODY WINS.
2. Grigorenko Lore
Let's hope his first tenure in a Blue and Gold sweater lasts beyond the "trial period." Here's a few gems of mini-hockey lore from our newest Sabre:
At the draft, Grigorenko remarked at "how beautiful" the Sabres jersey is. Can't wait to see this kid wear it for real tomorrow. #gameon

— Kris Baker (@SabresProspects) January 19, 2013
#Sabres 18-year-old Mikhail Grigorenko on Jochen Hecht: "He's a really good player. He's twice older than me." #Buffalo

— Bill Hoppe (@BillHoppeNHL) January 19, 2013
And of course…
We saw our humble and loveable Grigorenko go from this
Mikhail Grigorenko had a chair in corner of Sabres locker room rather than stall: "It's better than to stay in Quebec." blogs.buffalonews.com/sabres/2013/01…

— John Vogl (@BuffNewsVogl) January 13, 2013
To this
Looks like "the kid" has a new stall. #lookinggood twitter.com/76_AndrewPeter…

— Andrew Peters (@76_AndrewPeters) January 18, 2013
Anyway, like I said, we get it already, and the best thing we can do that is in our power is to leave the ugliness of that lockout thing behind us.
Don't agree? Go back and read everything I wrote in the voice of Rick Jeanneret.
Enjoy the season.
Smart Thing 2: Albright Knox Brings in Aggressive Hire
There's a new director coming to the Albright Knox. Janne Gallen-Kallela-Sirén is on his way, all the way from Finland, where he headed the Helsinki Art Museum – one of the largest cultural institutions in the Nordic region. Helsinki itself is Finland's cultural – and political – capital, which bodes well for our art gallery in the middle of America's cultural – and political – Nowhere (arguably).
Of particular note: Sirén led a fervent, but failed, attempt to bring NYC's Guggenheim Museum to Helsinki as part of its global expansion plan. In the end, his proposal was voted down by the city board.
Still, this is the kind of builder/innovator vision that Buffalo is embracing right now. We're building up the waterfront. We're rebuilding downtown. We're rebuilding our football stadium.
Let's see what this guy can do for the fine arts scene.
I absolutely love this hire.
Smart Thing 3: FLURRIOUS!
Did I mention the hedges at my house are blooming? Never mind them.
"Flurrious" is coming to Delaware Park this weekend, and it's going to be a great time. From their Facebook page:
"Join us January 26th for an outdoor winter festival in Delaware Park, complete with a quidditch tournament, ice hockey exhibition, intramural snow sports, fun run, hot food & beverages, and much more!"
So much Smart fun to enjoy here.
Keep it the good work, Buffalonians, and have a great week.
******
Note: "3 Smartest Things" is being produced to go along with the "5 Dumbest Things" series here on TB. "Why three," you ask? Well – far be it from me to break our time honored tradition of berating each other on the progress of our fair Queen City. Tell you what, when the new Peace Bridge goes up, we'll go up to five. And of course, feel free to follow me on Twitter to discuss all things trending in Buffalo, and check out my blog "Buffalo Sabres Nation" when you're bored at work. Your boss will appreciate your increased productivity afterwards.