In mid-February during any other NHL season, a Sabres player will put together a series of incredible moves and bury his chance into the back of the net. Someone will say "THAT'S THE GOAL OF THE YEAR RIGHT THERE!" and you'll have no idea if it's true.
Well, this season you'll know.
Trending Buffalo will establish a baseline in order to gauge whether or not an event that we've just witnessed deserves to be called the "best of the year" and, naturally, we're starting with game number one.
When we see a better game/goal/hit/fight/etc., it will take its rightful spot on this page. (We'll add categories as warranted.)
One game in, here's what we know about the 2013 season.
BEST GAME OF THE YEAR
Sabres 5, Flyers 2 (1/20/13 at First Niagara Center)

BEST GOAL OF THE YEAR
Thomas Vanek vs Flyers' Ilya Bryzgalov (1/20/13 at First Niagara Center)

BEST HIT OF THE YEAR
Marcus Foligno on Flyers' Luke Schenn (1/20/13 at First Niagara Center)
No video available, which should make this one pretty easy to beat.
BEST SAVE OF THE YEAR
Robyn Regehr on Flyers' Scott Laughton (1/20/13 at First Niagara Center)
Again no video, and not even a real save. Regehr lifted the stick of Laughton, preventing an easy tap-in goal which would've given Philly a one goal lead with about 7:30 to play in the 3rd.
BEST FIGHT OF THE YEAR
Drew Stafford vs Flyers' Scott Hartnell (1/20/13 at First Niagara Center)
Hartnell takes the decision in this one but we commend Stafford for doing exactly the type of thing that the Sabres are often decried for avoiding. Stafford doesn't like Hartnell's hit on Tyler Ennis, tells Hartnell as much, and then fights him. Good on ya, Drew.
RIDICULOUS TWEET OF THE YEAR
Jerry Sullivan of The Buffalo News (1/20/13 at First Niagara Center)
This gem came early in the Sabres' 5-2 win over Flyers. Vanek would tally 2 goals and 3 assists.
Vanek seems slow and ordinary to me

— Jerry Sullivan (@TBNSully) January 20, 2013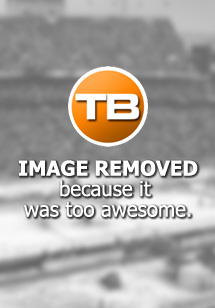 See a new KOTH contender? Let us know.