GNR (aka Axl and friends) played the Harbor last night.
My favorite pre-show FB message: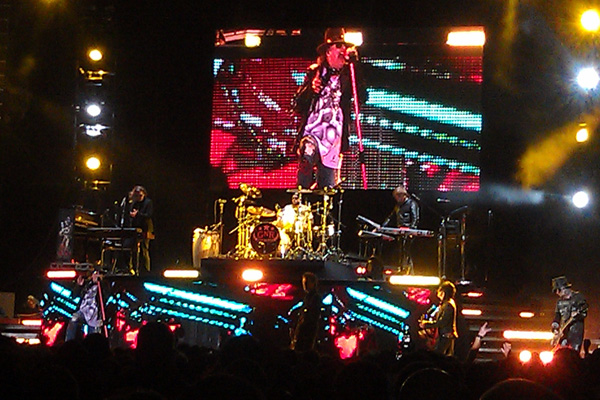 After the show, I gave a one tweet review.
That was a ridiculously good band that I watched tonight. No, it wasn't real GNR but it also isn't 1987.

— Brad Riter (@BradRiter) June 6, 2013
I could've tweeted a lot more but it occurred to me that I write for Trending Buffalo and we don't enforce character limits. #stillaimingfor140ish
24 songs over nearly 3 hours= money's worth. Full setlist here.
Axl seems happy. He must not read all of the "Fatxl" comments online.
If Axl remembered me from our last "meeting" in 1993, I certainly wouldn't be the one asking the other about weight gain.
Gates opened at 8. GNR on stage at 10. Totally reasonable. #newAxl
For all talk of "this isn't real Guns n Roses," all branding/imagery was "GNR" not full band name. Less offensive.
Weird, cool venue. Crowd pretty dead. 50ish degrees in June? Took away from the vibe.
Bumblefoot started shirtless. Then added leather jacket. Then added shirt under jacket. 3 more songs and we were gonna see him in a snowsuit.
Axl's voice took a few songs to warm up but he hit his stride by 5th song. (Estranged)
Tough to believe that Axl's perfect whistling on a windy night next to the lake wasn't digitally enhanced (or produced.)
HUGE stage/GIANT riser/ drummer in the sky! Wimpy, Poison-esque explosions.
Amazingly tight band. Slightly "Vegas" but wow, that was technical precision.
DJ Ashba wears a hat kinda like Slash, making it seem like he's copying. Thing is, he probably grew up worshiping Slash. Good.
Ashba is RIDICULOUSLY talented.
Not real GNR but best GNR cover band ever, fronted by W. Axl Rose.
Crazy fight right near us. Security took so long that it just ended with enforcer-style "we're done" shoulder tap. Both guys walked away THEN keystone cops showed up. Never saw that before.
Terrible setup for handicapped seating area. People in wheelchairs couldn't see over the crowd. Might as well have been facing backward.
No waiting at the merch table.
Tommy Stinson looks younger than I expected… and healthy. #mats
When GNR did "Knockin' on Heaven's Door" at The Ritz in 1987, it was a cool novelty. Last night's 10 minute version was not.
Axl seems to think "Catcher in the Rye" is his masterpiece. Nobody else in the world likes that song half as much as he does.
"Don't Cry" and "November Rain" are kinda the same song. Don't need both.
All of the Appetite stuff is still great live, especially Rocket Queen (my favorite GNR song) and Nightrain (set closer.)
I liked "Civil War" a lot better than I remember liking it in 1991.
Cover of  The Who's "The Seeker" in encore was freaking fantastic.
If you were on the fence about attending the show, and didn't– you made the wrong decision.