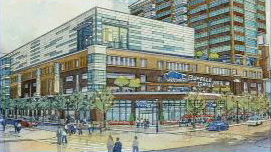 The City of Buffalo's "what to do with the Webster Block" decision is looming.  For the uninitiated, we're talking about the current site of the big, flat parking lot in front of both First Niagara Center and the HSBC Atrium, bordered by Main, Washington, Scott, and Perry Streets.
Mayor Byron Brown and company are currently in overtime on their review of the proposals made by prominent businessmen Terry Pegula and Carl Paladino.
If Pegula's plan is chosen, it wouldn't be the first time Buffalo has looked to the owner of the Sabres to do more than just roll out a winning hockey team.  So far, the record is 0 and 1.
Finally, for this luck-challenged Rust Belt city, it appeared fortune was shining.

A big company was not only moving in 1,000 jobs — after decades of corporate flight — but it planned to build a 15-story office tower to boot. And not just anywhere, but right on the waterfront, making the building a gleaming catalyst to jump-start the moribund heart of the city.

"They were the biggest new player to come to town in years," said Andrew J. Rudnick, president of the Buffalo Niagara Partnership, a business trade group.

As luck would have it, the conquering hero was Adelphia Communications. And as the company, the sixth-largest cable system in the nation, sits in the cross hairs of investigations and tries to fend off bankruptcy, people here have taken to calling the mess "Buffalo's Enron."
But with all evidence indicating that Terry Pegula isn't John Rigas, Business First's Tim O'Shei makes a case for Pegula's vision of a $123 million project involving construction of two ice rinks and a hotel.
The competing proposal comes from Carl Paladino, who wants to build a $64 million hotel/office/apartment complex. Paladino is a smart businessman whose plan is surely solid. And he should be commended for his willingness to invest $64 million.

But Paladino's plan would give us more of what we already have: available office space, downtown living quarters, and hotel rooms. It won't lure a steady stream of new visitors to Canalside. The hotel will house people when they visit, but it won't be a draw.

The Sabres' rinks would be a draw.

By all indications, Pegula doesn't plan to do this anywhere else if the city turns him down. Sabres President Ted Black, who joined me recently for a live tweeting session, said as much when a fan asked him if there was a plan B for the rink proposal.

"No plan B," he tweeted. "This is a pretty solid plan that is driven by Terry and (wife) Kim's willingness to fund the rinks."

The city should accept the gift.