Did I say I enjoyed the smell of pigskin (even preseason pigskin) in the morning last week? Let me recant that. It smells kinda funky right now.
Smart Thing 1: 25 Years of Downtown Hardball
It's hard to believe that the Bisons have now been playing baseball at Coca Cola Field for 25 years. On Saturday, the Bisons celebrated that silver anniversary. Mayor Byron Brown marked the day "Buffalo Bisons Day" as the Herd took on Rochester in front of a host of historic characters.
25 years!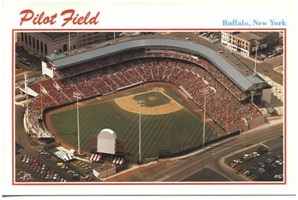 Time flies. The park opened as Pilot Field on April 14, 1988. Tom Prince was the hero that day, as he hit the first home run in the stadium's history – a one run blast that held up for a 1-0 victory. Here's a fun link to some video from that day.
And hey, there have also been whispers that the floundering relationship between the Bisons and Mets could come to an early end, which could pave the way for a long-awaited Yankees Red Sox Blue Jays/Bisons partnership.
If you still call it Pilot Field, don't worry. With all the name changes, most of us still do.
Smart Thing 2: Polar Bears to get New Stomping Grounds at the Buffalo Zoo
If you're one of those folks who've visited the Buffalo Zoo in recent years/decades and lamented the small confines in the bear pens, well, you won't have to worry over the polar bears anymore.
A project to begin next month will transform the current Parkside Avenue entrance to the zoo into a new "Arctic Edge" exhibit, which will serve as the new home for the zoo's polar bears, as well as for an arctic fox, a Canadian lynx and a bald eagle.
The project will enable the zoo to hold onto its polar bears, which could have otherwise been lost due to the standards set by the Association of Zoos and Aquariums. From The AZA (PDF file):
"Given the polar bear's threatened status under the Marine Mammal Protection Act, additional laws, regulations, and standards of care must be followed in addition to the specified AZA Accreditation Standards."
Hit the above link for more info on what the zoo had to take into consideration in order to continue to house this beautiful but threatened species.
Bonus: the new entrance will be in a 75 year old building that was previously slated for demolition. Patrons will now be able to enjoy not just the bears, but also a little extra preserved/reused Buffalo architecture.
Smart Thing 3: Progress on the Peace Bridge
We're not talking a new Peace Bridge here, but we're at least talking actual improvements on "the second busiest car and freight crossing between Canada and the United States."
The final tracks of land have finally been secured by New York State to convert an old patch of neighborhood into a new, enhanced truck plaza. According to Governor Cuomo, the project will "relieve 80% of the congestion issues at this vital crossroad between the U.S. and Canada for 10 percent of the cost – saving taxpayers both time and money."
Someday they'll put up the actual new bridge, and hey – we'll finally get more Smart Things (see below). As we continue to wait for that, go ahead and have a gander at the Blue Jays' prospects. Just in case.
******
Note: "3 Smartest Things" is being produced to go along with the "5 Dumbest Things" series here on TB. "Why three," you ask? Well – far be it from me to break our time honored tradition of berating each other on the progress of our fair Queen City. Tell you what, when the new Peace Bridge goes up, we'll go up to five. And of course, feel free to follow me on Twitter to discuss all things trending in Buffalo, and check out my blog "Buffalo Sabres Nation" when you're bored at work. Your boss will appreciate your increased productivity afterwards.