Don't let the NHL lockout get you down. This is Buffalo. We are survivors.
And we're smart, too – here's this week's proof: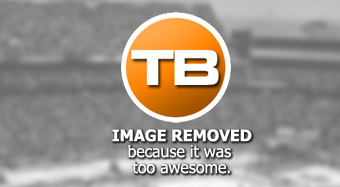 Smart Thing 1: With the 9th pick in the 2010 NFL Draft, The Buffalo Bills draft CJ Spiller
Remember all those columns riding Spiller as a "bust?" Oops. Turns out patience (on the field, and in journalism) pays off when covering football prospects.
With Fitzpatrick only capable of throwing wounded ducks and worm burners, the electrifying Spiller has been the biggest part of, well, all of the Bills' offensive success thus far. Yesterday, CJ had 92 rushing yards, 47 receiving yards, and two touchdowns – just in the 1st half. After the final whistle, Spiller earned the distinction of being just the 4th running back in Bills history to start a season with back-to-back 100 yard rushing games. Keep giving him the rock, Chan.
I know I'm not the only one who was hearing Rick Jeanneret yelling "SPILLEEEEEEER!" in my head during yesterday's game.
Good times.
Sure is fun watching a star being born.
Smart Thing 2: Gusto Profiles Buffalo Actors
We often hear about the "theater district" in Buffalo, but how much do most of us really know about it? The Gusto profiled seven Buffalo actors, and as it turns out, they're pretty fantastic:
"This 'Being John Malkovich' moment – when the physical theater seems to disintegrate and all that remains is the circumscribed universe of the play – is what theater is all about. It is the product of an exceedingly rare set of circumstances, one of which is an actor at the very zenith of his or her craft.
…We selected actors who would appear in at least one production this season, from boisterous musical comedies to penetrating family psychodramas. Their work is consistently of the kind that takes us to places far beyond our imaginations."
So now we know.
Nice work, Gusto.
Smart Thing 3: The Waterfront Brownfields Revitalization Act
The momentum of building Buffalo just keeps rollin'.
Right on the heels of the success of Canalside and the Webster Block development, Senator Kirsten Gillibrand is pushing federal legislation to fix up some of the brownfields in Tonawanda. Naturally, Town Supervisor Anthony Caruana can't be happier: "The Town of Tonawanda strongly endorses the Waterfront Brownfields Revitalization Act. What was once lost to town residents is on the verge of being reclaimed – for us and for future generations."
So what exactly have we been missing? From the link above:
"The site is a priority project in the town's master plan, which envisions mixed-use development and public access to the waterfront."
The more waterfront, the better. This town is really moving in the right direction on that front.
******
Note: "3 Smartest Things" is being produced to go along with the "5 Dumbest Things" series here on TB. "Why three," you ask? Well – far be it from me to break our time honored tradition of berating each other on the progress of our fair Queen City. Tell you what, when the new Peace Bridge goes up, we'll go up to five. And of course, feel free to follow me on Twitter to discuss all things trending in Buffalo, and check out my blog "Buffalo Sabres Nation" when you're bored at work. Your boss will appreciate your increased productivity afterwards.