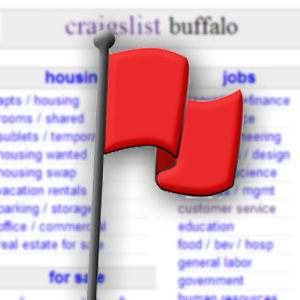 Craigslist can be useful when you need tickets to a concert or a part for your snowblower.
It can also be incredibly interesting. The section called "missed connections" is full of stories of unrequited lust. Go check it out. We'll wait.
Posters seem convinced that if only circumstances were slightly different, they'd be sharing their lives with complete strangers. In that case, they wouldn't be strangers anymore, but you get the idea.
Sadly, there's a fatal flaw in nearly every tale. Today, we break down a few of these "relationships" and point out why they seem unlikely to succeed.
For the uninitiated, each headline includes the following information:
SPECIFIC LOCATION:  where the encounter "happened" (but usually didn't)
M4W: "man talking about a woman"
AGE of poster
GENERAL LOCATION: town, neighborhood, etc.
Ted's Hot Dogs Transit Rd – m4w – 52 (Williamsville)
Wednesday afternoon you were having lunch with your husband and kids while I was with my kids….you're a very attractive blond woman, our eyes met and you smiled. If you'd like to pursue that smile further, please reply…
DOOMED TO FAIL BECAUSE:
Let's start with the husband. While he's probably the biggest reason you didn't say hello in person, he's also the biggest reason she's probably not interested. People smile all the time. It doesn't mean they want to ditch their families. "OMG! YOU LIKE HOT DOGS, TOO?"
**********
Lockport Salvation Army – m4w – 25 (Lockport)
We were both at the Salvation Army on Transit Road in Lockport. We faced each other over the men's clothes racks a few times. I hope you were trying to get my attention cause you did. I tried to check you out, but it was hard with the racks in the way. You have black hair and were glasses. As do I.
DOOMED TO FAIL BECAUSE:
It was hard to check her out while she was standing right in front of you so you're taking the easy route by posting anonymously on Craigslist? As tough as it may be to pick up women at the Lockport Salvation Army Thrift Store, you seem to have unnecessarily increased the degree of difficulty.
**********
Cashier at Springville Lowes – m4w – 49 (Your Register)
We exchanged a few brief looks and smiles as you were checking me out today (no pun intended). I'm a bit older than you are, but hopefully not too much older for your preference. If you're interested in chatting tell me something (which register, my looks, clothes, if I was with anyone, etc) so I'll know it's you. Take a chance and get to know a decent guy.
DOOMED TO FAIL BECAUSE:
This is part of a common theme on "missed connections." Buddy, you know where she works. You can find her anytime you'd like. Now, if you're the cashier and your "prey" is a customer, maybe there's a reason to post here. But really, just go back to the store. She works there. But remember– people smile all the time. In fact, in the customer service industry, smiling is downright encouraged. Don't read too much into it.
**********
McDonalds sexy BBW – m4w – 60 (Hamburg)
Stopped in to the McDonalds on Camp Road last night and was taken aback by your beauty. I know not a lot of people notice your cuteness due to your size, but I found that all the more attractive about you. I loved your nails, they were SOOO pretty. And your smile could light up a room. SO I just thought I would say hi on here and see if you checked Craigs List ever. If anyone from that McDonalds sees this, please let her know about this post.
DOOMED TO FAIL BECAUSE:
"Nobody can see past all of those rolls but me! That's why we should be together. If anybody out there knows the fat girl at McDonald's, make sure she knows I'm writing about her on Craigslist." You think you're issuing compliments but you're not.
**********
UB stampede – m4w – 21 (ub stampede)
You were on the bus going from south to north. it was a little past 11am, and you were wearing some blue pants, with cheetah print boots. You looked cute, but i did not want to approach you at that time. Also I liked the way ya hair was all over the place.
DOOMED TO FAIL BECAUSE:
You're in college. It's the easiest place in the world to approach anyone and everyone, even if "ya hair" is "all over the place." You were supposed to talk to her on the bus. It gets harder. You're at a buffet… enjoy.
**********
I gave you beads – m4w (Allen Street)
I gave you beads, you didn't flash me. Maybe we can work on that? What do you say?
DOOMED TO FAIL BECAUSE:
It's important to note that this whole "beads for boobs" exchange was not collectively bargained. Just because YOU and your creepy friends love Mardi Gras doesn't mean that she does. It's worth considering that perhaps she didn't forget to flash you but rather that she doesn't agree that unsolicited receipt of a plastic necklace means that she has to lift up her shirt for a guy she doesn't know.
**********
pretty redhead – m4w – 37 (NOCO niafls blvd)
Around 115 pm today i was behind you in line thought you were sexy tried to talk to you but think you left hope you see this would like to chat if you are free
DOOMED TO FAIL BECAUSE:
This one's easy. You tried to talk to her and she left. It's not a missed connection. You were actually rejected. It's nice to pretend that she didn't hear you but, honestly, this is a story of you trying and her shooting you down. Please leave the pretty redhead alone. The good news is that, unlike many on "missed connections," you tried talking. It's a good approach. Use it again.
**********
If anyone has a story of "missed connections" ever working at all, we'd love to hear it.