More like the FAIL-gun offense, amirite?
5. Summer Is Almost Over
Well if global warming keeps up then we can look forward to a nice long summer year round. Unfortunately the rest of the planet will be a total wasteland. A small price to pay for bratwursts round the clock, right guys?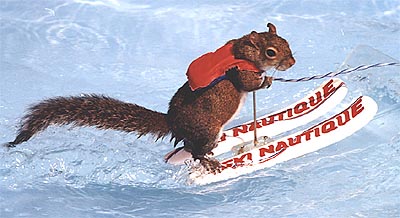 4. That Squirrel Can Water Ski/Kid Can Drive A Car
I hope that channels 2, 4, and 7 along with every radio station and the Buffalo News designated Bill Cosby as the pool reporter for "asking the tough questions" and "holding the people in power accountable" as they interviewed the eight-year old who took his mom's car. Who knows he may say a darn/darner/darndest thing?
Meanwhile somewhere a politician in town is stealing your money.
3. The Bills Getting Crushed By The Jets
Like your kid getting the big roll in the school play but throws up the minute he or she steps on stage. Except you paid your kid hundreds of millions of dollars to perform. And he didn't stop throwing up for 60 minutes.
2. Overreacting To The Bills Loss
Someone tell Fritz in Sloan to come in off the ledge please. It has been worse here. Good God just stay away from talk radio for a week after something like this happens. Your brain will fall out of the back of your skull otherwise.
1. Top Class Campaigning Against Mark Grisanti From Truly Awful People
WHOA. Where to start? The implication that two guys making out as being something to fear isn't good. Associating that act as evil and then associating it with Senator Grisanti is worse. Saying that Senator Grisanti basically made your kid gay is really bad.
Good news Western New Yorkers, the people who made this are YOUR neighbors. The next person to say that the reason this place is so great is because we are super neighborly people gets a shot to the groin. A city that can concoct this doesn't deserve the term City of Good Neighbors.
We're better than this.

Correction: In a previous update, Trending Buffalo reported that Larry Korab was the choreographer for the CBS NFL pregame show. In fact, Larry Korab is the pseudonym for The Defenseman, who now writes for himself at The Defenseman. You may follow him on Twitter by searching @TheDefenseman.  Trending Buffalo regrets the error.