Beer.
In a word: it gets our attention, and as it should: beer has been a part of this area since the first cornerstones of Buffalo were being placed. Heck, the first businesses established here were taverns, (as noted in the video below). But I'm not going to bore you with a history lesson here.*
This post is about all things beer in the Buff. From history, to architecture, to breweries old and new and restaurant, bar, and beer reviews – we've got it covered.
Pull up a stool, and stay a while, or bookmark this page for anytime you need it.
The History of Brewing in Buffalo: "Rushing the Growler"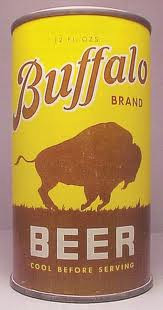 Again, I'm not going to bore you with a history lesson, but there's some fascinating stuff out there for those interested in the arcane.  The site "Brewing in Buffalo and Western New York" is a detailed database of historical facts, covering beer and the city itself.
If that's not enough, you can add the book "Rushing the Growler," by Stephen Powell, to your personal library. It's drawn great reviews:
"A top ten book of the year. This is a fine example of a regional brewing study and will, we hope, inspire more historians of this sort." – American Brewer

"Steve Powell's "Rushing the Growler," for example, is a delight to anyone who occasionally likes to hoist a brew or two. It's a history of brewing in Buffalo, a topic that often draws reminiscences but hasn't until now, been brought to such a researched head." – Mike Vogel (The Buffalo News)
More History: Two Centuries in a Timeline
For some, history is easier on the eyes in a simple timeline format. Ron Ehmke of "Buffalo Spree" put together this historical synopsis in 2011, and it's terrific.
Brewery Bios
A site called "The Buffalonian" has a great archive on old local breweries (of which there were many – be sure to check their "Master Listing of Buffalo Breweries"). The site pulls from various resources to profile the Flying Bison Company, Stein's Brewery, Kane's Brewery, Albert Ziegele's Brewery, the German-American Brewing Company, and Consumer's Brewing Company.
The Architecture of Beer
Well, we're in Buffalo, so we mine as well talk architecture – but don't skip ahead – there were once some truly awesome edifices thrown up around the brewing works in this city.
Again, "Brewing in Buffalo and Western New York" is a great stop, in this case for images both of structures and of peoples past. Gerhard Lang's Park Brewery looked more like a castle, or a cathedral, than a factory.
For more modern pictures of remaining structures and memorabilia, head on over to "Forgotten Buffalo," and take their "brewery tour."
The Beer Community: Restaurant, Bar, and Beer Reviews
The "Beer Advocate" serves as a quick and easy guide to the beer "scene" in the Buffalo and Rochester area. Their reviews cover everything from beer itself to the breweries that make it, and the bars and eateries that serve it.
"Buffalo Bar Fly" provides a very useful interactive search for those ready to head out for a night on the town.
"Buffalo Eats" is a popular site that is dedicated to a really deep love of Buffalo and food (beer and bars included).
The Buffalo Brewfest is on August 10 this year. Mark your calendars: this year's event will present attendees with the chance to sample as many as 150 regional beers
"KegWorks" and "Community Beer Works" are two good examples of local companies that also produce entertaining and informative blogs on the beer community.
*The NHL's Visit to Fort Erie During Prohibition
Ok, we'll hand you one draft of history. During the drought of the prohibition era (1919 to 1933), denizens of WNY were delighted to first see the construction of the Peace Bridge in 1927. They were then even more pleased when Fort Erie built the "Peace Bridge Arena:"
The Arena became home to professional and amateur hockey teams. Two National Hockey League teams, the Chicago Black Hawks and Pittsburgh Pirates, made Fort Erie their temporary home for a few regular season games in 1928 and 1929. The "Big City" influence left its mark on Fort Erie. After the matches, fans packed the once sleepy-eyed town's new hotels, casinos and clubs. The affluent could foxtrot and wager a few dollars on the roulette wheels, and drink the spirits that were illegal across the border. This border hockey connection was ideal for rumrunners to smuggle the contraband into the U.S. At least one bus, which carried a visiting American team to the Arena, was secretly loaded with liquor for the return trip, and unpacked in a Buffalo garage.
Hockey and beer: WNY partners in crime, for a long, long time.
Everything in Moderation
I thought it would be wise to close with some simple advice, handed to me from my father from his father:
"One for the left leg, and then one more for the right, to keep you balanced."
Good advice.
Now get out there and have some fun.