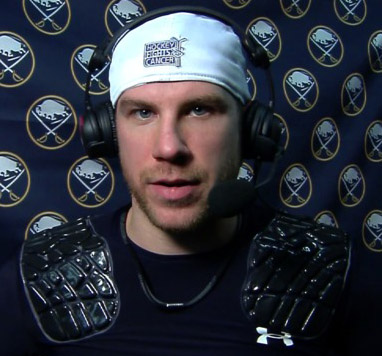 1 – With this move, it's clear that Darcy Regier and the Sabres' brass agree with my contention that the "core" is dead.  (So does Paul Hamilton.)  It's not an "everyone must go" situation, but more of a "we're no longer basing our Cup hopes around these guys leading the charge" thing.  Good.
2 – Although it was the definitive negative turning point for the 2011-12 Sabres, we can suddenly look back on the Lucic/Miller incident as a positive benchmark for the franchise.  No longer could the team ignore the league's transition from the post-lockout era (obstruction is a sin) to the post-post-lockout era (size and strength matter again.)
3 – On a podcast recorded Sunday night with Dave Davis and Bill Hoppe, the only thing I really wanted to say about the acquisition of Ivan Drago John Scott was that it's a sure sign that the club views toughness (or lack thereof) as an issue.  The next day, they send a productive but undersized center out of town in exchange for a center who is a bigger, stronger, slightly less productive agitator and a large defenseman.
4 – It's not a trading period.  It's a free agency period.  Don't quote me on this (until it proves to be correct) but a trade is made at this time in order to set up the next move.  The cap went up.  The Sabres have room.  Pegula's pockets are deep.  Stay tuned.
5 – When he gets to Dallas, Derek Roy should not do all of his postgame interviews dressed like an extra from the video for California Love.