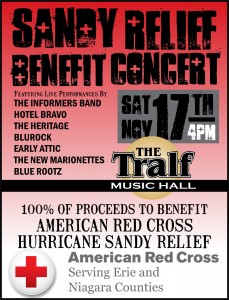 BUFFALO, NY — Every little bit helps. Devastatingly saddening images and stories from the areas affected by Hurricane Sandy have touched the nation. Buffalo, always the city of good neighbors, reaches out to the victims with a HURRICANE SANDY RELIEF BENEFIT at Tralf Music Hall on Saturday November 17. One hundred percent of proceeds will benefit the American Red Cross.
Unique in its hybrid presentation of both cover and original bands, the western New York music community comes together to raise funds for our neighbors to the east. Seven western New York bands will hit the legendary Tralf stage beginning at 4pm. Doors will open at 3pm.
Saturday November 17th will be a multi-genre, multi-generational show featuring live performances by The Informers Band, The Heritage, Hotel Bravo, Blurock, The New Marionettes, Early Attic, and Blue Rootz. Tickets are $10. Advance tickets available at Ticketmaster.com, Wal-Mart, Tralf Box Office 716.852.2860. Tickets will be available at the box office on the day of the show.
Can one live concert make a difference to fellow citizens affected by a historic natural disaster? Every little bit helps.
SATURDAY NOVEMBER 17
HURRICANE SANDY RELIEF BENEFIT
100% Of Proceeds Benefit American Red Cross
Tralf Music Hall – 622 Main St. Buffalo NY
3pm Doors / 4pm Show
Featuring 7 Live Bands!
The Informers Band / The Heritage / Hotel Bravo / Blurock / The New Marionettes / Early Attic / Blue Rootz
$10
Tickets On Sale Now at Ticketmaster.com / Wal-Mart / Tralf Box Office 716.852.2860
Info – www.tralfmusichall.com