I had to mow my lawn twice a week last month. This month I've mowed it once.
Nature FTW.
Smart Thing 1: Unplug Your Kids, And Blow Their Minds
I took my kindergarten-aged boy to experience the "Mirrored Room" at the Albright-Knox this weekend. I was wowed by it when I was his age – eyes and mouth agape at the infinite numbers of me above me, below me, and surrounding me.
It's been decades since I've seen it. Since then, tech advancements, such as the Internet and gaming, have sometimes made it hard for kids to find those places of deeper imagination that haven't already been encroached upon – overwritten, reformatted – by the handheld world at their fingertips.
Once inside this house of mirrors, I was so very happy to see that my boy had the same jaw-slackened look on his face that I had once carried.
I was THRILLED when I realized I had the same look on my own face again.
Art, man.
Also make sure to check out the gigantic works of Anselm Kiefer – and do take advantage of the spacious, cinematic style seating. Sit back and enjoy the three dimensional immersion into emotive color and sound that is coming out of those pieces.
Powerful stuff.
Go see it.
Smart Thing 2: Yuri Khmylev Broke His Leg And Scored Legendary Goals
This is a fun little thing that came up this week.
#TBT #Buffalo #Sabres Because this is a story that deserves more press. pic.twitter.com/DRq6NXP6jm

— Scott Michalak (@ScottyMCSS) July 17, 2014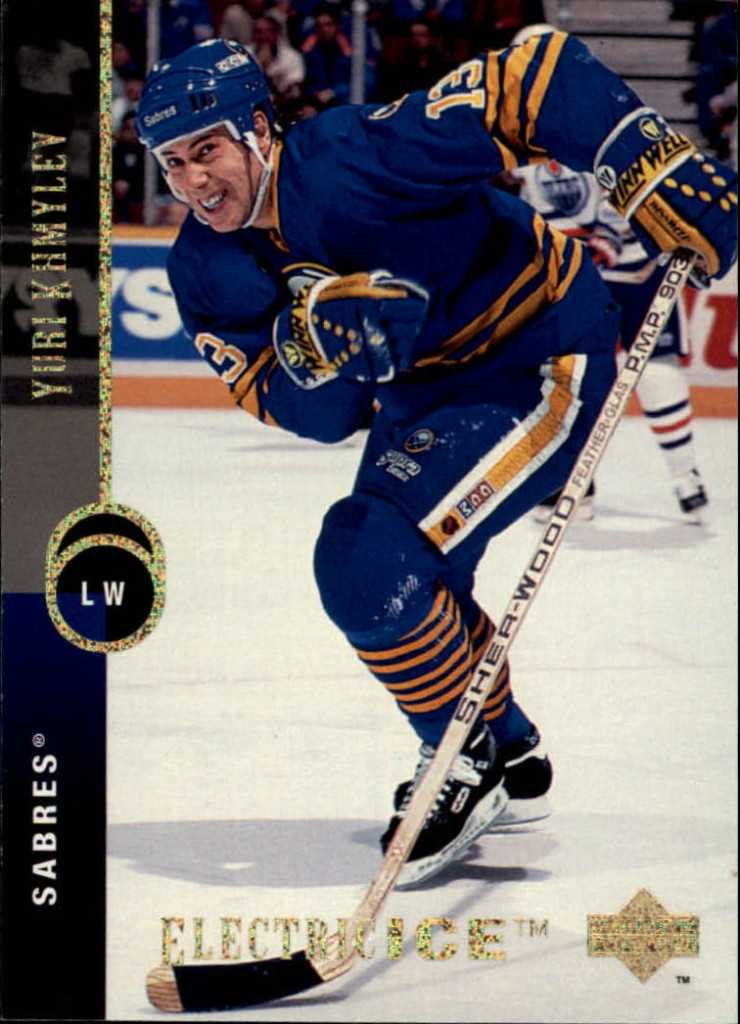 Now, we all know that Dave Hannan scored that mythological goal on April 27th of 1994. So which goal was it that Yuri scored? Or, more precisely, which goals? According to my own research (Google), the Associated Press reported on April 5th of '94 that "Sabres forward Yuri Khmylev has a broken leg and will likely miss the rest of the regular season."
Fast forward a bit to April 23rd of that year: Khmylev and his broken leg scored 2 goals in the 5-3 Game 4 victory. He added another goal on the 25th, in a 5-3 loss. Unfortunately he couldn't muster a goal in Game 7. The Hockey Books of Lore almost had another chapter of one of the legendary walking wounded helping to win a playoff series, but it wasn't meant to be.
Still, his show of grit in '94 was something to witness. It's something that's been overlooked in Sabres lore, and should be looked at again. It's heroic, inspirational.
So, Olga, if you're reading this, please give your father a nudge and let him know that we'd love to know more about how hard he pushed himself in that magical playoff run of 1994. What was he thinking?
And Buffalo, if you're reading this, send out a tweet with "#SticktapsYuri." It's long overdue.
Smart Thing Three: Emcee Thurman Thomas
The Thurmanator – and local Most Likeable On Twitter Award Winner Sal Capaccio – will be Buffalo's very entertaining hosts of the "Bar-A-Palooza fundraiser" this Friday at Batavia Downs Gaming. The Bills are kicking off their training camp now, and I can't think of a better way to tailgate it than this.
Sports memorabilia auction; Raffles; Celebrity bar tenders; Live Music; Horse Racing, and #Bills HOFer @thurmanthomas! Sound fun? (1/3)….

— Sal Capaccio (@SalSports) July 20, 2014
It's @thurmanthomas' Bar-A-Palooza fundraiser! This Friday night at his sports bar @34rush at Batavia Downs, 7-10pm. I'll be emcee (2/3)…

— Sal Capaccio (@SalSports) July 20, 2014
(3/3)… Complete details here…. https://t.co/L2lS6Cxo4x. This will be a great time. Hope to see you there!

— Sal Capaccio (@SalSports) July 20, 2014
Smart Thing Honorable Mentions/Tweet Roll:
HAPPY 7/16 DAY, #Buffalo! I love this city and am proud to be a born and raised Buffalonian. Now let's celebrate bring me a beer. #buffalove

— Buffalo Girl (@BuffaloGrlProbs) July 16, 2014
Well played as usual, @BuffaloGrlProbs. Someday she is going to make some dude a happy husband. So long as they take turns with the bring me beers thing.
My story on Maxwell Willman, the little-known #Sabres prospect who's become dev camp's biggest surprise http://t.co/qMHb7FAVgD #Buffalo

— Bill Hoppe (@BillHoppeNHL) July 18, 2014
You're going to want to keep an eye on this kid while he grows up on Youtube. Could be a fantastic steal for the Sabres.
Bon Jovi reportedly wants to keep the Bills in Buffalo: http://t.co/P0Ra9supkM

— Deadspin (@Deadspin) July 20, 2014
Nope nope nope nope nope nope nope nope nope.
Smart because he's heard the noise, and has reacted accordingly – as a potential owner who wants to move this team should react.
You're all Smart Things, too. So don't believe him.
***
Note: Questions? Comments? Have a Smart Thing? You can find Scott Michalak awaiting the beer garden on Twitter at @ScottyMCSS.