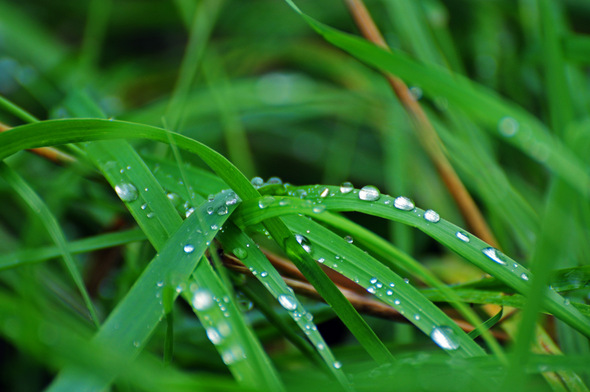 "The grass isn't always greener on the other side of the fence."
Can we all agree this is a dumb thing to say?
Stupid as it is, though, when you break it down,  you begin to see the complexity underlying the thought.
What does "greener" mean? There are infinite shades of green, and we all have our own unique notion of which color green the grass should be. What's greener for you, might be less green for me.
And what about the other side of the fence? Are you going to climb that fence, or try to make your own grass closer to your neighbor's?
Maybe he started with better grass seed. Maybe he has a $10,000 underground irrigation system that constantly waters the lawn at the perfect rate, while you hose yours down twice a week. But did you know he never eats out to pay for the system and the water?
He also gets it sprayed every week, so his kids and dog have to stay off the grass about half the time.
Greener grass, but at what cost? Especially when plenty of people like the natural look of your lawn better than the chemical look of his.
You need to figure out what that lawn you covet is worth to you, and if its worth the sacrifice. Nothing good comes without sacrifice.
Even though my wife generally cuts the grass at our house, I spent quite a bit of time thinking about these sorts of questions in 2013 as I "retired" from radio.
People always ask why I left. After 20 years of broadcasting and 10 years as a radio newsman, I walked away from my dream job as WBEN News Director to start my own business. Buffalo Stories LLC is really my big boy dream job.
People always ask what I do. I create and write for people, I help people learn to create and write for themselves, and I use my experience to help figure out what individuals, businesses, and non-profits need from their public persona to get them where they want to be.
I shoot video, write books, create websites, teach college classes, look into souls, bring people together for the common good.
In a sentence, I listen to people and use my skills to help them take what they already have and form it so they can better live their passion.
It's what working for myself has allowed me to do, too. I am living my passions: helping people succeed, and helping Buffalo succeed by weaving threads of our glorious-yet-too-often maligned past into our future.
So when people ask, these are the things I tell them. I am extraordinarily blessed that they are all true. What I don't usually talk about is that working from home and being your own boss isn't all sunshine, lollipops, and rainbows.
Before I move onto bigger and better years, let me be honest for a moment about 2013.
It's been hard. It's been really hard. I'm not complaining, and I'm new at it, but it's hard.
It's hard to share a workspace with the rest of your life, including a wife and a dog. It's hard to walk away from 15 items on the to-do list to walk into the next room to make dinner. It's also hard to walk away from the dinner table and head back to work. It's tough to get up at 5am to get some work done so I can spend some of the rest of the day with family or work on other projects now that I'm a "free man." It's torturous to wonder if I'll ever land enough of the clients and projects I love.
It's also a tough pill to swallow that the gains this year have not been financial. I've actually brought in, over the last six months, a tad less than I would have had I stayed in radio.
But nothing good comes without sacrifice. For all of the nonsense, in the last six months I've played roles in amazing projects, been hired by amazing people, and now have some truly extraordinary things on the horizon. I'm helping businesses and non-profits succeed. I'm writing books. I'm teaching. I'm working on TV documentaries about our beautiful extraordinary city and it's people. I'm building on small successes, and planting seeds which will grow strong as time wears on.
Greener grass? I rototilled in 2013. I hoed and raked and seeded and watered, and most of it is lush, green, and beautiful. It's even OK that a few spots came up brown, because it's not only the results I'm proud of, but the vigilance and hard work, too. No shortcuts, no baloney. I think it's the better way, despite the hardships.
I hope you can find your green patches from 2013, and hope that you've steeled your spine to do the work, and set your vision to make 2014 the best year yet.
Buffalo story teller  and Historian Steve Cichon brings us along as he explores the nooks and crannies of Buffalo's past present and future, which can mean  just about anything– twice a week on Trending Buffalo. 
As he collects WNY's pop culture history, Steve looks for Buffalo's good stories and creative ways to tell them as the President and founder of Buffalo Stories LLC. He'd love to help your business tell its story. For a decade, he's also collected and shared Buffalo's pop culture history at staffannouncer.com.  His latest book, Gimme Jimmy! The James D. Griffin Story, is available now at  www.mayorgriffin.com.

steve@buffalostories.com | @SteveBuffalo | www.facebook.com/stevecichon