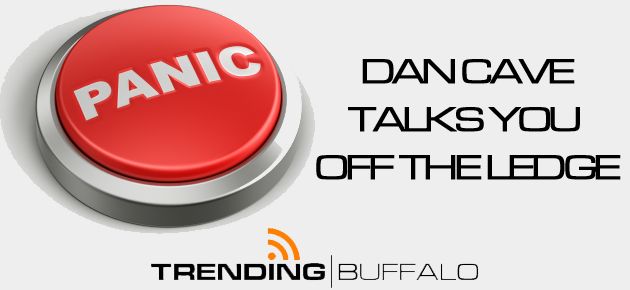 How exactly did we get here? The miracle of birth aside, how did we, as a group of Bills fans get here? And by "here," I mean "picking apart preseason football games with the type of scrutiny normally reserved for…you know, the regular season." Hints of panic over the last few weeks could be found on your typical Twitter feed during preseason gamedays, phone calls to WGR, and your friendly neighborhood blogosphere.
So how did we get here?
I guess you'd have to go back to a different time. Back when preseason games were given moderate attention and subpar performances by a starter were summarily dismissed because "It's the preseason."
Not that anyone needs reminding, but since the year referenced in the above link, there were a string of Super Bowl losses, crushing playoff defeats, a decade of soul-sucking mediocrity in which the fan base was subjected to forgettable game after forgettable game after forgettable game. (Seriously, massive points for you if you remember even a second of any of those three. I can't be convinced they actually happened.)
So, yeah. Maybe the sense of urgency is warranted. We are DYING for this team to recapture even a semblance of its former glory. Studies have shown that 4 out of 10 men living in Erie County would gladly chop off their thumb to attend a playoff game at Ralph Wilson Stadium.*
*Studies have not actually shown this.
So when this shiny, retooled team that displayed glimpses of promise over bits of the last two years showed up for preseason looking like the Bills circa 2001-2009, some folks tended to (how do I put this mildly?) freak out.
Understandable that fans expected more than a winless August, the offense to show more than a few fleeting signs of life, and the defense to be flat-out dominant. If you find yourself nodding in agreement, I have GREAT news for you: the Bills are 0-0.
Granted, there have been moments of concern, but I'm just not ready to give up just yet. Insane, I know. So, with all of this in mind, if you felt your blood pressure rise or lost sleep at any point over the last month, I offer three reasons to reconsider throwing away the 2012 Buffalo Bills season.
The season hasn't started yet. It's true! Right now, today, the Bills are TIED with the Patriots for the division lead. Okay, they're also tied with the Dolphins and Jets at 0-0, but still. The point is, things start for real next week. Real plays (don't think for a second we've seen everything the playbook has to offer) and real motivation (hard to believe, but players are human; if you think the regulars get fired up for a Friday night game in August in front of a half-full Metrodome as they would for, let's say, a regular season opener, you may be wrong). All the nightmare fuel generated over the past month actually happened, but it now evaporates into thin air. An incorrect route, a Fitzpatrick misfire, a missed block; these can be studied on film in an effort to make sure they don't happen again. When things count. When the season begins. Which it hasn't yet.
The schedule. Remember that? You're going to love this — it hasn't changed. Sure, there will be surprise teams that rise out of oblivion to make a playoff push. It's become an annual NFL tradition. Some of these teams may currently be on Buffalo's schedule and we don't even know it yet. Even so, at present time, take comfort that Buffalo is set to play five games against teams heading into the season starting rookie quarterbacks. As a fun bonus, the Bills have three games at RWS in December. For those aged 23 and younger, this wasn't always a bad thing. If this team is in contention heading into the holiday season, those games could be extremely useful.
The defense. The defense going to be good. Maybe really good. Williams and Anderson are plugged into what is now a legitimate defensive line, Byrd has emerged as a threat at safety, and early reviews on Gilmore have been glowing.
Even so, concern was expressed over the first-team unit during the preseason, specifically following the 98-yard march engineered by Ben Roethlisberger. Unfortunately, no matter how talented your defense is, it will still give up touchdowns and the occasional long drive. These things happen. It's football. In the regular season, you surrender a long drive, you gather round your position coach on the sideline, he nicely (or not) offers suggestions for improvement based on his perspective, you go back out, and ideally you correct what happened last time. When you give up a long scoring drive before halftime in the preseason, you go back to the sideline and you stay there. Because it's the preseason. Either way, touchdowns will happen.
Despite that, I feel fairly confident that the defense will be better at holding late leads (see last September against the Raiders), and better at not allowing an offense like Miami's to have its way with them. Heck, maybe the defense will even help win a game or two. Who knows? Like I said, the season hasn't started yet! Isn't that great?!
So, there you go. Yes, the Bills finished winless in August, but what does it all mean? We have no idea. A preseason record is not historically a great indicator of future results. Either way, we'll all find out together in the months to come. For now, I'm really excited about the fact that they're 0-0. Join me, won't you?