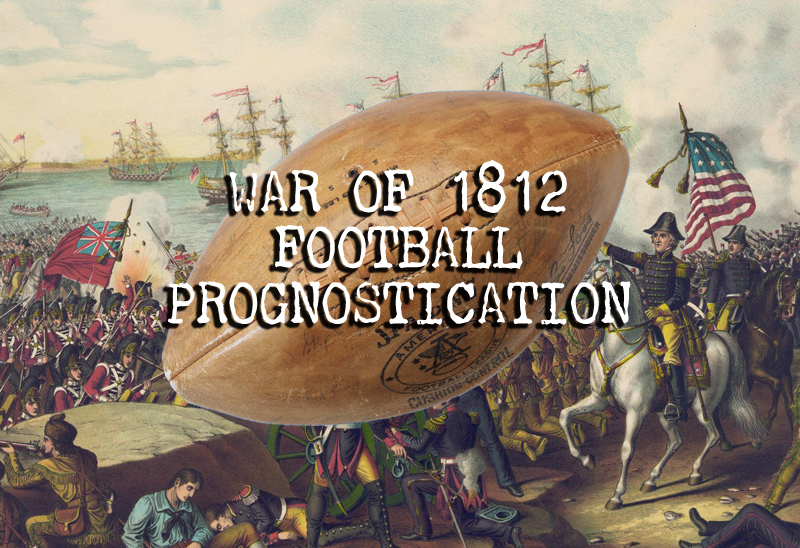 (Editor's note: Mixed into a rambling narrative about the current state of affairs in the NFL loaded with historical and pop culture references, Mr. Brutal makes some football picks. Why does he call it the "War of 1812 Football Prognostication"? He likes history, he's Canadian, and it probably has something to do with those two facts. That's all we've got.)
Saturday, January 3, 2015
4:30 pm Eastern Standard Time
Arizona Cardinals @ CAROLINA PANTHERS (-7) 38
There have been many dangerous philosophies that have been born of hate, ignorance and abject prejudice.
In the late 19th Century, Italian criminologist Cesare Lombroso wrote a book called "Delinquent Man." The 1876 tome opined that all criminals could be identified by the length of their arms and the shape and size of their ears, nose & foreheads. He called their features "criminal stigmata" that identified them as biological anachronisms, throwbacks to earlier, less successful products of human evolution.
He saw these people as primitives, or even animals who were inferior in every way to regular humans except in their capacity to commit crimes. Of course they also were all Non Europeans and Lombroso reasoned that they therefore were stationed on a lower rung of the ladder of racial development and were therefore inherently criminal.
Unfortunately, this ridiculous "Criminal Anthropology" was widely accepted throughout Europe as a reassuring sop to millions to justify their own political/religious agendas, racism, and ignorance, all borne from Victorian era fears & the public's general lack of education.
Sadly, Lombroso's nonfactual pseudo pseudo pseudo science became a major building block reference manual for the emergence of the even more extreme, detailed and counterfeit science emerging called "Eugenics."
This became the basis for much of the Neo-Fascist political manifesto of the early 20th Century & the deranged belief system of Adolph Hitler as outlined in his megalomaniacal rantings in "Mein Kampf."
Although nowhere near as dangerous to the future and goodwill of mankind, Bruce Arians' philosophy of trying to win with seventh string QB Ryan "Mercury Blues" Lindley starting a playoff game and Logan "Downhill" Thomas as backup is just as delusional.
But the Cards have a great defence & should be able to get a couple of turnovers from Super Man Cam who hasn't faced a defensive eleven this good all year.
Cardinals cover.
Pick: Cardinals (+ 7)
Bob: Carolina -7
8:15 pm Eastern Standard Time
Baltimore Ravens @ PITTSBURGH STEELERS (-3.5) 47
Defensive tackle & human condominium Haloti Ngata is back playing for the Ravens for this crucial game after serving his four game suspension for mistakenly using a Stanozolol laced cream instead of Bengay ointment to massage several pulled forearm flexor muscles.
Our biggest problem with taking the Ravens in this game is of course, once again with Baltimore quarterback Joe "Payday" Flacco. Ever since the Ravens decided to pay him enough cash to make him rival the Sultan of Brunei for undeserved acquired wealth, his play has predictably fluctuated between lackluster and godawful.
Last week, with everything on the line, the Ravens barely beat the shorthanded Cleveland Browns in the Art Modell Bowl part II, 2014. We say shorthanded because once again Johnny "Playboy" Manziel decided to intervene in the Brown's roster plans by holding another in-season "get-together" with consequences, even though he was on the injury list.
Depending on who you believe, Johnny "Penthouse" had an all night backgammon tournament in his actual penthouse in downtown Cleveland, or ……. he held another mobile "Making It Rain" bar hopping tour of the Gentlemen's Clubs of Northern Ohio. Regardless, more than a few of Manziel's teammates attended and by all reports, had the time of their lives.
This led to consequences. Johnny "Hustler" was late for his physiotherapy Saturday on his psychomatically induced hamstring injury & fellow doghouse dweller and best wide-out WR Josh Gordon didn't show up at all for training and was suspended from playing against the Ravens.
This caused many Browns to voice disgust with Johnny "Maxim's" off field social excursions either because they were consummate professionals concerned for the competitive preparation of their team or jilted whiners, furious that Johnny "All Nighter" didn't invite them to share in the latest hedonistic journey of the "Johnny Hendrix Experience."
Well as bad as the Ravens might be, the Steelers are no sure thing. With RB LaVeon Bell likely out with a hyper-extended knee, Pittsburgh will be missing their most potent weapon.
The injury occurred last week in the win over the Bengals. Head coach Mike Tomlin accosted Cincinnati safety Reggie Nelson at the end of the game and lectured him about his dirty hit and the virtues of proper sportsmanship.
That was rich. This was the same Mike Tomlin who caused a Raven player to swerve on his route down the sideline and get tackled rather than get a touchdown in a previous game against Baltimore.
How do we take the Ravens? …… well, Joe Flacco actually has the best playoff record of all remaining quarterbacks in the playoffs, ….. Pittsburgh is without their best weapon and Big Ben is likely to attempt one too many passes to Antonio Brown. With the return of the Tongan Truck in the middle of the Ravens' line we see a competitive game that comes down to a field goal, … we win either way.
Pick: Ravens (+3.5)
Bob: Ravens +3.5
Sunday, January 4, 2015
1:30 pm Eastern Standard Time
Cincinnati Bengals @ INDIANAPOLIS COLTS (-3.5) 50
Last week the Bengals looked like they were going to go in for the winning touchdown against the Steelers, win the AFC North and avoid playing this game when WR A.J. Green took a big hit, got concussed & fumbled the game away to the Steelers who promptly scored a long range insurance touchdown.
Three months ago the Bengals were humiliated 27-0 in Indianapolis, so why should we take them here? ……. Hard to say, especially with TE Gresham & WR Green banged up, but apparently ready to take the field. The "Quarterback who isn't there" ( except when he throws multiple interceptions ) Andy Dalton gives nobody confidence. Opponents underestimating him is his best weapon, and the Colts are bound to be overconfident.
The Bengals actually have a better record than the Colts despite playing in a much tougher division. They have the best two pronged running game in the League, and are sure to attempt to eat up the clock with long drives, a few passes deep to A.J. Green and utilizing him and the other receivers as living duck decoys for the majority of the game. When they get to the red zone they will choke 4/5 times like they did all year and settle for field goals.
It will be just enough to cover 3.5 points. The Colts are one dimensional & the Bengal defense lacks a pass rush, but is improved in all other categories since the last time they played.
Pick: Bengals (+3.5)
Bob: Bengals +3.5
4:40 pm Eastern Standard Time
Detroit Lions @ DALLAS COWBOYS (-7) 49
Arbitrator & former Bills' Defensive Coordinator Ted Cattrell who takes his pay cheques from both the NFL & the Player's Association has overturned Ndamukong Suh's one game suspension and he will play in this game at Jerry Jones' Taj Mahal. The Detroit Lions' defensive tackle and Holy Terror was suspended for preparing for his post football career as a "hands-on, feet-on" Vintner by practicing a Michigan two-step on Packer QB Aaron Rodger's leg last week.
Of course it was all just another big N. Suh misunderstanding, but after veteran Centre Dominic Raiola performed a similar act several weeks ago, one has to ask the question?
What diabolical martial art discipline is the basis for training University of Nebraska linemen how to use their feet in the heat of battle during football games?
This must be a longstanding, secretive Children of the Corn rite, because Raiola attended a decade before Suh. So Cornhusker Nation who ran former head coach Bo Pelini out of town cannot blame this one on him, since he wasn't around when Dominic Raiola was perfecting his clumsy version of the River-Dance on the plains of Lincoln.
Suh should make a big difference. Cowboys want to run, but Suh's presence in the middle could change plans, along with the fact that DT Nick Fairly should be back from injury to join him. The two should form a formidable obstacle to DeMarco Murray & other Cowboy running backs trying to make a break through the "Pillars of Hercules."
Venturing through the middle of the Detroit defensive line can be as precarious as navigating the Strait of Malakka & this might keep the Lions close.
Of course there is that nagging 0 for 80 or something record of Lion's QB Matt Stafford against winning teams on the road. Well Jerry Jones' Ego Palace is probably the least intimidating venue for any visiting team in the NFL. Due to domestic economic hardship & decades of misery; "Lions' Nation" does not travel in the numbers of "Steeler, Forty Niner or Bear Nation," …… but they still should show up in enough numbers to drown out and intimidate the few Nouveau Riche Petroleum Class of Dallas season ticket holders who didn't sell their ducats and actually show up for this game.
Romo will be forced to go deep to Dez Bryant more often than he wants to and this will lead to a late game key turnover. Although our "Team of Destiny" Detroit Lions haven't really shown anyone proof positive that they deserve to win in the other "Big D," we still believe, … and they will shock the world!
Or at least cover the touchdown spread.
Pick: Lions (+7)
Bob: DALLAS -7