REASON 1 – QB Teddy Bridgewater, Junior, Louisville
"In talking to some NFL draft experts, they all agree Bridgewater goes into this upcoming season as the No. 1 junior quarterback in college football. And had he been eligible, he most likely would have been the No. 1 quarterback taken in this year's draft, too."  ESPN.com
REASON 2 – QB Tajh Boyd, Senior, Clemson
"With a healthy Sammy Watkins taking advantage of his marvelous accuracy on the deep ball, Boyd will continue to prove doubters wrong, contending for the Heisman Trophy and a first-round selection next April." – CBSSports.com
 REASON 3 – QB Johnny Manziel, RS-Sophomore, Texas A&M
"Johnny Football isn't just a product of a great offense or great blocking. He has very good instincts and vision, and flat out makes plays. He doesn't have a big arm, but he anticipates well, and uses his legs not to just to run, but to extend the passing game." – Mel Kiper Jr.
REASON 4 – QB Aaron Murray, Senior, Georgia
"Aaron Murray has the talent and surrounding cast to make his case for the Heisman. Murray is a seasoned quarterback who has competed against the best the country has to offer. Expect him  to put it all together this fall and use his experience to become a complete and unbeatable quarterback." – BleacherReport.com
Ok, so what do these four guys have to do with our guy?
The oddsmakers say that the Buffalo Bills will be in position to draft one of these highly touted quarterbacks next April.  Early betting lines show the Bills to be favored in only 3 games on their upcoming schedule  and the consensus over/under win total stands at 6.5 for the year.
Hello top 10 pick (again)!
BUT SHUT UP… WE JUST DRAFTED THE SAVIOR!!!!!
Maybe… but probably not.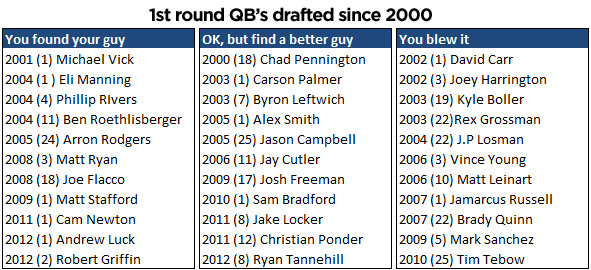 Of course, we ALL want to see E.J. end up in the left column of this list, but there's a scary good chance he won't.  A look at more than a decade of first round QBs shows that two out of every three just don't cut it. It's science.
So… IS HE, or ISN'T HE?
With four potential franchise QBs available early in the 2014 draft, the Buffalo Bills have no choice but to use every snap this season to find out exactly what they have in E.J. Manuel.  The absolute worst-case scenario for the Bills (which has a habit of happening around here) is for Doug Whaley & company to enter next year's draft with any amount of indecision on the status and potential of their QB.
It took guts to draft E.J. Manuel at 16… it will take even more to cut bait in one year if they don't believe he's the guy.  The Bills need every bit of information they can get to make the call.
EJ must start from day 1… and that's July 28.