Don't be sad, Mark Sanchez. You'll find a home.
In fact, here are six reasons we'd welcome the former Jet to Orchard Park, NY.
BILLS NEED A BACKUP QB
Wherever you stand on the development of EJ Manuel, it's unlikely you're ready to say that he's "definitely the guy" or that you're willing to bank on him staying healthy. Thad Lewis was a little better than expected but he had to play a lot more than you'd like. When Lewis couldn't go, Jeff Tuel served up the single most devastating play of the season with his goal line gift to KC's Sean Smith that went for a 100 yard pick six.
BACKUP MEANS VETERAN
With two children behind a rookie starter, last year's Bills would've had nowhere to turn if  they'd accidentally stumbled their much-improved defense had propelled them into any meaningful late-season games and EJ couldn't go. You'd like your backup to have started and perhaps even won some NFL games. In his first three years in the league, Sanchez started 47 of the Jets' 48 regular season games. They won 27 of them and also went 4-2 in the playoffs. You're not getting that with a day 3 draft pick in May.
THE PRESSURE IS OFF
Not only did the Jets select Mark Sanchez with the fifth overall pick in the 2009 Draft but they traded up to get there. The amount a team spends to add a player to its roster goes a long way toward determining the level of organizational (and fan) pressure on the guy to succeed. Sign the guy to a free agent deal in Buffalo to back up an unproven "maybe he will maybe he wont but we're sure hoping he will" second-year QB and watch the worry melt away.
THE JETS DID HIM WRONG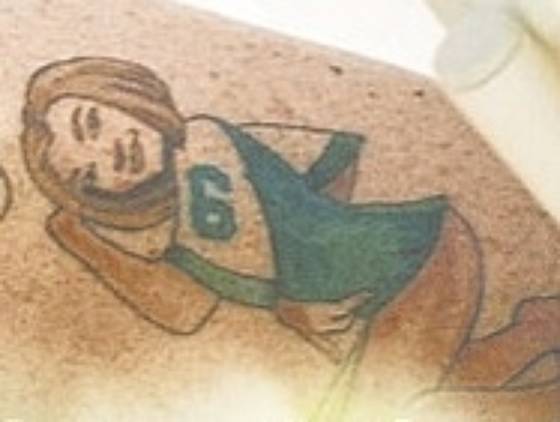 Tim Tebow? Geno Smith? That's not love, Rex Ryan.
SANCHEZ THREW FOR 26 TOUCHDOWNS IN 2011
How far do you have to go back to find a Bills QB who threw for more than 26 TDs in a season? 1991. Jim Kelly. Twenty-three years. By the way, don't spend too much time looking for 27+ in any other Bills season because IT'S ONLY HAPPENED ONCE. Sure, offensive numbers are inflated in this pass-happy era but…
THAT'S HOW BAD IT IS AROUND HERE
If the numbers are so inflated, why aren't Buffalo's  offensive numbers ever inflated? Well, we can start with "there's been a pretty distinct lack of talent at the QB position for far too long around here." If EJ Manuel tanks this season, the BIlls are looking for a new QB early in next year's draft… but that doesn't help this year's team. Sanchez is, at worst, a middle-of-the-road veteran that would all but assure the Bills have an NFL-caliber player ready to start when EJ's leg falls off again.