The 2013 NHL Draft will take place in less than 2 weeks with the Sabres currently holding 10 picks over 7 rounds, including 2 first rounders.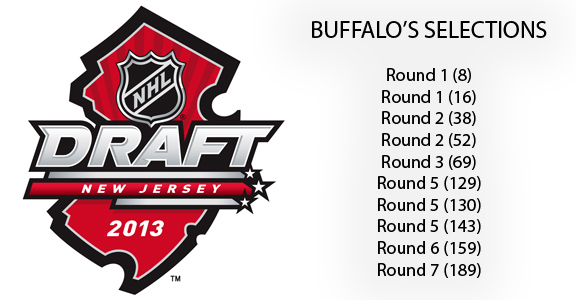 This is the SIXTEENTH time Darcy Regier will be in charge of the selection process so we figure there's a large enough body of work to determine whether or not he's any good at this whole thing.
Let's ignore all theoretical trade possibilities (any players who were already gone by the time the Sabres got around to picking) and check the data on the guys Buffalo picked (and left on the table) to answer one simple question about each of Darcy Regier's first round selections– did he choose the right guy?
1998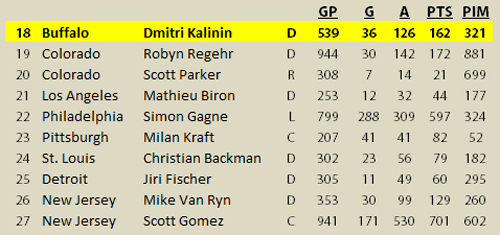 DID REGIER CHOOSE THE RIGHT GUY?
NO
Kalinin never became the star 2-way defenseman that the Sabres hoped but with 539 NHL games under his belt, he can't be considered a complete bust. That said, Robyn Regehr was taken with the next pick and his career easily trumps that of Kalinin. Simon Gagne and Scott Gomez have each won the Cup (Gomez twice) and appeared in the NHL All-Star Game (Gagne twice.)
1999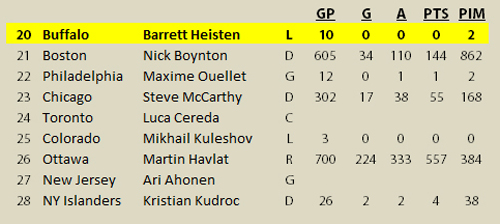 DID REGIER CHOOSE THE RIGHT GUY?
NO
It's been 14 years and we're still awaiting Heisten's first NHL point. Don't hold your breath. He retired from the Alaska Aces of the ECHL in January 2007 having been outscored in his NHL career by Maxime Ouellet, a goaltender who played 12 games in the league. Martin Havlat would've been a better choice. Nick Boynton, too.
2000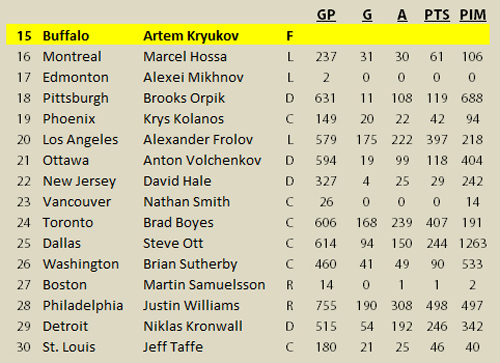 DID REGIER CHOOSE THE RIGHT GUY?
NO
"The Russian Concussion" is Buffalo's poster boy for failed draft picks. Who needs gritty d-man Brooks Orpik from Amherst, NY or future Sabres captain Steve Ott or any of the TEN other first rounders who played triple-digit NHL games taken after Kryukov? Fair question: Did the dude ever actually exist?
2001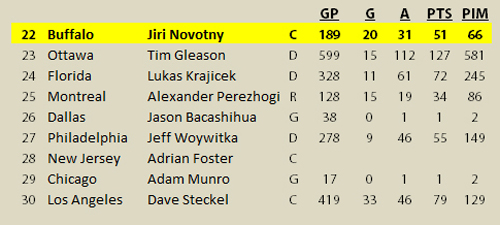 DID REGIER CHOOSE THE RIGHT GUY?
NO
Novotny is a somewhat passable NHL center who last skated in the league in 2007 and played this past season with HC Lev Praha of the KHL. Gleason and Steckel were both on the board at the time of the selection and both continue to be productive NHL players.

2002- pick A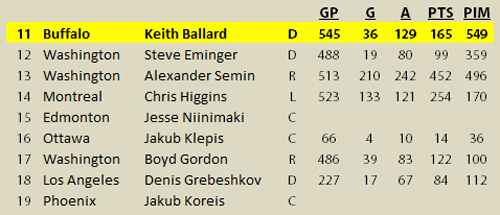 DID REGIER CHOOSE THE RIGHT GUY?
YES
Ballard didn't make his mark with the Sabres (shipped out in deal to acquire Chris Drury) but has been a solid pro. You weren't going wrong here with Eminger, Semin, Higgins, or Gordon but Ballard has been good enough to be called the "right" guy for our purposes.
2002- pick B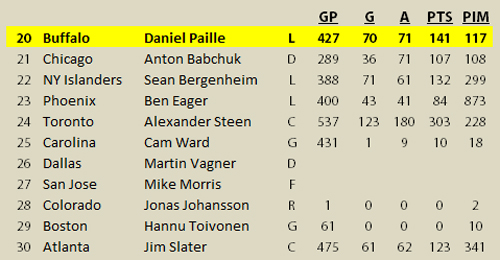 DID REGIER CHOOSE THE RIGHT GUY?
YES
2003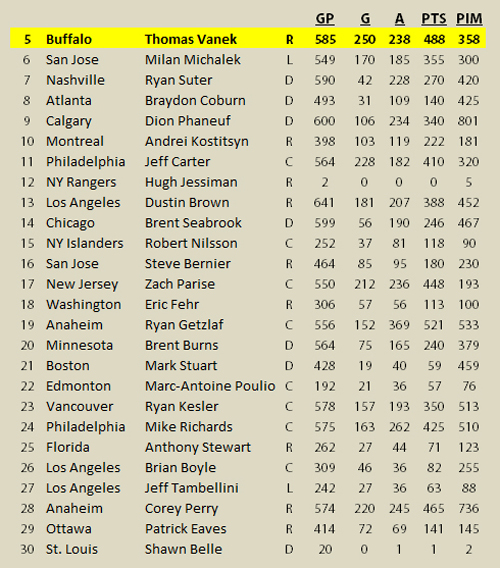 DID REGIER CHOOSE THE RIGHT GUY?
YES
Round 1 in 2003 was LOADED with talent. With Eric Staal (268 G, 359 A in 690 games) off the board, Vanek's been the best goal scorer of the bunch.
2004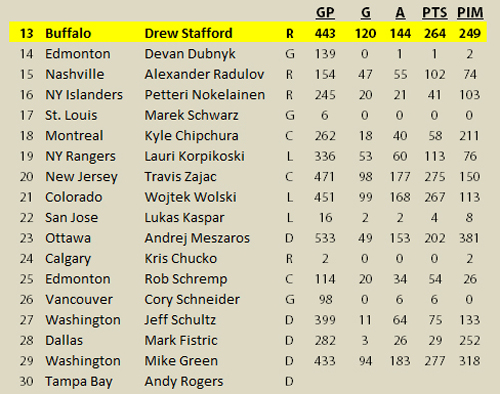 DID REGIER CHOOSE THE RIGHT GUY?
RELUCTANT YES
"Nice job choosing Drew Stafford, Darcy" is not something we're comfortable typing in a non-sarcastic manner but a scroll through the list yields Mike Green as the only "I guess I'd rather they picked him" guy… and it's not clear cut. Close enough. You win this time, Darcy.
2005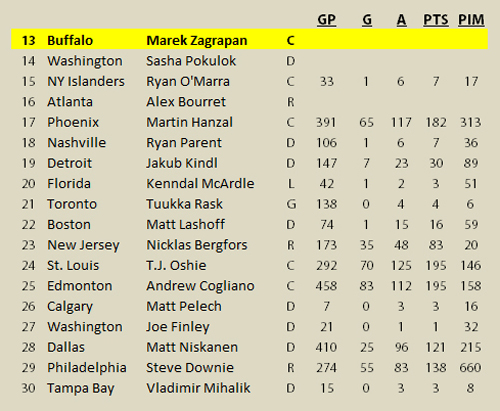 DID REGIER CHOOSE THE RIGHT GUY?
OH, HELL NO.
The Sabres had their eyes on Luc Bourdon who went 3 picks earlier to Vancouver. Bourdon played in 27 NHL games before being killed in motorcycle accident. That's 27 more games than Zagrapan ever played.
2006

DID REGIER CHOOSE THE RIGHT GUY?
NO
Ah, Dennis "Missing" Persson. After 4 unimpressive seasons of AHL competition between Portland and Rochester, the Sabres chose to pretend this Persson never existed. He's now playing in the Swedish Elite League, calling into question everything we ever thought we knew about the word "elite."
2007
DID REGIER CHOOSE THE RIGHT GUY?
HAD NO SELECTION
Thanks to a deadline deal to acquire Dainius Zubrus for the 2006-07 playoff push, the Sabres did not hold a first round selection in this draft. The UFA-to-be compiled 4 goals and 4 assists in 19 regular season games and 0 goals and 8 assists in 15 playoff games before leaving for the bright lights of Newark, New Jersey. For $5, you can get ripped off on Dainius Zubrus too!
2008- pick 1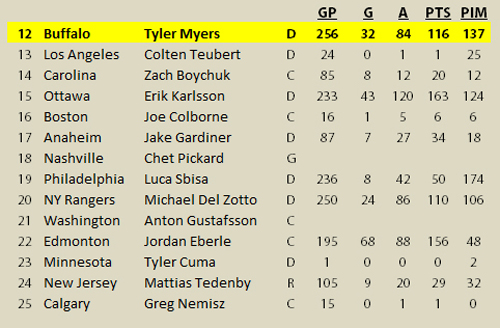 DID REGIER CHOOSE THE RIGHT GUY?
(closing eyes, crossing fingers) YES
C'mon, Tyler. Pull it together and be awesome. Please?
2008- pick 2

DID REGIER CHOOSE THE RIGHT GUY?
YES
Statistically, the only remotely comparable player taken after Ennis in the remainder of the draft is Derek Stepan of the Rangers (2nd round.) Their goals/assists/points per game are nearly identical. Nobody else is close.
2009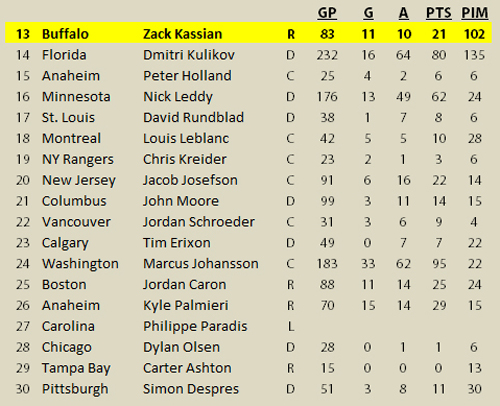 DID REGIER CHOOSE THE RIGHT GUY?
WE HAVE NO IDEA WHAT TO SAY HERE.
Like everything when it comes to Zach Kassian, we've got ourselves a conundrum. Do you want him on your team? Probably not. Is there someone here you really wish you had instead? Probably not. Are you happy to have shipped him out to Vancouver in exchange for Cody Hodgson. Absolutely.
2010

DID REGIER CHOOSE THE RIGHT GUY?
TOO SOON TO TELL
Pysyk didn't look out of place in his brief stint with the Sabres this past season and seems to have a good head on his shoulders.
2011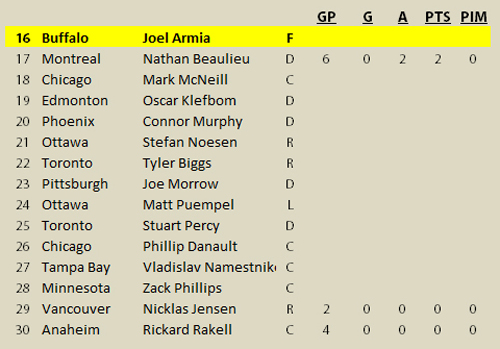 DID REGIER CHOOSE THE RIGHT GUY?
SURE
Only 4 of the 195 players taken after Armia have scored an NHL goal. Since being selected, he's been a consistent performer– in Finland. Like all unknown commodities, the Sabres and their fans have high hopes that Armia is bright part of their future.
2012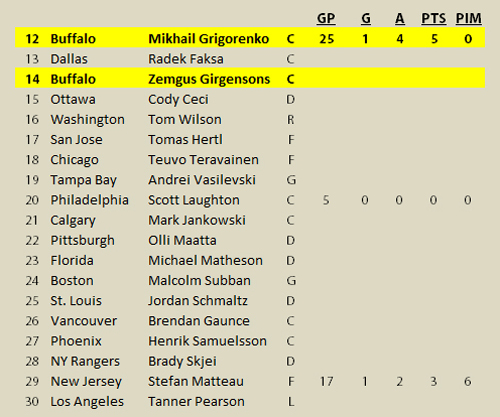 DID REGIER CHOOSE THE RIGHT GUY(S)?
SURE
Grigorenko didn't set the world in fire as an 18 year old rookie but, in his defense, he tied for 3rd in his draft class with 1 NHL goal and he's one of only 6 guys to play and only 4 to score.
In his first season with the Amerks, Girgensons totaled 17 points and 28 PIM in the regular season and 3 goals in 3 AHL playoff games.
We're still feeling pretty good about these guys.
**********
TOTALS:
PLAYERS: 17
YES-  6
NO-  6
MAYBE-  5
Sure, we went soft and gave Darcy Regier the benefit of the doubt near the end, but ultimately, we're fans hoping for the best until it becomes apparent that we should throw in the towel.
We've got him batting .500.
Agree? Disagree? Let's hear you.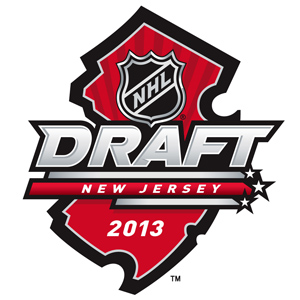 **********
All NHL statistics courtesy of HockeyDB.com. If the numbers are right, thanks guys. If not… well, close enough.