Since the day Terry Pegula purchased the Sabres, the team's stated sole reason for existence has been to win the Stanley Cup. It goes without saying that part of that goal is to get to the top as soon as possible.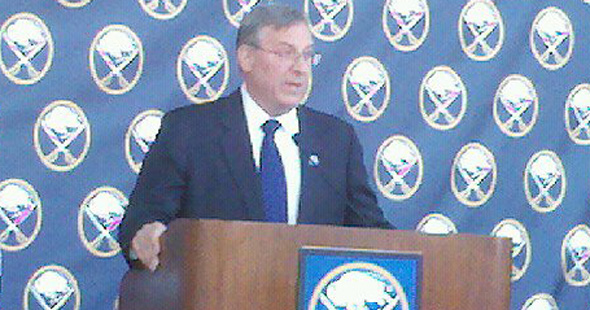 With that in mind, here's why trading Thomas Vanek NOW is the right thing to do.
Vanek is over-valued.
Vanek has often been a mixed bag. He's effective, but not at the level of a dominant point-a-game player. In a league where an elite career starts at a point a game, the Sabres' forward has averaged .81 points a game over his first seven years in the league. This season, he is averaging a mind boggling 2.375 — almost THREE TIMES his career average. There will never be a better time to maximize his value in a deal. Sell high.
The Sabres aren't winning the cup this year.
We're nine games into the season and it doesn't take a genius to see that this team may not be built to make the playoffs, let alone win 16 times once it gets there. Call it a lack of chemistry, tired coaching, a lack of team competitiveness or whatever else; the Sabres are clearly missing some crucial pieces found in every Stanley Cup winner. They may develop, they may be acquired, but it seems unlikely those pieces will appear this year.
Other teams should be ready to gamble.
In a 48 game season,  it more likely that the playoff competition will be weaker than in years past. (The 2012 Stanley Cup winning LA Kings were still out of the playoffs after 64 games last year.) In a season where more good teams are going to be shut out of the playoffs, teams with a hot hand should be more willing to take a gamble for the big prize. Additionally, the season isn't just shorter — it's a different KIND of season. The schedule is packed into a tighter window and a different kind of team should thrive. This year presents a new kind of experiment for every team, and when a few teams soon recognize this, they should be willing to trade away traditional assets to up the ante on their hot hand.
The time is now. The only question is if Darcy has the cojones to make a change that will send every Sabres fan screaming out on the street for a few days while also bringing the Sabres 1-3 years closer to hoisting a Cup.