This is Part 3 of a Trending Buffalo series in which we simulate the entire 2012 Bills season using Madden 13.  Part 1  Part 2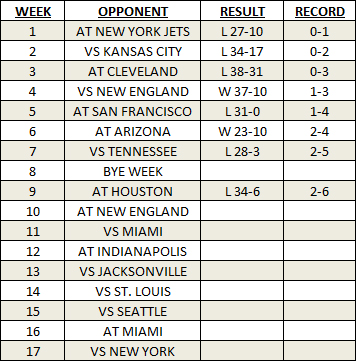 Bad news–  2-6.  Good news–  one of those wins came against the Patriots.  Bad news–  they're on the Fake Bills' schedule twice again this year.  Good news–  the Pats are also 2-6.  Off to Fake Foxboro we go!
WEEK TEN-  BILLS (2-6) AT PATRIOTS (2-6)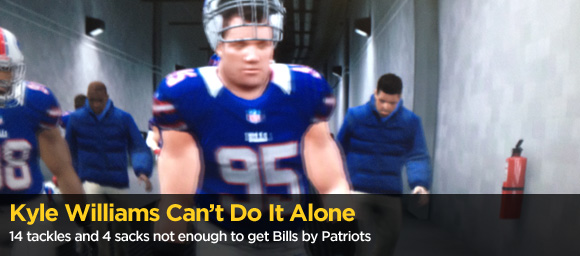 Ryan Fitzpatrick is re-installed as the starting QB and the Bills' 32nd-ranked offensive unit opens with a promising drive that ends with a Fred Jackson fumble.  Tom Brady hits Rob Gronkowski for a 1 yard TD pass.  Following a Buffalo three-and-out, the Patriots escape a 3rd and 17 situation thanks to a fifteen yard penalty against Marcell Dareus.  Shane Vereen punches it in from the 1 to give the Pats a 14-0 lead.  A Rian Lindell field goal gets the Bills on the board just before the half.  The Patriots kick three second half field goals.  The Bills do nothing of the sort.  Patriots 23, Bills 3.
Key stats:  
Ryan Fitzpatrick-  19-36, 134 yards, INT
Fred Jackson-  20 carries, 76 yards
Kyle Williams-  14 tackles, 4 sacks
Postgame show:
"How many years are left on Fitzpatrick's contract?  Even Rob Johnson thinks this guy is stealing money."
"I'm done with Fitz.  Let's at least see what we've got in Jackson."
"I'm glad they lost.  Just watch…  that win over the Patriots in September is going to put them ahead of us in the draft and they're going to take our quarterback!"
——————–
WEEK ELEVEN-  DOLPHINS (5-3-1) AT BILLS (2-7)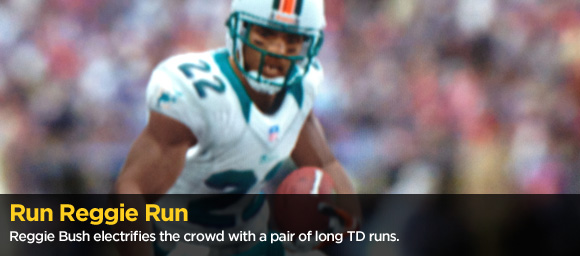 The Bills turn to Tarvaris Jackson at QB for the second time this season.  Buffalo picks up 3 first downs on the opening drive but punt it away and pin the Dolphins at their own 11 yard line.  On Miami's first play from scrimmage, Reggie Bush takes it to the house.  Whoops.  Rian Lindell hits from 42 yards as time expires in the 2nd quarter.  7-3 Miami at the half.  A 58 yard pass from David Garrard to Brian Hartline makes it 14-3.  The Dolphins block a Lindell field goal attempt and follow it up with a 78 TD run from Reggie Bush.  Tarvaris Jackson finds Scott Chandler for two late touchdowns is too little, but it's too late for the Bills.  Miami 24, Buffalo 17.
Key stats:
Tarvaris Jackson-  23-43, 300 yards, 2 TD, INT, 22 rushing yards
Scott Chandler-  6 catches, 146 yards, 2 TD
Reggie Bush- 13 carries, 191 yards, 2 TD
Postgame show:
"What good is a pass rush if you're just going to let the running game crush you every single week?"
"I don't care who's playing QB.  At some point, you have to look around and say that this is just not an NFL-caliber receiving corps."
"Offensive mastermind Chan Gailey does it again!"
——————–
WEEK TWELVE-  BILLS (2-8) AT COLTS (6-4)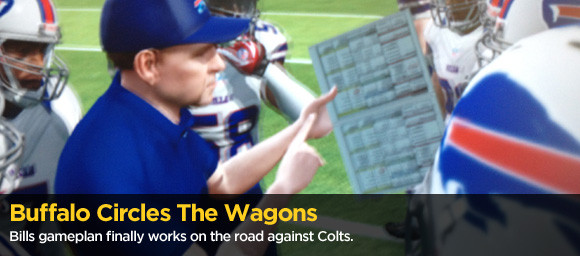 Tarvaris Jackson and Stevie Johnson hook up on an 80 yard strike to give Buffalo an early lead.  Andrew Luck counters with a 46 yarder to Mewelde Moore.  Fred Jackson answers with a 28 yard TD run that puts the Bills up 14-7.  Buffalo looks to add to the lead in the final minute of the half but Vontae Davis intercepts Jackson's pass at the Colts' 27.  Andrew Luck's 2nd TD of the game is a 36 yard hookup with Delonte Carter to tie it up at 14.  Facing 3rd and 13, Fred Jackson turns a draw play into a 53 yard TD to put Buffalo ahead 21-14.  Kelvin Sheppard seals the deal with a late interception at the Bills 18.  BUFFALO 21, INDIANAPOLIS 14.
Key stats:  
Stevie Johnson-  6 catches, 142 yards, TD
Tarvaris Jackson  18-24, 257 yards, 2 TD, INT
Postgame show:
"It's about time Stevie Johnson decided to show up for a game."
"Sure he lost and didn't look very good doing it but Luck is still learning.   Until the Bills get a franchise guy like that in here, we're not going anywhere near the playoffs."
"What a waste.  All they did today was screw up their draft position."
——————–
WEEK THIRTEEN-  JAGUARS (6-5) AT BILLS (3-8)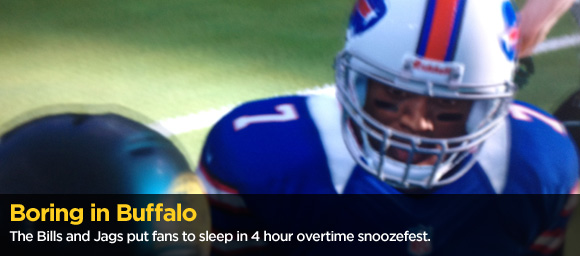 Scoreless at halftime.  Tarvaris Jackson hits Stevie Johnson for a 56 yard score.  Chad Henne connects with Davone Bess on a 63 yard touchdown.  In overtime, Jacksonville blocks a 44 yard FG attempt by Rian Lindell.  Nothing else happens.  Jacksonville 7, Buffalo 7.  Really.
Key stats:  
Tarvaris Jackson-  17-38, 257 yards, TD, 2 INT
Fred Jackson-  20 carries, 91 yards
Stevie Johnson–  5 catches, 127 yards, TD
Kyle Williams-  10 tackles, 2 sacks, 3 passes batted down
Postgame show:
"We've driven in from Binghamton for every home game since 1981 and I'm seriously questioning whether I'm going to renew."
"At least the Seahawks game is in Toronto.  Think they'd like to take a few more games off of our hands next year?"
"They say a tie is like kissing your sister but I'd rather have been at a bed and breakfast in wine country with my sister than inside of that stadium today.  And I hate my sister."
——————–
If the season ended today,  the Bills (3-8-1) would hold the 3rd overall draft pick, behind the Bengals (3-9) and Rams (3-9.)  Ties really do suck, don't they?  On a positive note, Kyle Williams would be tied for second in the league with 9 sacks.  On an even more positive note, we wouldn't have to simulate four more of these games.