Let's say you're a sports columnist at The Buffalo News. You thrive on rumor-mongering and generating hostility from your readers daily with your "hot takes."
You decide to mail it in more than usual and put together a "fun" Super Bowl trivia quiz.
"I'll give my critics a rest," you think.
False.
Writing a trivia question is harder than it seems. You need to be specific enough to make sure there's only one possible answer but broad enough so that more than 1% of your audience has a prayer of answering it correctly.
We know this, Bucky Gleason, because we put together a little "quiz" ourselves. It's called "You Gotta Know Buffalo." It contains 600 questions and, get this, it's fun! We've sold thousands of them and we'll sell thousands more. We're experts in the field.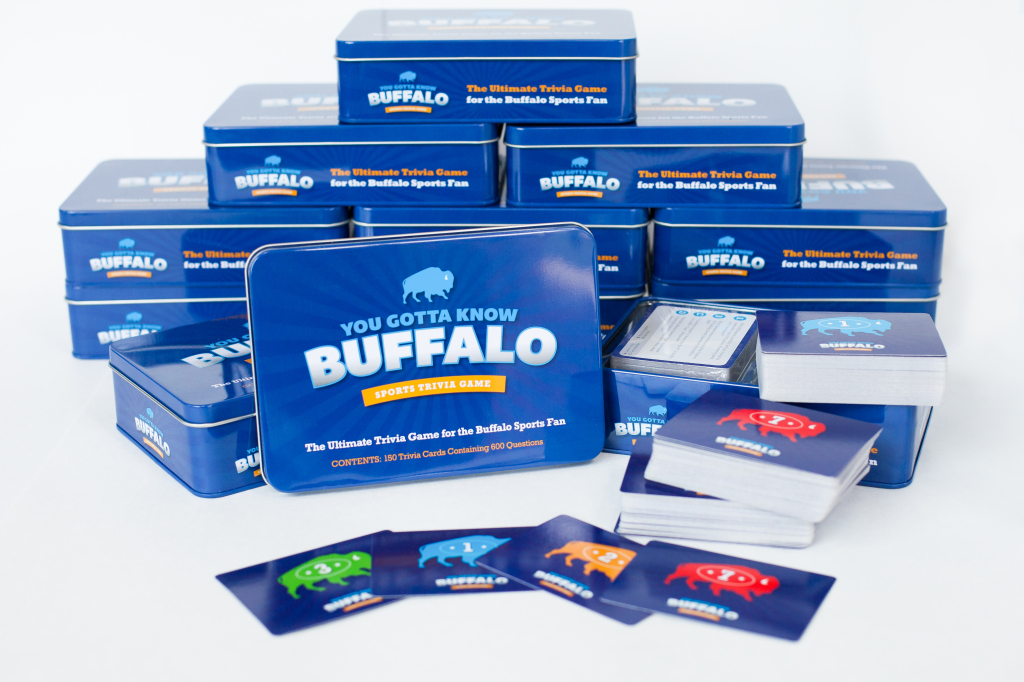 With that in mind, we're going to judge you now.
We took your quiz– and got two right… out of twenty.
It wasn't fun at all… no "ooh, I know this" or "aww, I should've known that."
Just a big pile of nothing. Allow us to explain.
1. Bills fans know Marv Levy was the losing coach in four Super Bowls, but three other coaches also share that distinction. Name them.
Bud Grant, Dan Reeves, and your mom.
2. In the Ravens' 34-7 win over the Giants in Super Bowl XXXV, three players scored touchdowns on returns in a 36-second span of the third quarter. Name them.
Jermaine Lewis, Mike Harrington, and your mom.
3. Kurt Warner holds the top three single-game passing yardage totals in Super Bowls. Who is next on the list?
If it's not Jim Kelly (and it certainly isn't), we don't know/care.
4. The Packers won the first two Super Bowls, but can you name the two players from that team who also won Super Bowl VI with Dallas? Hint: One of them also lost a Super Bowl as a coach.
No.
5. Which four teams have never played in a Super Bowl?
Texans, Jaguars, Red Sox, and Globetrotters.
6. Jerry Rice has eight career touchdown catches in Super Bowls and is the only player with three TDs in separate games. Only four other receivers have scored more than two in their Super Bowl careers. Can you name them?
Eight, three, four, two… what?
7. Quarterbacks have attempted 50 or more passes four times in Super Bowl history, all in losing efforts. Jim Kelly did it twice. Who were the other two?
Why would anyone know this?
8. Who was the first coach to lose the Super Bowl indoors?
Or this?
9. Who is the only player to rush for three touchdowns in a Super Bowl?
Terrell Davis.
10. Doug Williams threw a record four touchdown passes in the second quarter of Super Bowl XXII to lead Washington over Denver. Name the receivers who caught them.
Gary Clark, Art Monk, Ricky Sanders, a tight end?
11. Which two teams share the record for most points by losing teams in the Super Bowl?
Don't care.
12. Name the five running backs who have rushed for more than 150 yards in one Super Bowl game.
Legit question. Don't care, but legit.
13. OK, analytics lovers, who were the only two players with two-point conversions in the same game? Hint: They also played for the same team.
No idea… and what does this have to do with analytics?
14. Three players have appeared in Super Bowls in three different decades. Name them.
Good question, unless they're kickers and punters. Then it's a terrible question. (Note: They're not kickers and punters. Good question.)
15. The Steelers in Super Bowl X against Dallas were the only team in history to win a title without being called for a penalty. Three others lost Super Bowls without being flagged. Name them.
No.
16. Who is the only quarterback to rush for two touchdowns in a Super Bowl game?
Marvin Hamlisch.
17. Who holds the record for the longest field goal in Super Bowl history? C'mon, it's doesn't get much easier.
It doesn't? We can certainly tell you who it wasn't.
18. Two teams have scored fewer than seven points in the Super Bowl, but which one scored a touchdown in their game?
The team that scored six.
19. Andre Reed had nine touchdown catches in the postseason, but how many TDs did he score in four Super Bowl appearances?
How freaking Bucky is this question? If the answer isn't zero, is there any chance this is even a part of the quiz. We're going with zero.
20. Seattle could be the fourth team in history to win the Super Bowl one year and lose it the next. Name the other three.
Fun question… but Green Bay is all we've got.
********************