The Bills' 16-year playoff drought is wearing us all down. Missing out in 2015 was especially disappointing because, theoretically, the roster looked solid or better everywhere but one spot.
If they could get ANY production out of their QB, they'd be in great shape.
Well, Tyrod Taylor finished the season with more than 3,000 passing yards, 20 passing TDs, and just 6 interceptions. He added 4 rushing TDs and a franchise-record (for a QB) 568 rushing yards. Yet here we sit– again– thinking about offseason strategy rather than playoff matchups.
Looking back on the 8-8 season, every loss hurts but some sting more.
This week, we rank the sting, counting down from the least painful (Sting Ranking #8) to the most painful (Sting Ranking #1) loss of the year.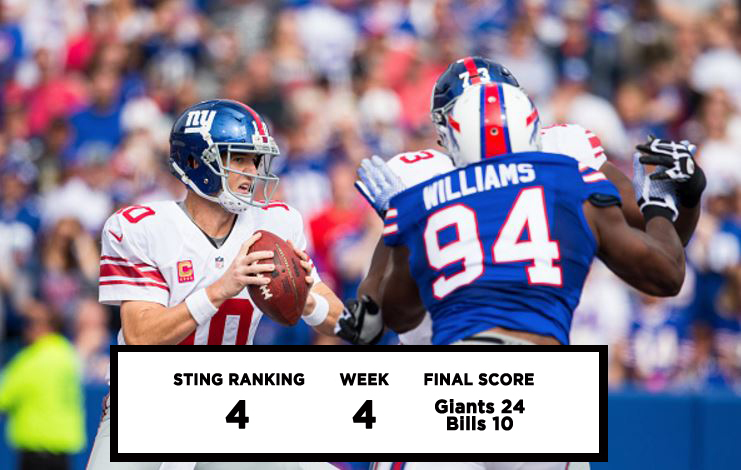 THE STORY
Psychologically, the difference between 3-1 ("SUPER BOWL!") and 2-2 ("This thing really could go anywhere.") is monumental. Not only did the Giants drop the Bills to 2-2, they did it in Orchard Park in convincing fashion… at least until you consider the "what ifs."
IF ONLY…
Sammy Watkins and/or LeSean McCoy played.
the Bills weren't flagged for SEVENTEEN penalties (officially)  totaling 135 yards.
one of those penalties wasn't a phantom hold against Kraig Urbik which turned a 31-yard Tyrod Taylor TD run into 1st-and-25 at the Giants 41 on a drive that ended in a missed FG.
another of those penalties wasn't a ridiculous "chop block" against Richie Incognito that turned a 32-yard Taylor to Charles Clay TD pass into 1st-and-25 and the Giants' 47 on a drive that ended with the Bills turning the ball on downs.

THE STORY
Gillette Stadium is not the ideal setting for your only Monday Night Football appearance of the season. Dreams of winning the division had already died but the Bills sat firmly in the Wild Card mix at 5-4. With a full arsenal on offense and missing just two defensive starters (Aaron Williams and Kyle Williams), the Bills never led but also never trailed by more than 10– an accomplishment in this one-sided series. Down by 7, the Bills took over at their own 16 yard line with 1:51 left in the game. They made it as far as their own 48 yard line with :02 left to play. Then the game ended. Why? No reason at all. The whole final drive was full of BS.
Sammy Watkins was never touched and rolled out of bounds, they should have one more play with 2 seconds left pic.twitter.com/AQF7zmiIc3

— The Cauldron (@TheCauldron) November 24, 2015
IF ONLY…
Tyrod Taylor didn't suffer a shoulder injury prior to the drive.
"communication issues" didn't mysteriously crop up in the Bills' headsets during the final drive. (In Foxboro? No way!)
on the first play of the drive– initially a 10 yard gain but reviewed and reduced to a 9 yard gain– the officials didn't burn 22 seconds deciding to take a second look.
on 4th and 3, it didn't take a review to determine that Sammy Watkins had picked up the first down, allowing the Bills' drive to continue. (Ultimately this one didn't matter, but was frustrating as hell nonetheless.)
the Bills had been able to run one more play… which they should've, because Sammy Watkins picked up a first down and got out of bounds with two seconds left on the clock! In a season full of frustrating moments/decisions/calls, none was more maddening. And it was probably going to be EJ Manuel heaving the ball. The poor dude lost his chance at glory.
It's always nice to receive an apology from the league the day after a loss. From profootballtalk.com: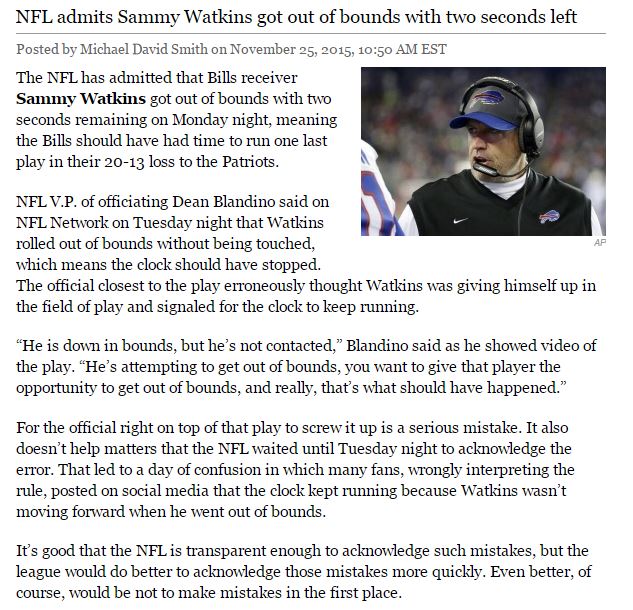 Stupid Patriots.
Coming up: