The Bills' 16-year playoff drought is wearing us all down. Missing out in 2015 was especially disappointing because, theoretically, the roster looked solid or better everywhere but one spot.
If they could get ANY production out of their QB, they'd be in great shape.
Well, Tyrod Taylor finished the season with more than 3,000 passing yards, 20 passing TDs, and just 6 interceptions. He added 4 rushing TDs and a franchise-record (for a QB) 568 rushing yards. Yet here we sit– again– thinking about offseason strategy rather than playoff matchups.
Looking back on the 8-8 season, every loss hurts but some sting more.
This week, we rank the sting, counting down from the least painful (Sting Ranking #8) to the most painful (Sting Ranking #1) loss of the year.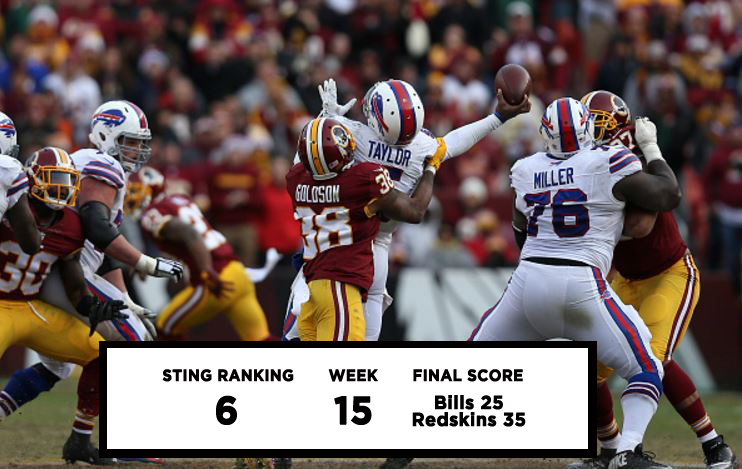 THE STORY
The Skins' first half offensive display brought back memories of their destruction of the Bills in January 1992. Each of these teams came in with a 6-7 record. If there was a collective belief in the Bills' playoff chances at this point, the loss would've been a lot closer to the top of our list. Make no mistake, this was an awful game to watch. We just didn't really care anymore.
IF ONLY…
the Bills didn't spot the Skins a 21-0 lead, giving up a TD on each of the first 3 drives of the game.
Bacarri Rambo didn't whiff on DeSean Jackson's 77-yard TD catch-and-run.
something called Mike Gilleslee didn't lead the Bills in rushing yards.
the Bills' playoff hopes hadn't fallen apart a week earlier in Philly.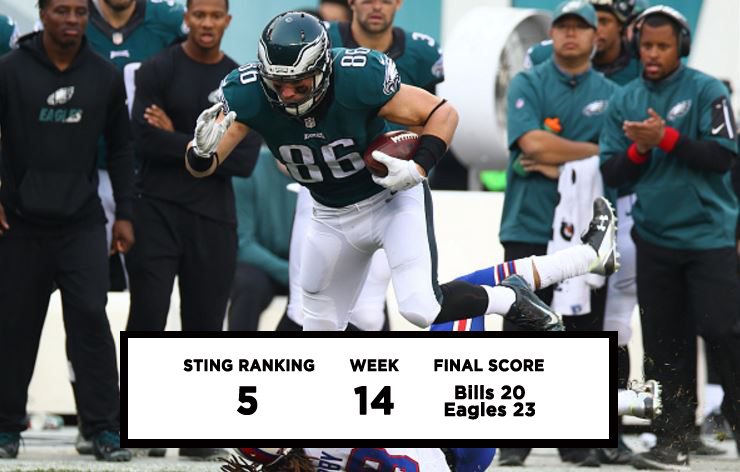 THE STORY
This one was the beginning of the end. The Bills came in 6-6 with a remaining schedule of: at Eagles, at Redskins, home against Cowboys, home against Jets. 10-6 seemed entirely possible. 9-7 seemed likely? This was a standard early-December "go do your job, hope for a little help around the league, and you might wake up Monday morning smelling like a rose" NFL weekend that we've come to know very well around here. Contrary to the happy plan outlined in the previous sentence, the Steelers/Jets/Chiefs/Raiders all won. The Bills did not. Nobody believes the "In the Hunt" graphic at 6-7. Yuck.
IF ONLY…
the Bills didn't take 15 (FIFTEEN!) g-d penalties.
Tyrod Taylor's streak of 222 passes without an interception didn't come to an end on the potential tying/winning drive with just over a minute to play.
LeSean McCoy's performance lived up to the hype.
Kiko Alonso still played for the Bills. (Kidding– that trade was an absolute steal.)
Coming up:
THURSDAY: #4 and #3
FRIDAY: #2 and #1