The arrival of World Cup 2014 requires a guest contribution from Sean Lafferty. Break it down, Sean.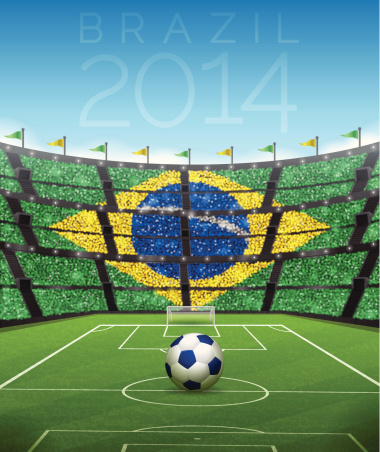 Group A
Contenders
Brazil
A weak group draw (Cameroon, Croatia, and Mexico) all but guarantees that Brazil advances to the knockout stage very well rested. Neymar and Fred (RIP Rik Mayall) are the keys to the Brazilian offense and if those two can score in any given game, Brazil will be tough to beat.
Cameroon
It's a bit of a crapshoot between Cameroon and Mexico, but Cameroon should prevail in a game that will determine who advances along with Brazil.
Pretenders
Croatia
Croatia averages a little over 1 goal per game. If they do not score first, they will be in for a long three matches.
Mexico
Their inability to score until late in most games will have them chasing the ball every game. They just don't have the firepower and strong defense to put up much of a fight.
Group B
Contenders
Spain
Spain is crazy good and it all comes down to their defense, which is among the best in the world. Their biggest problem comes in letting late leads slip away. They need to play a full 90 to get towards the semis.
Netherlands
Robin Van Persie leads the charge and the Dutch score in bunches.  It would be a surprise if they don't make the semis.
Pretenders
Chile
They just can't play defense, giving up around 1.5 goals per match. That is just too many to even get a sniff of getting out of the group.
Australia
The draw was not kind to the Aussies. They will be out quickly.
Group C
Contenders
Columbia
They advance by default. This group is probably the worst in the tournament– with Columbia the best of the worst– and will be a nice knockout stage opponent for someone.
Ivory Coast
Drogba is 35 and this could very well be the last World Cup in his tank. Look for him to play the best tournament of his career. They can score at any point during the match, but can give them up much the same way. They need to score early and often.
Pretenders
Greece
They don't give up goals but they don't tend to score that many either. If Ivory Coast can get up early by 2, then Greece can pack their bags and grab some gyros on the way out.
Japan
They have a tough time scoring and that will continue here. Look for them to go winless in the tournament this year.
Group D
Contenders
Uruguay
This is a tough draw but one in which the Suarez-led team can escape the group on the top of the board. Not many teams can score from set pieces like Uruguay can. Look for them to draw as many free kicks as possible.
England
They tied Poland and Montenegro after having first half leads. This could just be a hiccup for the Brits who still have an under-30 Wayne Rooney on the attack. Look for them to shoot for early leads.
Pretenders
Costa Rica
Costa Rica has vastly improved over the last few years, but are they ready? Much like the Americans, look for Costa Rica to make a little noise in the 2018 draw.
Italy
How the mighty have fallen. It's not that they have gotten progressively worse (although they have), they are just in a tough group and I don't see them getting out against England and Paraguay.
Group E
Contenders
Switzerland
You bet the Swiss Misses are going on to the knockout stage. With their tight defense and strong play from Gokhan Inler, expect the Swiss to pull an Olympic Ski Team-styled victory in group play.
France
The French sneaked in via playoff, but don't be fooled, they are moving on to the knockout stage. The French run hot and cold (insert Drew Stafford joke here) so if they catch fire, they can do some serious damage in the field.
Pretenders
Ecuador
The ball needs to be in the air for Ecuador to make any noise in the group. The only problem is that Switzerland and France are in the group.  They can score but the goals have been rare after netting one. If they can keep the score 1-1 or less, they have a chance, but any team hanging two on them is sure to get the full points.
Honduras
They just aren't ready to play with the top tier teams yet.
Group F
Contenders
Argentina
Well, this a no-brainer. Argentina is going at to the semis– at least. Strong play from the midfield out will have them possibly leading the tournament in goals after group play. Messi is still Messi, so expect him to look like a nerd and play really good and stuff.
Bosnia & Herzegovina
What are you guys doing here? If there is an underdog you should root for, this is the team as they're coming basically out of nowhere to make their first trip to the World Cup. They are fun to watch. Keep an eye on Dzeko and Pjanic (not sure how I do the thingies above the letters on Word) to lead the way and Asmir Begovic to keep the nets clear.
Pretenders
Nigeria
With the firepower coming from the two teams above, Nigeria doesn't have a chance of moving out of group play.
Iran
I actually feel bad for these guys, mainly because their federation and club teams are completely useless and don't support their national team. Uh ok, what?  Bet on Iran for largest goal differential in group play.
Group G
Contenders
Germany
I'm under the assumption that Germany is one of the favorites of the tournament, as they have no real visible weaknesses, and should dominate a tough division.
Ghana
Yup, they've taken us out of the last 2 World Cups and will probably get us started on our road to elimination. These guys are like the Gonzaga of world team play. You're a little surprised they're advancing beyond the group– but not really because they keep doing it every 4 years.
Pretenders
USA
I want to root for them, I really do, and I will during the games. But it's going to be tough for USA to advance beyond the so-called Group of Death. As far as partying goes, the games should be well worth the few hours of bar time with your friends.
Portugal
Almost every World Cup has had a mighty upset somewhere in the group play. Portugal is my pick for 2014. They are good, with or without Ronaldo, but there's something about Portugal that is reminding me of the NY Rangers in this year's Stanley Cup final. It's not that they are playing poorly, because they are not, but a few bounces in the wrong direction and they are out.
Group H
Contenders
Belgium
This is that team that is kinda the dark horse… but they're EVERYONE'S dark horse in this field. How many of you can point out Belgium on a map? That's about as much as we really know about the squad. They will advance handily.
Algeria
This team storms early and if they can connect on a few of their early opportunities, they are moving on. Remember what happened last World Cup? Me too. They tied England 0-0 and had the Americans all but eliminated when Donovan struck in extra time to push the MNT into the knockout stage.
Pretenders
Russia
My head said Russia, but my heart went with Algeria for moving on to the knockout stages. They play great defense and that's about it.
South Korea
Not that there's anything wrong with them, but nothing really super right about anything either. They have a young squad, and can put up some goals, but they really need Son Heung-min and a returning Lee Chong-Yong to really step up if they have any chance of getting out of the group.