It's no secret that Khalil Mack is about to become the highest-selected UB Bull in program history (by a mile) but there are four other draft-eligible players who will likely turn pro by the end of the weekend. Whether they are selected by round seven or signed as free agents after the draft is complete, look for most or all of these guys to find a home on an NFL roster and get a crack at proving themselves in training camp.
Scouting reports and grades are courtesy of the 2014 NFL Draft Guide put out by Ourlads Scouting Services, the best in the business.
LB Khalil Mack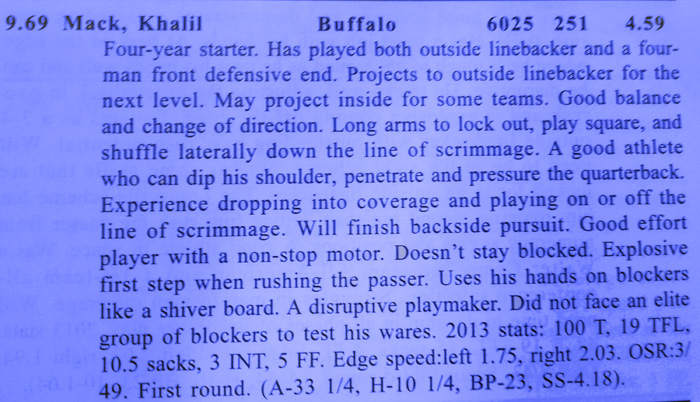 Ourlads has Mack as the ninth-rated prospect in the draft behind, in order:
Jadeveon Clowney – DE, South Carolina
Jake Matthews – OT, Texas A&M
Sammy Watkins – WR, Clemson
Taylor Lewan – OT, Michigan
Greg Robinson – OT, Auburn
Anthony Barr – OLB, UCLA
Justin Gilbert – CB, Oklahoma State
Mike Evans – WR, Texas A&M
Their draft projection (similar to a "mock draft") has him landing in Oakland with the fifth pick (behind Clowney, Matthews, Watkins, and Lewan.)
His grade of 9.69 translates as "First year starter. Talent to contribute early. Provide impact play." Yep.
RB Branden Oliver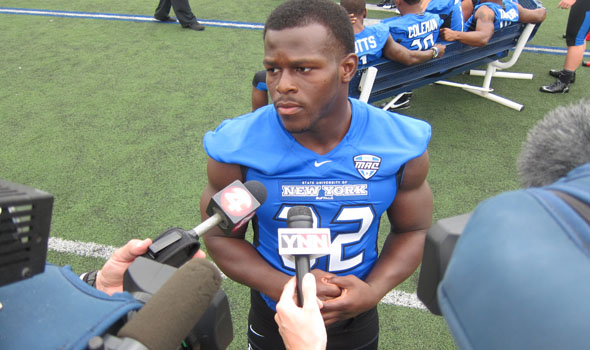 UB's all-time leading rusher receives a grade of 3.51 which reads as "Fill team need. Upgrades size/speed at position. Chance to develop. Borderline measureables and/or pro physical skills. Size/speed prospect with inconsistent skills and production."
Oliver should be drafted and his skill set combined with his team-first attitude will make him tough to trim from a roster come cut down time.
WR Alex Neutz

No individual write-up for Neutz but 3.49 means "Developmental player. Draftable qualities."
CB Najja Johnson

Same as above.
DE Colby Way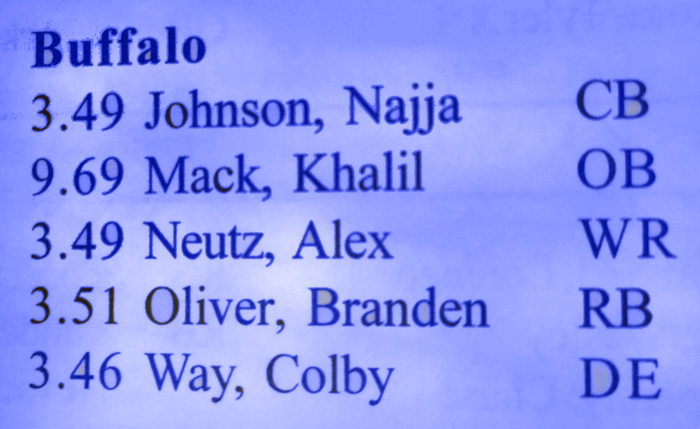 Colby Way didn't make it into the positional directory since a grade of 3.49 is the cutoff but he was a productive, energetic player who should get a phone call when the draft is over.
* * * * *
For more draft coverage, keep an eye out for my podcast with Dan Shonka of Ourlads later today (Tuesday) and tune in Thursday and Friday nights for live draft coverage with Bob Gaughan and me on Sportsradio 1270 The Fan.